Moise Kean: Juve's 16-year-old star and the Champions League's first Year 2000 player
By Adam Digby published
Oh, and his agent is Mino Raiola. Think this kid's going places? You're probably right, says Adam Digby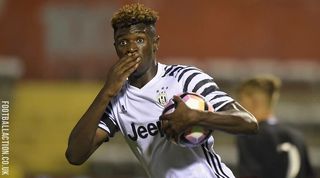 The 60-second story
FACT FILE
Date of birth: Feb 28, 2000
Place of birth: Vercelli, Italy
Height: 6ft
Position: Centre-forward
Club: Juventus
Country: Italy U17 (11 caps, 5 goals)
Moise Kean made his first start for Juventus's under-19s against Bari in mid-September, having only turned 16 in February – but he was utterly dominant nonetheless, and scored a fine winner to cap it off (below). The team is coached by 2006 World Cup winner Fabio Grosso, who happily promoted the young striker to his side over the summer after continually standing out in the lower age groups.
"For me it is normal to play with older players," Kean told La Gazzetta dello Sport earlier this year. "I don't find it difficult," he concluded, a major understatement for a player whose statistics are already mind-boggling – 21 goals in 10 U15 games, 24 in 26 for the U17s, six in 10 for Grosso's Primavera and 10 in 21 games for Italy's various national youth sides.
Italy is abuzz with talk of this bright young star, much like it was when Mario Balotelli burst onto the scene with Inter almost a decade ago.
The obvious comparison between the two has been drawn, but while Kean once revealed a Super Mario-esque "Why always me?" t-shirt to celebrate yet another goal, he has no desire to follow the former Manchester City and Liverpool man's off-field antics. "Aside from the stupid things he does, I like him a lot as a player," the Juve man said of Balotelli, a sentiment echoed by many over the past few years.
Why you need to know him
YOUNGEST CL STARS
Celestine Babayaro – Anderlecht; 16 years, 87 days (1994)
Alen Halilovic – Dinamo Zagreb; 16 years, 128 days (2012)
Youri Tielemans – Anderlecht; 16 years, 148 days (2013)
After scoring in each of his two UEFA Youth League group stage games this season – a competition he also featured in last term while only 15 – and all three U19 matches, Kean is in Juve's full squad for their Champions League meeting with Lyon. The Bianconeri are enduring something of an injury crisis in attack with Mario Mandzukic and Marko Pjaca sidelined, meaning Max Allegri has only Gonzalo Higuain and Paulo Dybala available.
Kean was an unused substitute against Udinese at the weekend, but could now be the Champions League's fourth-youngest player and first 2000-born star. Oh, and did we mention his agent is Mino Raiola?
Yes, the same man who helped Paul Pogba out of Turin last summer represents the youngster, who has yet to agree a professional contract with Juventus. Talk of an imminent three-year deal being signed has apparently not put off potential suitors, with Manchester City, Arsenal, PSG and Real Madrid all touted as potential destinations should no agreement be reached.
Strengths
"Goals are a habit for me," Kean has said, an opinion supported fully by his sensational numbers so far. He told La Gazzetta that he saw his shooting, heading and pace as his best attributes, yet his sheer physicality makes each of those even more formidable.
YOUNGEST CL SCORERS
Peter Ofori-Quaye – Olympiakos; 17 years, 195 days (1997)
Mateo Kovacic – Dinamo Zagreb; 17 years, 216 days (2011)
Cesc Fabregas – Arsenal; 17 years, 218 days (2004)
Standing 6ft tall and already remarkably muscular, he has everything needed to lead the line at youth level, though Grosso has occasionally deployed him on the flank.
In either role his running, control and desire to get into the box make him a nightmare for defenders, with most young full-backs lacking anything near the speed or power to prevent him bursting beyond them and causing problems.
Weaknesses
Those inevitable parallels to Balotelli have not manifested themselves in his work ethic, and Kean is desperate to improve all aspects of his play. Watching him training with the first team recently is to witness a player soaking up the knowledge and experience of Higuain & Co. while still looking somewhat bemused at the speed of his ascent into their company.
Going back to Grosso's U19s, his crossing has often lacked accuracy and he can fail to make the right pass if he finds himself leading a counter-attack. As he grows older, he'll come across much more savvy defenders who can match his strength, meaning his decision-making will need to improve as he smooths off the rough edges expected of any player his age.
They said...
"Kean is the name to watch in 2017, and I'm not just saying that because I'm his agent," Mino Raiola told Corriere dello Sport earlier this month. "He is only 16 years old, but has this determination within him that is just scary. He can become a big star at Juventus."
Anything from the mouth of an agent who has shifted his clients around Europe at nauseating speed must be taken with a truckload of salt rather than a pinch, but the striker's recent promotion to the first team at Juventus lends those words significantly more weight.
They were also supported recently by Juve boss Allegri. "With Pjaca out, I have put Kean with the first team. He can grow, he has good quality, and not just one good attribute but many," he told reporters. "He displays a higher level than he should for one born in 2000, and I hope for his sake that he can do well."
Did you know?
Born to an Italian mother and African father, Kean is in no doubt as to which country he wants to represent. "My roots are in the Ivory Coast, and I'll never forget that," he said. "But I've not had chance to go there: I was born and raised in Italy. I want to honour the Azzurri shirt."
What happens next?
Juve's history of developing young players is basically non-existent over recent decades – Claudio Marchisio is the only homegrown star to progress to the first team in the past 20+ years. A handful of others like Sebastian Giovinco and Paolo De Ceglie made irregular appearances, but for Kean to surpass them would be a break from the norm.
The club's sporting director Fabio Paratici and director general Beppe Marotta are unsurprisingly eager to tie Kean down to a permanent contract, while Raiola continues to talk (and then talk some more). He will ensure his client gets the best possible deal for both of them, but recently said that Juventus are "the most well-organised club in Italy" and appears ready to finish the lengthy negotiations.
After seeing Kingsley Coman move away very early in his career, and Paul Pogba return to Manchester United, the Bianconeri know they cannot get this one wrong.
More Talentspotter on FourFourTwo.com • New features you'd like every day
Thank you for reading 5 articles this month* Join now for unlimited access
Enjoy your first month for just £1 / $1 / €1
*Read 5 free articles per month without a subscription
Join now for unlimited access
Try first month for just £1 / $1 / €1
Quizzes, features and footballing fun
Get the best features, fun and footballing frolics straight to your inbox every week.
Thank you for signing up to Four Four Two. You will receive a verification email shortly.
There was a problem. Please refresh the page and try again.