Ranked! The 10 best goalkeepers of the 21st century
Since the year 2000, we've seen some of the best glovemen in history prowling six-yard boxes (and beyond). With Gianluigi Buffon departing Juventus, Declan Warrington picks the top 10 across the last 18 years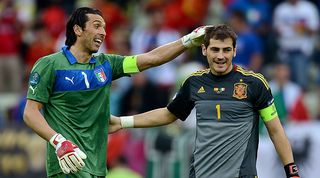 Gianluigi Buffon is set to play his final game for Juventus this weekend and only a person with a rubbish bin where their heart should be could remain unmoved. The great Italian keeper, who stayed faithful to his Old Lady even when the Calciopoli scandal saw the club cast out of Serie A, has been richly rewarded with a horde of trophies, including a final league title this season.
Italy's failure to qualify for the World Cup has robbed the 40-year-old of the swansong he really wanted. So - even if Buffon does decide to continue playing - his legacy is now firmly set.
Yet while some consider him the finest ever, others don't believe he's even the best of the modern era – which has been a golden one for those representing the last line of defence.
10. Hugo Lloris
Lloris gained wider recognition for his exceptional abilities after moving to the Premier League with Tottenham in 2012. In the years since Spurs spent £11.8m recruiting him from Lyon, the 31-year-old France international (96 caps and counting) has demonstrated to a wider audience that he's as brave as he is understated. He's also one of the best with the ball at his feet; a quality increasingly in demand.
9. Julio Cesar
Once described by none other than Italian great Gianluca Pagliuca as the world's finest, Cesar took the first-team place of Inter's Francesco Toldo (who was such an assured keeper that only the misfortune of his career coinciding with Buffon's prevented him earning greater international respect). Cesar also proved to be the composed, consistent Brazil goalkeeper that Taffarel, Marcos and Dida could never quite be, earning 87 caps for the Selecao.
A late-career spell at QPR proved ill-fated and in January 2018, aged 38, Cesar returned to Flamengo, the club at which he began his career. However, his greatest moment came during the 2009/10 season, when he was so influential in Inter's historic Treble that he was named UEFA's Club Goalkeeper of the Year.
8. David de Gea
Manchester United's long-term successor to Edwin van der Sar, and in his national side to Iker Casillas, the 27-year-old De Gea has had some large gloves to fill. Yet after a tricky early spell, he has become United's greatest strength in the difficult times that have followed Sir Alex Ferguson's retirement. For Spain, his ability has meant that Iker Casillas's decline wasn't the trauma it could have been.
Has he even reached his peak yet? If De Gea can develop the savvy to kill moments of danger, as Van der Sar (to use one obvious example) so often did, he will rival Manuel Neuer as the best in the world at present. If he isn't already.
7. Victor Valdes
The first of the modern-day 'sweeper-keepers', Valdes was also a significant strength in perhaps the greatest team of all time: Pep Guardiola's Barcelona of 2008 to 2012.
In that spell, the now retired 36-year-old – once oddly under-appreciated – won his second and third Champions League titles, amid a wider total of 14 major honours. He was also so consistent that he surpassed the great Andoni Zubizarreta as the goalkeeper to have made the most appearances for the Catalan club.
6. Oliver Kahn
If Kahn is best remembered for his exceptional performances at the 2002 World Cup, in which Germany unexpectedly reached the final, it's largely because he had needed to play so well in what was a limited team. The then-32-year-old conceded only once as Germany reached the World Cup final, but his superb displays were cruelly undermined by a rare mistake that led to Ronaldo scoring the first of his two match-winning goals. Regardless of this, Kahn still became the first goalkeeper to win the Golden Ball award for the World's Cup's best player.
At club level with Bayern Munich, he had few such bittersweet memories. The German won 16 major trophies, perhaps the most satisfying of all coming when he saved three of Valencia's shootout penalties to secure victory in the 2001 Champions League Final.
5. Manuel Neuer
The Germany international, 32, is widely considered the world's best at present and the model of what a modern-day goalkeeper should be. He has also convincingly replaced Kahn for both club and country, having won the World Cup and been influential in Bayern Munich becoming the first ever German team to win the Treble of a Bundesliga, German Cup and Champions League in 2012/13.
Neuer's anticipation, authority and agility, married with his footballing ability, means only longevity is required before he earns parity with the very, very best. Returning to fitness just in time for the 2018 World Cup would certainly help his cause.
4. Petr Cech
If it wasn't for a collision with Reading's Stephen Hunt while at Chelsea in 2006 that led to him suffering a fractured skull, requiring neurosurgery and Cech wearing a head protector for the remainder of his career, the 35-year-old Czech may have become the modern-day greatest.
From the point of his arrival at Chelsea in 2004 until that injury (after which he has performed highly without rediscovering the extraordinary levels he once reached), Cech was truly imperious. For two years he was almost unreasonably difficult to score against, and the world's very best.
3. Edwin van der Sar
The goalkeeper who made way for Buffon at Juve, Van der Sar made a surprise move to Fulham in 2001, but it was his transfer to Manchester United in 2005 that truly established his legacy. He eventually retired after six years at Old Trafford, following defeat by Barcelona in the 2011 Champions League Final, but at the age of 40 and having had a wonderful Indian summer to an excellent career.
His longevity is extraordinary. The Dutchman was Ajax's goalkeeper when they became European champions in1995, and was at it again 13 years later when his penalty shootout save won Manchester United a Champions League final against Chelsea in 2008. Throughout his career, Van der Sar was authoritative and calm in equal measure, consistently performing to an elite level with minimal fuss.
2. Iker Casillas
There will always be those who feel that Casillas was superior to Buffon while the Spaniard was at his peak. Casillas was the one who, in 2000, became a Champions League winner just days after his 19th birthday. He was also crucial to Spain's victories at two European Championships and a World Cup between 2008 and 2012. Yet his decline – which had begun well before he left Real Madrid for Porto in 2015 – felt premature.
Casillas's leadership, and the inspirational saves he was capable of producing – from Arjen Robben in the 2010 World Cup Final is as defining as any – were his greatest strengths.
1. Gianluigi Buffon
The modern-day master may have produced his very finest form in his early days at Juventus, but that he's still so close to that level – and that there have been so few career low points – is what makes him the very best.
Even what should have been considered the nadir of his career – Juve's relegation to Serie B after Calciopoli during Italy's World Cup-winning year of 2006 – eventually contributed to his reputation. The loyalty he showed to remain in Turin and help the club rediscover their place among Europe's leading teams confirmed his place as a legend with Juventus fans.
His incredible longevity has more than justified Juve spending what was then a divisive world-record €52m for a goalkeeper in 2001 (and, incredibly, still is in euros). Buffon's 175 Italy caps also represent a European record, and convincingly surpass the previous Italian record of 111 once held by the brilliant Dino Zoff.
Thank you for reading 5 articles this month* Join now for unlimited access
Enjoy your first month for just £1 / $1 / €1
*Read 5 free articles per month without a subscription
Join now for unlimited access
Try first month for just £1 / $1 / €1
Get FourFourTwo Newsletter
The best features, fun and footballing quizzes, straight to your inbox every week.