Ranked! England's 10 best players right now
The players Gareth Southgate will be most hoping are fit for Russia 2018, rated from 10th spot to the finest English footballer in the game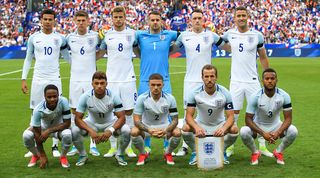 Having qualified for the 2018 World Cup, England now have the luxury of playing prestige friendlies. Two of those coming up are against Germany and Brazil, and they should be decent tests of England's progress so far under Gareth Southgate. But they won't be, because the England boss is without so many of his his best players.
Rotating your squad is sensible as it helps to avoid fatigue, but it does deprive England fans of the chance to see England's finest talents; players who may lack the reputation of the "golden generation" that preceded them but have it in them to scale greater heights.
Just who are these players, though? These are the 10 most talented Englishmen playing the game today.
10. Phil Jones
Ability has never been Phil Jones's problem; the Manchester United man has plenty of that. His ceaseless talent has always been held back by a physique that is as fragile as it is imposing. Jones is a brilliant machine not built for the rigour of biweekly football, hence the injuries. But when he's fit, as he is now, he's one hell of a defender.
9. Eric Dier
For so long Dier appeared to be a player without a true role. A jack of all trades but a master of none. An English John O'Shea, if you will. This season, however, the arrival of Davinson Sanchez at Spurs has allowed Dier extended minutes as a defensive midfielder and he's now reaping the rewards, putting in a series of great displays including against Real Madrid.
8. Adam Lallana
Lallana's qualities were never a secret but many people assumed he simply wasn't that good. However witnessing Liverpool desperately floundering about in midfield without the former Saint's cool, composed and creative play, it's clear his quality needs to be reassessed.
7. Danny Rose
Danny Rose has been injured a lot this season and Ben Davies and Ryan Bertrand (for club and country) have been so admirable in his absence that Rose is at risk of becoming a forgotten man. A ridiculous prospect given the consistent quality the left-back has displayed over the last two seasons.
6. Marcus Rashford
Marvellous Marcus is the most fearless player on any pitch he plays. Less than a month out of his teenage years, Rashford plays with a coolness and composure that has to be seen to be believed.
Full of pace and penetration, he's developing a second position out on the left as a dynamic wing-forward. The kind of player who can pick up the ball and drive towards either byline or goal. A multi-threat talent who, with just a little polish, could become a world great.
5. Kyle Walker
It's only apparent how good Kyle Walker has become when you consider just how much of a one-dimensional player he used to be. But diligent application on his part and some excellent coaching from Mauricio Pochettino and Pep Guardiola has turned Walker into one of the world's finest right-backs. Walker now routinely patrols the right flank for Manchester City with a thrusting ability to put opponents on the back foot.
4. John Stones
Walker's calming presence has been a boon to John Stones, who has emerged from the chrysalis of confusion and calamity in which he spent 2016/17 and is now a brilliant butterfly, tactically speaking anyway.
Stones has taken a quantum leap in his game and now looks every inch the assured and commanding centre-back many have always wanted him to be. His career trajectory is thus far mirroring that of Gerard Pique, another talented but scatterbrained stopper whom Pep Guardiola turned into an imperious defender.
3. Dele Alli
Dele Alli defies description in so many ways. Originally billed as a midfielder, Pochettino has developed him into more of a forward. He's not a line-leading No.9, but if you were to consider what he does best: goalscoring, dribbling and off-the-ball movement, a second striker playing off a target man is the kind of player you imagine.
The 21-year-old has more depth than that, being able to get involved in midfield, but he's no playmaker; goals are his trade. He's at his most dangerous when you've not seen him for a while, because he's roaming, looking for a space he can exploit to the fullest with his lethal scoring ability. England's very own Thomas Muller.
2. Raheem Sterling
A hurricane of dynamic dribbling and skill, Raheem Sterling is a player who has been pilloried by criticism thoughout his short career. Despite the racially coded abuse he often receives, as a player Sterling is going from strength-to-strength.
This season the winger has added a devastating end product; only two players have scored more than his seven Premier League goals and neither of them can match his 30% shot conversion. In fact, of all those Premier League to score five or more goals in 2017/18, only Gabriel Jesus's 32% conversion rate tops Sterling's.
1. Harry Kane
How could it be anyone else? The Spurs striker didn't even score in August yet still has 13 goals in all competitions this season (though his shot conversion may never recover). Since the start of 2014/15, Kane has scored 83 times in 112 Premier League appearances, more than anyone else in that period.
As if that wasn't impressive enough, he's now started playing excellently in the Champions League too, where he has five goals in four games. If anyone still doubted him, his displays against Real Madrid were the confirmation: Big Daddy Kane has arrived as a world-class striker. England's finest without doubt.
Now read...
FourFourTwo's 100 Best Teenagers in the World 2017
How England really can win by learning from Germany… and stealing from Pep Guardiola
Wait, what? 9 times clubs made bizarre managerial appointments (opens in new tab)
New features you'd love on FourFourTwo.com
Thank you for reading 5 articles this month* Join now for unlimited access
Enjoy your first month for just £1 / $1 / €1
*Read 5 free articles per month without a subscription
Join now for unlimited access
Try first month for just £1 / $1 / €1
Quizzes, features and footballing fun
Get daily World Cup 2022 news, updates and other football frolics to your inbox
Quizzes, features and footballing fun
Get daily World Cup 2022 news, updates and other football frolics to your inbox
Thank you for signing up to Four Four Two. You will receive a verification email shortly.
There was a problem. Please refresh the page and try again.