Recommended by Ronaldo: inside story on Gelson Martins, as Liverpool and Man United vie for his transfer
Talked up by his international team-mate Cristiano Ronaldo, Nemanja Grbic explains why Sporting's Gelson Martins is a wanted man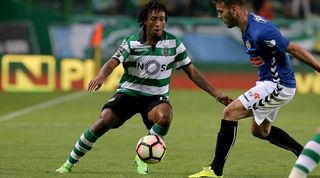 The 60-second story
"Hard work without talent is a shame, but talent without hard work is a tragedy," Robert Half said. Cristiano Ronaldo, Nani and Ricardo Quaresma all have had an enormous talent and a lot of things in common. They are all Portuguese wingers who graduated at Sporting Lisbon's renowned Alcochete academy and who were predestined to reach the absolute pinnacle of football in their careers.
While you could make a case that Nani has had a decent career, the same cannot be said about Quaresma who never fulfilled his potential. Cristiano Ronaldo, whom some said at the time was the least talented of the three, outworked his fellow countrymen in the following years and is now considered one of the greatest players this sport has witnessed.
Sporting's academy was producing great players before them and has continued to do so after, but many clubs are now more cautious and are taking their time in assessing their youngsters. Not everyone can be a new Cristiano Ronaldo, of course, but also not everyone is another Ricardo Quaresma destined to disappoint.
Gelson Martins, their latest gem, who's taking the same path at the early stage of his career as the aforementioned players, can no longer be ignored. He has been scouted by Real Madrid, Barcelona, Manchester United, Bayern Munich, Chelsea and other top club across Europe in the past two years, but it seems that Liverpool will reportedly be the first club among them who will make an attempt to lure the player into their arms.
Why you need to know him
Born on 11 May 1995 in Cape Verde, Gelson Martins arrived in Portugal in 2008 and actually started his youth football career in Benfica at Futebol Benfica. In 2010 he moved to Sporting and continued his development before making a debut for the senior team four years later.
During his time at Sporting B, he was often used in a right-back position due to a high number of wingers and attacking players in the squad. Despite being praised for his contribution and displays, the feeling was he was wasted by being played outside of his natural position.
That however didn't prevent him of being a part of Portugal U19 squad at the European Championship in 2014 and Portugal's team at the 2015 U20 World Cup in New Zealand, where he showcased his skills and was one of the most impressive players.
That same summer, Jorge Jesus was appointed as the new head coach of Sporting Lisbon, who had developed a reputation of not giving enough chances to youngsters and home-grown players. Peruvian winger Andre Carrillo was a regular member of the first team in the last four years for the Portuguese giants and it seemed an unlikely scenario for Gelson to make his breakthrough with Carrillo in the team and with Jorge Jesus in the dugout.
Luckily for Gelson, Carrillo experienced problems with injuries during the 2015/16 campaign and he took his chance. By the time his team-mate recovered, Gelson already became an indispensable member of the Lions and not even his manager could deny any longer he has a precious jewel in his ranks.
"Gelson is no longer a promise; he is a confirmation," Jesus declared, now fully convinced in the abilities of his player.
He finished his maiden campaign by featuring in 42 games in all competitions and notching up seven goals and four assists, but more importantly by cementing his place in the starting XI.
Last season started even better for the now 22-year-old winger, who in his first six league matches netted two goals and provided four assists. A Champions League match against Real Madrid in September at the Santiago Bernabeu was a great opportunity to behold what kind of player Gelson Martins really is.
Despite Sporting losing the match 2-1, the fleet-footed attacker tormented Marcelo and the rest of the Real Madrid defence with his runs and tricks and was rewarded with a Man of the Match award for his performance. After such a blistering kick-off to the new season, he was called up by Portugal and made his international debut against Andorra by the of the month.
As the time went by, Gelson continued to improve and so the list of his potential new suitors grew bigger, while the former Benfica manager Jesus continued to praise the youngster. "He's going to fail you a few times, but he's already at a level that can give you very good things," he explained. "From the kids I worked with at Benfica and Sporting, he is the most talented I felt. He is a player for very high levels."
He finished last season as the Primeira's assist leader, providing nine of them, and added six league goals to his account.
Strengths
Gelson is right winger who loves to use his exceptional flair and speed to beat his opponents before he attempts to create chances for others with his passing and accurate crossing. Leaving him in one-on-one situations is trouble waiting to happen for his marker and it's not uncommon that Gelson will attempt to beat two or more adversaries in front of him, and often come out as a winner.
He was averaging 2.3 dribbles and 1.4 key passes per game, which is just a little bit behind Liverpool's Sadio Mane who had 2.5 dribbles and 1.6 key per-game last season. However, Gelson's work-rate is and defensive contribution admirable too, as he has no problems at putting pressure on the opposition backline or tracking back to help his team.
He has averaged 1.5 tackles and 0.94 interceptions per-game, which is considerably better that Mane's 0.67 tackles and 0.33 interceptions.
The Portuguese international is tactically intelligent and knows how to stretch the defense with his movement. He is capable of shielding the ball, but is also smart enough to know when to draw a foul when he feels he can be outmuscled. He's always trying to find ways to be involved in a game by opening himself up to his team-mates and is not afraid to take responsibility.
Weaknesses
With his slim build and 5ft 8in height, Gelson is not an aerial threat. He needs work on his finishing and composure as he can be wasteful in front of goal. He's a courageous footballer who is often brimming with confidence but it can lead him to get carried away with his dribbling, occasionally in dangerous areas within his own half.
They said…
Benfica's president Domingos Stanislau, who seemed to forgot for a moment that Gelson Martins is playing for the enemy summed up his potential in a few simple words: "Gelson Martins will be the future Cristiano Ronaldo."

What happens next?
The Sporting star has a contract until the summer of 2021 and a release clause of €60m but it is believed the Lisbon club could accept a lower fee. Liverpool are definitely looking to add more firepower up front this summer with another wide forward similar to Sadio Mane.
It was thought that the English team was closing in on Roma's Mohamed Salah and that the Egyptian would be an ideal solution for them, but negotiations hit a roadblock. They are reportedly now on the lookout for alternatives and it's suggested their search may end with Gelson Martins.
He is another player who came through the Alcochete academy that has the talent and a chance to reach the very pinnacle of world football like some of his predecessors. The question is whose path will he follow?
Thank you for reading 5 articles this month* Join now for unlimited access
Enjoy your first month for just £1 / $1 / €1
*Read 5 free articles per month without a subscription
Join now for unlimited access
Try first month for just £1 / $1 / €1