Romania Euro 2024 squad: Edward Iordanescu's full squad for the Euro 2024 qualifiers
The Romania Euro 2024 squad starts taking shape now, as Edward Iordanescu looks to guide the country back to the European Championship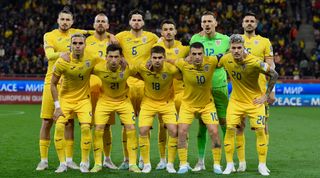 (Image credit: Getty Images)
The Romania Euro 2024 squad will come around sooner than you think, with Edward Iordanescu's side going well in qualifying as things stand.
Romania weren't involved last time around (rather cruelly, as they were one of the many host nations in the unique pan-European format) but have featured at three European Championships this century.
There's still a bit of work to be done to get over the line, but their qualification campaign so far has put them in a strong position to reach next summer's finals in Germany.
Romania's squad
Romania Euro 2024 squad: The squad for the November internationals
GK: Florin Nita (Gaziantep)
GK: Horatiu Moldovan (Rapid Bucuresti)
GK: Ionuț Radu (Bournemouth)
DF: Nicusor Bancu (Universitatea Craiova)
DF: Andrei Burca (Al-Okhdood)
DF: Adrian Rus (Pafos)
DF: Andrei Ratiu (Rayo Vallecano)
DF: Radu Dragusin (Genoa)
DF: Vasile Mogoș (CFR Cluj)
DF: Bogdan Racovitan (Rakow Czestochowa)
DF: Andres Dumitrescu (Slavia Prague)
MF: Alexandru Cicaldau (Konyaspor)
MF: Nicolae Stanciu (Damac)
MF: Razvan Marin (Empoli)
MF: Ianis Hagi (Deportivo Alaves on loan from Rangers)
MF: Valentin Mihaila (Parma)
MF: Darius Olaru (FCSB)
MF: Marius Marin (Pisa)
MF: Olimpiu Morutan (Ankaragucu)
MF: Florinel Coman (FCSB)
MF: Vladimir Screciu (Universitatea Craiova)
MF: Marius Ștefănescu (Sepsi OSK)
MF: Andrei Artean (Farul Constanța)
FW: George Pușcaș (Genoa)
FW: Denis Dragus (Gaziantep)
FW: Denis Alibec (Muaither)
FW: Florin Tănase (Al-Okhdood)
Romania Euro 2024 squad numbers
Squad numbers are yet to be confirmed for Euro 2024.
Romania manager: Edward Iordanescu
Edward Iordanescu was appointed Romania boss in 2022, following a string of spells in charge of various Romanian and Bulgarian club sides.
His biggest achievement as a manager so far came with CFR Cluj, who he led to the Romanian title in 2018/19 and 2020/21.
Romania's star player
Razvan Marin
A versatile operator in the middle of the park, Razvan Marin is the son of former Romania international Petre Marin.
The midfielder joined Serie A outfit Empoli in the summer of 2023, following spells with Cagliari, Ajax and Standard Liege.
FAQs
How many players are Romania allowed to take to Euro 2024?
We don't know just yet – but expect 26.
It was announced that 26-player squads will return for the Qatar World Cup, an expansion from the usual 23-man teams.
National managers were allowed to bring 26 players to 2021's European Championship for the first time at a major tournament, as a special measure brought in due to the COVID-19 pandemic. Due to the fixture congestion, the expanded squads returned for the World Cup.
Thank you for reading 5 articles this month* Join now for unlimited access
Enjoy your first month for just £1 / $1 / €1
*Read 5 free articles per month without a subscription
Join now for unlimited access
Try first month for just £1 / $1 / €1