Takuma Asano: Meet Arsenal's lightning quick forward hoping to fare better than his predecessors
The Gunners' previous signings from the Land of the Rising Sun haven't really worked out, but Scott McIntyre explains why the 21-year-old could make an impression if given time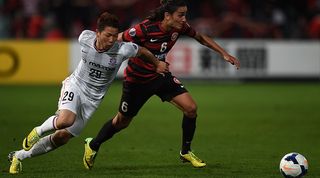 From Peter Crouch's robot, to the Robbie Fowler sniff and Wayne Rooney's knockout performance, English football has seen its fair share of unusual goal celebrations down the years. If Arsene Wenger's latest acquisition lives up to his considerable promise, it may not be long before the Premier League is introduced to a memorable feline routine.
The two outstretched hands, raised slightly above the head with both fists clawed in the form of a 'leaping Jaguar' has become the trademark celebration for one of Japanese football's brightest young talents.
Known in Japan as the 'Jaga Pose', it's the 21-year-old's riff on his 'Jaguar' nickname and it's become almost as highly anticipated as the goals that precede it for Takuma Asano. Yet, oddly, for a forward who has just earned a move to one of Europe's biggest clubs, goals haven't exactly been flowing over his brief professional career.
Not yet prolific
In fact, he didn't score at all in his first two seasons (2013 and 2014) at current J.League champion Sanfrecce Hiroshima, where he was mainly a bit-part player off the bench.
Last year was a different story, though, as the youngster established himself as a key member of the first team, scoring nine goals in 34 league appearances on his way to being named the division's Young Player of the Year.
He also netted in a 3-0 win over TP Mazembe in December, which booked Hiroshima's place in the semi-finals of the FIFA Club World Cup, where they were unfortunate to go down 1-0 to Argentina's River Plate.
But this year he's once again found it tough to make the first XI at Hiroshima, starting just four of 11 matches having struggled to dislodge 32-year-old Peter Utaka (the younger brother of former Portsmouth forward, John) from the lineup. A return of just two goals in those matches also gave little hint that Arsenal were preparing to swoop.
It's little wonder, then, that Wenger has moved to describe Asano as more of a long-term project.
Star student
"Takuma is a talented young striker and very much one for the future; he has had an impressive start to his career in Japan and we look forward to him developing over the next couple of years," the Frenchman told Arsenal's official website.
Wenger has close ties to Japan and would have been aware of a young Asano when he established himself as a star for his local high school team, where he was regarded as one of the best prospects they had seen for many years.
High school football is a big deal in Japan, with the latter stages of the national championship regularly attracting crowds of 50,000 and live national television coverage. Asano's school, Yokkaichi Chuo, is the powerhouse from his home prefecture of Mie.
He became a regular starter in his penultimate year of school, scoring in each of his team's matches that year and attracting interest from a host of top flight Japanese clubs, including Yokohama F. Marinos and Hiroshima, eventually settling on the latter.
Creative spark
Despite the lack of goals – just 11 in 57 league matches – it's Asano's general ability on the ball and sharp movement off it that would have attracted Arsenal and the handful of other European clubs he was linked with following that breakout season in 2015.
A diminutive player – the 21-year-old stands at just 5ft 7in – he possesses good close control and constantly buzzes around the forward line, dragging defenders out of position to create space for others or making surging late runs into the box.
For much of his Hiroshima career he has operated in a deeper or wider role in the club's 3-4-2-1, and although his goal return has been modest, he's set up plenty for the other forwards at the club.
Given that Wenger also favours a lone frontman, it's entirely plausible that Asano could operate either in behind or to the right of that player, which may be his best route to eventual first-team football with the Gunners.
Searing speed
While there have been some questions over his general technical ability, Asano does possess a strong passing game, is a good dribbler and is deceptively strong in the air. His best attribute, though, is undoubtedly his blinding pace.
As you'd have to be if you've earned the 'Jaguar' moniker, Asano is lighting fast, once running the 50 metres in 5.9 seconds – just 0.4 seconds slower than Usain Bolt.
He may be raw but Asano has a strong enough range of qualities to be able to succeed, and also has the mentality to ride out the inevitable rocky road that lies ahead – a pitfall that has bedevilled many Japanese players after their moves to Europe.
Having grown up with five brothers and a sister, Asano has often spoken of his family's modest means as being a driving force behind his football career. He vowed to play 'aggressively' for his new club after news of the deal emerged, for example.
While the move is still subject to 'medical and regulatory processes', it's clear that Asano will not be playing for Arsenal in 2016/17 due to his current ineligibility for a working visa. As with other youngsters brought to the club, he'll have to spend a period on loan abroad; how he fares there – both on and off the pitch – will be a major factor in determining how big a role he'll have at Arsenal in the future.
Shirt sales myth
Given the less-than-stellar output from the club's previous attempts at dipping into the Japanese market – Junichi Inamoto and Ryo Miyaichi mustered nine first-team appearances between them – the muted reaction of some fans was understandable.
Arsenal need a top-line striker now and Asano is clearly not that player. Nevertheless, the assumption that Asian players are only signed for 'shirt sales' is something that should be addressed.
Asano strikes for Sanfrecce Hiroshima
Walk the streets of Tokyo or any other major Japanese city and you're as likely to see a replica baseball or rugby shirts as you are a football one. Those you do see, moreover, reflect a mix of local and foreign leagues.
Sure, there may be a few more Milan or Borussia Dortmund strips after the success of Keisuke Honda and Shinji Kagawa at those clubs, but the number is miniscule, no different to what you would see anywhere else in the footballing world.
The signing of Asano isn't going to make Arsenal or their kit supplier rich any time soon, particularly when most of the merchandise available in Asia is fake. The 'shirt sales' line is not only a lazy jibe but also an outdated and inaccurate one, and it's simply not the case that a club as big as Arsenal would conduct their transfer business with that in mind.
What the Gunners are hoping for is an impact on the pitch, and Wenger clearly believes there's enough potential in Asano for him to be moulded into a player who can shine in the Premier League in the coming years.
Before then, though, he'll be a key cog in the Japanese team that's preparing to head to the Rio Olympics as the champions of Asia. Should he perform well in Brazil, Arsenal may well look back with satisfaction on securing the move before a wider international audience became aware of the 'Jaguar'.
More features every day on FFT.com • Football's hottest prospects scouted
Quizzes, features and footballing fun
Get the best features, fun and footballing frolics straight to your inbox every week.
Thank you for signing up to Four Four Two. You will receive a verification email shortly.
There was a problem. Please refresh the page and try again.