What makes a good football scout? Europe's player spotters tell FFT
We asked the pros about what distinguishes the good from the bad, and even how to become a scout yourself...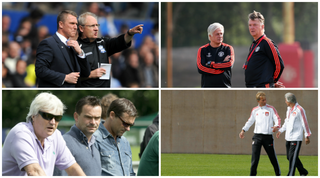 Player recruitment is one of the most important procedures at a football club. You only need to glance at the Premier League to see how Leicester City have excelled this season thanks to their fantastic success in the transfer market with the likes of Riyad Mahrez and N'Golo Kante.
There are many, many examples of clubs wasting millions of pounds on signings that haven't worked out (see our story on the 9 most disappointing club record signings, for a start).
But signing the right player isn't an exact science, as FourFourTwo found out by speaking to those who are responsible for signing players at some of Europe's biggest clubs.
Biggest mistakes
There are plenty of common errors that bad football scouts make.
"That you see what you want to see and become emotional; that you already have a preconceived opinion," explains Hammarby's chief scout Mikael Hjelmberg.
Bayer 04 Leverkusen's Slawomir Czarniecki has a similar take on the matter: "Watching only a player's good sides [is bad]. Every scout would like to have his player in the club, and this is normal. Watching one player more times could make you blind for the detail.
"The other aspect might be realising the difference between a player's actual ability and his future potential."
Randers sports director Ole Nielsen believes one of the biggest mistakes revolves around having a one-eyed view of things.
"You can't only look at the player when he has the ball," Nielsen explained. "It's important to watch the player's attitude without it."
Leverkusen's top recruits
Javier Hernandez
Christoph Kramer
Hakan Calhanoglu
Jonathan Tah
Bernd Leno
Believe it or not, there are still many top clubs in the world who lack a scouting department. How do these clubs sign players? Simply on the whim of a director, senior coach or the manager at the time. Many Eastern European and poorer clubs are known to still operate in this regard. Hundreds of millions have been spent on players recuited hugely by chance and little research.
Erdi Tokul, the analysis coach at Turkish side 1461 Trabzon, has learned this the hard way. His biggest blunder sounds simple, yet is still repeated by some clubs: "Transfering in a player before watching a full match."
Financial support
Scouting can be expensive for clubs. Leverkusen have around 50 part-time and 15 full-time scouts. On the other hand, Scandinavian clubs Hammarby and Viborg have each got only one staff member on a full-time wage in their scouting departments. The competition is high.
Plus, there are several scouts worldwide working on a pro-bono basis. You get a free ticket and in some cases the club will pay your expenses, such as petrol when you're traveling. Don't believe that this is a glamorous job, however. For most scouts, it's not.
There are also other things to consider: "Make sure that your family understands your profession – it takes a lot of time and you will be traveling a lot," says Hammarby's chief scout Hjelmberg. "Be ambitious and have good communication with your head coach and sports director."
Another important aspect is training. Yes, you have to practice, just like in any other discipline. "You have to watch a lot of games with scout eyes," notes 1461 Trabzon's Tokul.
What do scouts look at?
Sports director Ole Nielsen explains how important it is to follow a player off the pitch too. Scouts often browse internet forums seeking sensible information about the players, and can go as far as talking to the player's friends and former colleagues in order to find out more about a player's personality and behaviour.
But let's have a look at what the actual pros are looking for on the pitch, in Football Manager style:
Goalkeeper: Height, Vision, Agility and Personality
Centre-back: Quickness, Heading, Jumping, Bravery, Tackling, Anticipation, Composure, Leadership and Passing
Full-back: Stamina, Positioning, Technique, Quickness, Crossing, Dribbling
Defensive midfielder: Work Rate, Vision, Tackling, Passing, Quickness, Agility, Natural Fitness and Personality
Creative midfielder: Vision, Quickness, Flair, Ball Control, Teamwork, Passing, Dribbling and Finishing
Winger: Quickness, Flair, Dribbling and Crossing
Striker: Quickness or Jumping, Finishing, Teamwork, Passing, Dribbling
Becoming a scout
"Normally you have to have been a coach, or ideally a player and coach, before becoming a scout," says Leverkusen spotter Slawomir Czarniecki.
In most cases, this is how it works. Erdi Tokul says: "I worked hard in university and got a good CV, and then I made some contacts at the club where I used to be a youth player."
You don't have to have played the game professionally, but it helps. Ole Nielsen of Randers turned out for HSV, AaB and Denmark's youth national team. He's also been a coach in his home country, both in the first and the second division. "You must have a good eye for players," he says. "You must be able to evaluate players on all positions and you shall be smart and a good businessman."
Hammarby's Hjelmberg answered in a similar manner. "[You need] a good knowledge about the game, understanding what type of players your club wants, and a good eye to see the potential in players."
Easy, right? Or maybe not...
Quizzes, features and footballing fun
Get the best features, fun and footballing frolics straight to your inbox every week.
Thank you for signing up to Four Four Two. You will receive a verification email shortly.
There was a problem. Please refresh the page and try again.