Why it's time for PSG to offload Zlatan Ibrahimovic
The Swede is still brilliant, writes Andrew Gibney, but the French champions must say goodbye for a brighter future...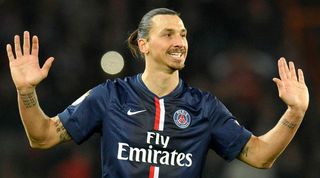 On Wednesday night, Paris Saint-Germain take on Barcelona at the Camp Nou as they fight for the right to top UEFA Champions League Group F. Back in September, the Parisians managed to win the first game 3-2 – all without talisman Zlatan Ibrahimovic.
The Swede is back for the final group game and will play a huge part in the result, but looking forward, now is the time for PSG to bid farewell if they're to move to the next level.
It may sound like madness to consider letting go a player who has scored 43 goals in the Champions League and 64 goals in 76 Ligue 1 matches, yet sometimes, no matter how great a player is on the field, his presence can sometimes push others into the shadows.
The Champions League is one trophy that Ibrahimovic hasn't won, and it remains the ultimate target for PSG and their Qatari owners too. It made perfect sense when they paid around €35 million to bring the burley Swede to the French capital, but without a huge slice of fortune, PSG are still a few years off that goal and Ibra isn't getting any younger.
Zlatan the catalyst
When PSG became Europe's nouveau riche club, it ushered in a new era of spending at the Parc des Princes. Just like when Manchester City bought Brazilian Robinho from Real Madrid, it was Javier Pastore who became the club's marquee signing. PSG spent €42 million to bring the Argentine to Ligue 1, but after an encouraging debut season, hasn't reached the levels expected from the initial outlay.
The following season, PSG upped the ante, bringing in Ibrahimovic and Thiago Silva from Milan. This took the spotlight away from Pastore but also nudged the capital club to new heights. It wasn't just on the pitch that they improved: from a commercial point of view they were now closer to the likes of Real Madrid, Manchester United and Barcelona.
PSG won their first Ligue 1 title since 1994 with Ibra & Co., but that only increased expectations. The title was now expected, not a goal. PSG's success would now be measured by how they performed in the Champions League.
Yet in the last two seasons, against Barcelona and Chelsea respectively, PSG have fallen at the quarter-final stage. The first year they had Ibrahimovic in the line-up, but lacked the firepower to help the Swede carry the burden of taking on the Spanish giants. Edinson Cavani joined in the summer of 2013, but with Zlatan injured for the second leg away at Stamford Bridge, coach Laurent Blanc couldn't call upon the services of both his star forwards.
That defeat to Chelsea was as much to do with luck as it was with being an inferior team. They took a 3-1 lead to London, but two second-half Chelsea goals after sustained Blues pressure saw PSG eliminated from the competition. For any top club, the last eight is a bare minimum. To go further you need the draw and some luck in your favour.
The overshadowed others
This season, PSG have been given a wake-up call. Ibrahimovic has suffered recently from a heel injury, which at first was meant to keep him out for a couple of weeks, but he ended up missing 10 league games and three of their five Champions League group games.
Instead of wallowing and fading into the background, however, his team-mates rose to the occasion in Zlatan's absence.
Against Barcelona, Cavani had looked like a striker lacking confidence, and there were worries he wouldn't be able to handle the pressure. But the Uruguayan's goal and sending-off (for his 'hunter' celebration) in the league game against RC Lens seemed to spark a resurgence. Cavani would return from suspension and, including the goal against Lens, net seven goals in 10 games in all competitions.
Finally, the confidence he'd shown for Napoli was shining through in his PSG performances – and he wasn't the only one. Without Ibrahimovic dropping deep, there was more space in midfield for Pastore and Lucas Moura to drift and express themselvers. There is no doubt that without the need to play in Zlatan's shadow, both South Americans blossomed and were key players in PSG's success.
Manager Blanc even adapted the side, playing 4-3-1-2 instead of 4-3-3, and all three players immediately looked more comfortable in the new-look system.
Ibrahimovic made his return against Ajax in the Champions League, scoring in the 3-1 win. He netted the only goal of the game as PSG beat Nice 1-0, and his brace helped them come back from 1-0 down to beat Nantes 2-1. What has also been noticeable, however, is the lack of goals from Cavani and the missing creativity from both Lucas and Pastore.
Against Barcelona on Wednesday, PSG will be up against a Lionel Messi in sensational form, but what is clear is that the Argentine superstar plays for the team and not himself. Barcelona wouldn't be as dangerous without the 27-year-old, but he also lets other players blossom – as Neymar's improvements this season would suggest.
Adjö, Ibra?
If PSG are to move up to the same level Barcelona have occupied for the last 10 years, they need superstars who are part of the team, not bigger than it.
Recently, Ibrahimovic declared that he would likely hang up his boots by the end of the 2015/16 season, giving him two more attempts at winning the Champions League with PSG. His agent Mino Raiola suggested that the Swede could play until 2018. Many say PSG would be mad to not take up the opportunity of four more years with Ibra as their leader.
But the striker is 33 years old, and it is hard to imagine him at 35 pushing PSG higher than they are now. Simply, the French champions are in a catch-22 situation: without him they are unlikely Champions League contenders. But to grow as a club they need to say goodbye. With the like of Liverpool and Arsenal both linked with the Swede in the summer, there should be no shortage of takers.
PSG should be grateful to Ibrahimovic for the role he has played at the club in recent years, but nothing lasts forever. To realise the full potential this club now has as a European superpower, they must do it without their talisman in a new era.
Thank you for reading 5 articles this month* Join now for unlimited access
Enjoy your first month for just £1 / $1 / €1
*Read 5 free articles per month without a subscription
Join now for unlimited access
Try first month for just £1 / $1 / €1
Get FourFourTwo Newsletter
The best features, fun and footballing quizzes, straight to your inbox every week.