Why Liverpool could find unexpected support during their visit to Bulgaria
CSKA Sofia coach Stoycho Mladenov, who scored twice against Liverpool in 1982 and got a Russian telly as a reward, has promised to cheer on the Reds during their game with Ludogorets, writes Metodi Shumanov...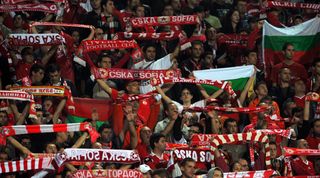 On Wednesday, Liverpool will travel to Bulgaria for the fifth time in their history. Brendan Rodgers' team face Bulgarian champion Ludogorets in a crucial game in Sofia; both sides share third place in their Champions League group with three points each.
Victory would mean the winners keeping alive their hopes of escaping the group alive, while the losing side will almost certainly bid farewell to European football for this season.
Apart from the 2000 fans from England who are expected to visit Sofia for the game, Liverpool could receive additional support in the Vassil Levski National Stadium from fans of local side CSKA Sofia. And this won't be the first time this season when supporters of CSKA join forces with a Ludogorets rival from abroad.
Back in August, the Bulgarian champions played Steaua Bucharest in the Champions League play-offs. During the second game in Sofia, the Romanian side was cheered on not only by its own fans, but also by tens of CSKA ultras. The explanation is simple – during the communism era both Steaua and CSKA were associated with the local army and have maintained a fraternal relationship ever since.
After the game with the Romanian champions, Ludogorets owner Kiril Domuschiev called those CSKA supporters "poor souls". The irony is that Domuschiev, whose personal wealth is estimated at €500 million, was part of CSKA's executive board until 2010. After leaving the club he decided to redirect his football investments towards Ludogorets, which is based in the town of Razgrad – 330km north-east of the Bulgarian capital. Thanks to his efforts, Ludogorets were promoted to the top flight and won three successive titles.
Red action
But on Wednesday, Liverpool will certainly have one pretty famous fan on Bulgarian soil - CSKA coach Stoycho Mladenov, who has already declared his love for the men from Anfield. "Next to CSKA my favourite club is Liverpool, so I hope they win their game with Ludogorets," he said, before being immediately accused of unpatriotic behaviour by disgruntled Ludogorets officials.
Mladenov himself is no stranger to international tussles with Liverpool. Back in 1982 he scored both goals for CSKA in one of the most famous European wins a Bulgarian club has ever achieved. CSKA faced the Reds, then-holders of the European Cup, in the quarter-finals.
After a 1-0 defeat in England, the Reds of Sofia claimed a 2-0 win after extra-time. It remains Liverpool's only loss in four visits to Bulgaria. The prize Mladenov got for his two goals was a promotion to the rank of captain in the Bulgarian army, as well as a small Russian TV set.
It was these unforgettable games between CSKA and Liverpool in the eighties (they also met in the quarter-finals in 1981 when Liverpool won both games 5-1 and 1-0 respectively) that are the main reason for many fans in Bulgaria supporting the latter nowadays.
In order to emulate Liverpool's legendary 'This is Anfield' sign, CSKA officials even decided to display a similar slogan at their own club stadium which reads: 'This is the Army Stadium'.
Secret scousers
As for the CSKA fans, Wednesday's game won't be the first time they've supported Liverpool in a football match with an opponent from Bulgaria either. In 2004, the English side travelled to Sofia for the second game with CSKA's fierce rivals Levski in the UEFA Cup third round.
The game was played on March 3 and coincided with Bulgaria's national holiday. Half an hour before kick-off, the stands of the Vassil Levski National Stadium were completely full despite the fact that Liverpool won 2-0 in the first clash at Anfield.
Right before the first whistle was blown a fight erupted in the north stand, which CSKA fans usually occupy during the so-called Eternal derbies with Levski. Although the stadium was supposed to be full only with Levski supporters, it turned out that some CSKA ultras went inside under cover.
They kept their scarves and banners hidden until they decided to reveal themselves with a couple of minutes to go. The police reacted quickly and managed to keep the enemies apart; CSKA fans were sent to the stand where a few hundred Liverpool supporters watched the game.
Eventually Gerard Houllier's team defeated their hosts 4-2 with goals from Steven Gerrard (the only surviving member of that squad who could play on Wednesday), Michael Owen, Dietmar Hamann and Sami Hyypiä.
Lovers' tiff
A year later Liverpool won their fifth European title, but a fifth-placed finish in the Premier League obliged UEFA to send the Reds through the qualifying rounds of the Champions League the season after. The draw for the third round paired CSKA Sofia with Liverpool, with the first game in Sofia.
And because in the world of football, love is often accompanied by hatred and vice versa, it should be noted that not all fans of CSKA support Liverpool by default. The undisputable proof of that was the bad attitude of some supporters towards Djibril Cisse during the 2005 game in Sofia.
It was won 3-1 by Liverpool, with Cisse scoring the first goal and Fernando Morientes getting the other two. It was later revealed later that the egocentric French striker had provoked the locals with an obscene gesture which was recorded by one of the cameras at the stadium. UEFA fined CSKA €25,000 for the racist chanting of some supporters.
Of course, the hopes are that no such incidents will occur during Wednesday's game. Nonetheless, neither one of these sides can afford to be nice when it comes to their Champions League futures.
Ludogorets vs Liverpool LIVE ANALYSIS with Stats Zone
Thank you for reading 5 articles this month* Join now for unlimited access
Enjoy your first month for just £1 / $1 / €1
*Read 5 free articles per month without a subscription
Join now for unlimited access
Try first month for just £1 / $1 / €1
Get FourFourTwo Newsletter
The best features, fun and footballing quizzes, straight to your inbox every week.