World Cup 2022: Who has the easiest route to the final?
So who has the easiest route to the final, now we know the next round? Let's assess the big teams…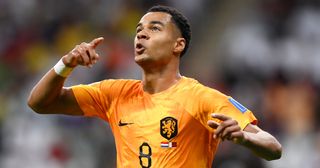 (Image credit: Mike Hewitt - FIFA/FIFA via Getty Images)
Now the group stage is complete, we can work out who has the easiest route to the final of World Cup 2022.
With a fair few shock exits early in the competition, the tournament is open now with no one team impressing so much that they're nailed-on favourites. In fact, no side won all three of their games – some sides barely looked convincing across the three.
Here are the favourites for the trophy and their likely routes through to the final.
Who has the easiest route to the final of World Cup 2022?
Netherlands
The Netherlands' last-16 tie is one of the more difficult second-placed teams to have drawn. The United States are still unbeaten and proved against England that they're difficult to break down, giving Louis van Gaal's men a tough task considering their relative lack of cutting edge compared to some of their rivals.
Should they win that one, the Dutch will likely face Argentina, who knocked them out of the last World Cup they were a part of on penalties, back in 2014. Should the gods smile on them, it's probably Brazil after that. No mean feat.
A final against France, Spain or England would then be likely. Are the Oranje definitively better than any of these sides? Nope. There's going to have to be a lot of luck…
FFT's verdict: Should reach the quarter-finals – but even that's taking the United States for granted. They'll need to be a lot better than they've shown to get to the semis again.
Argentina
Argentina are slowly growing into this tournament and are lucky for a number of reasons. Firstly, they've avoided coming up against the kind of Danish side that stormed through Euro 2020 – secondly, France actually topped that group and put themselves in the opposite side of the draw.
Australia is perhaps the best last-16 opponent anyone could draw, while the Albaceleste will perhaps fancy themselves against a Dutch side who've looked far from impenetrable in Group A against weaker opposition. That's where things stop looking so straightforward.
Brazil are likely next as Neymar meets Lionel Messi – and then the final: there's no outrunning France forever. A semi-final looks achievable, at least.
FFT's verdict: The semis look realistic. But as we've seen thus far, there's a thin line between having Messi and relying just on Messi…
England
Is it coming home? It might be – but the route is far harder than it has been for Gareth Southgate's last two tournaments.
Senegal is a favourable last-16 tie looking at some of the others in the competition, while the winner will face – gulp – France. The English media are already hyping up the importance of getting Kyle Walker match-fit for a battle with Kylian Mbappe, while the semi-finals could see the Three Lions paired with Spain, before Brazil in the final.
If recent tournaments are anything to go by, Spain will be the most difficult test of all, with England's issues lying with how they play without the ball in tougher fixtures. The depths of this squad and their big-game mentalities will be pushed to their limits.
FFT's verdict: Your heart may say England squeak a result against a formidable French side – but surely it doesn't bet against Spain in the semi-finals from what we've seen so far…
France
Few expected a repeat of four years ago and yet the French look good for defending their crown. A tough last-16 clash could've caught them off-guard after their rotated side lost to Tunisia… and yet Poland don't look poised to provide too much of a test.
That will leave England in the next round – and you'd fancy your experienced side if you're Didier Deschamps. Spain in the semi-finals is a clash of styles but with Mbappe perhaps the key difference-maker on either side.
France against Brazil or Argentina in the final. It looks remarkably likely right now.
FFT's verdict: A third title for the French? Possiblement. No one en route to the final plays the kind of high-energy football that's troubled them in the past few years. Perhaps if a Brazil or in-form Germany or Denmark were in their way, they'd come unstuck…
Spain
They looked like the team to beat after Matchday 1… but finished the group stage second behind Japan. Oops.
A second-round tie against Morocco is no foregone conclusion given the north African side's impressive defence, with Portugal or Switzerland waiting in the next round. Either of those two could be a tricky proposition for the Spanish judging by recent history – and then it's France or England waiting for them in the semi-final.
In some ways, Spain will be grateful for not having to play Brazil on the other side of the draw. But if they'd have beaten Argentina, they'd be buoyed by confidence: now they're easily the biggest team in the competition up until the semi-finals – and they might feel the weight of that pressure.
FFT's verdict: Spain like a game in which they have full control so won't relish coming up the chaos of Cristiano Ronaldo and co. A semi-final looks doable – and if they crash out before, it could be seen as a massive disappointment, given how good they looked in their first game.
Brazil
The favourites for the tournament aren't invincible, as a loss against Cameroon in their third match laid bare. Next they face South Korea, though, then Japan or Croatia – so it's not too much trouble, surely?
That's one of the easier routes for a big side barring any more nasty shocks. A semi-final pits them against Argentina, who they have a recent big loss against, or Netherlands, who they were knocked out by in 2010 and beaten again in the third-place play-off in 2014.
Still, that's not a bad route to the final. Neymar could return for the semi, too.
FFT's verdict: If Brazil don't get to the final four, it'll be 'national inquest' territory. They must fancy themselves over Spain, France or England in the final, too.
Portugal
They won their group with relative ease, gave a run-out to some of the youngsters and their group wasn't exactly a walkover – yet Portugal have it all to do to progress further.
Switzerland in the next round will be a stern test and few would be surprised if the Swiss win, given how unconvincing Portugal have been in parts. Spain would await them, followed by England or France – and all three seem more tactically astute than the Portuguese.
You always have a chance when you have Ronaldo, of course – but it looks a little like a stretch, even for him.
FFT's verdict: Portugal's route is much harder than Euro 2016 and they've regressed as a unit. It would take a miracle to progress to the final, surely?
Thank you for reading 5 articles this month* Join now for unlimited access
Enjoy your first month for just £1 / $1 / €1
*Read 5 free articles per month without a subscription
Join now for unlimited access
Try first month for just £1 / $1 / €1
Quizzes, features and footballing fun
Get daily World Cup 2022 news, updates and other football frolics to your inbox