Cristiano Ronaldo believes young players "don't care" enough to succeed: "Their mentality is not the same"
Cristiano Ronaldo is also perplexed as to why young players don't follow his example on the training ground at Manchester United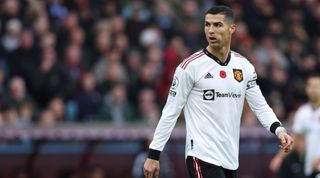 (Image credit: Getty Images)
Cristiano Ronaldo believes young players should look to him as an example on how to conduct themselves, but most don't because they "don't care" enough and lack the hunger to succeed with longevity in their careers.
In his explosive interview with Piers Morgan on TalkTV, the Portuguese forward made a number of controversial statements, including one where he said he "feels betrayed by Manchester United". His latest dig, though, is aimed at the younger generation of players coming through.
"They live in a different era where their mentality is not the same," he said. "They have not suffered."
When asked what the difference between young players starting their careers now and what he went through 20-odd years ago, Ronaldo added: "Their hunger. I think they have things more easily. They don't suffer.
"They don't care. I don't mean only at Manchester United, but across every team, across every league in the world. They are not the same as my generation. But we cannot blame them because it's part of life. The new generation and the new technologies, they distract them for another thing. So, it doesn't surprise me.
"But in the same way it's a little bit of a shame because if they have the best examples in front of their eyes, and if they don't at least copy what you did, for me it's kind of weird."
Ronaldo started his career at Sporting Lisbon, making his debut for the Portuguese side in 2002. He soon moved to Manchester United at the beginning of the 2003/04 campaign, still only 18 years old. However, Ronaldo believes players now aren't making the most of the opportunities around them.
"I remember when I was 18, 19, 20, I always looked to the best players in Ruud van Nistelrooy, Rio Ferdinand, Roy Keane, and Ryan Giggs. This is why I have the success that I have and longevity. Because I take care of my body, my mentality, my head, because I see these guys and I learn from them.
"I'm not the kind of guy who likes to give advice, as I prefer to be an example. I'm there every morning and do the same stuff. I'm probably the first one to arrive and the last one to go out. I think the details speak for themselves.
"But this generation, it's like they listen to one thing and in two minutes they have already forgotten it, and they do whatever they think is better. This is why I say I like to lead by example. Some follow me, but most of them, no. They don't care."
As a result, Ronaldo seems adamant young players won't last at the elite level into their late 30s like he has managed. Their supposed lack of hunger and due care for their craft will ultimately hold them back, he feels.
"They're not going to have longevity in their careers. In my opinion, it's impossible. In my generation you see many players who reached, 36, 37, 38, still at a high level. I think this generation, you're going to count on your hands how many will reach that level, because these years of preparation helps a lot."
Thank you for reading 5 articles this month* Join now for unlimited access
Enjoy your first month for just £1 / $1 / €1
*Read 5 free articles per month without a subscription
Join now for unlimited access
Try first month for just £1 / $1 / €1