Croatia coach Bilic to quit after World Cup
ZAGREB - Croatia coach Slaven Bilic is confident his team will qualify for the 2010 World Cup finals and plans to quit his post for club management at the end of the qualifying campaign.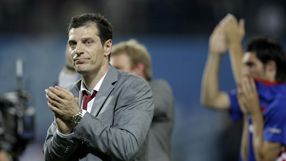 "We can still catch up with group leaders England if they slip up somewhere and even if we don't, we should finish ruuners-up and get another chance to qualify through the play-offs," Bilic told daily Sportske Novosti.
"I will stay at the helm until the end of our 2010 World Cup campaign, not a second longer because four years in charge is enough," he said.
Bilic, who took over in 2006, steered Croatia to the Euro 2008 quarter-finals after twice beating England in their qualifying group to eliminate them from the finals.
The exit forced England's former manager Steve McClaren to make way for Italian Fabio Capello, who put England in the driving seat to reach South Africa in 2010 with four straight wins in Group Six, including a 4-1 away rout of the Croatians.
"England are in a commanding position to cross the finish line first but things can change, I have a hunch it won't be a walk in the park for them," Bilic said.
"We are not too happy with our performances but it's all about getting the points now and we are used to playing under pressure so we're optimistic."
England lead with 12 points from four games, ahead of Croatia and Ukraine who have seven each.
Croatia are away to Andorra in their next qualifier on April 1, when England are at home to Ukraine.
Thank you for reading 5 articles this month* Join now for unlimited access
Enjoy your first month for just £1 / $1 / €1
*Read 5 free articles per month without a subscription
Join now for unlimited access
Try first month for just £1 / $1 / €1