Metzelder slams Ronaldo signing
Real Madrid defender Christoph Metzelder has slammed his club's decision to sign Cristiano Ronaldo from Manchester United for £80million.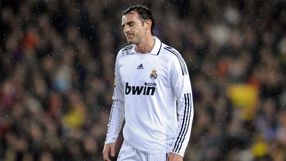 The 28-year-old joined the Bernabeu outfit in 2007 having spent seven years at Borussia Dortmund, making more than 120 league appearances for the Bundesliga side.
However, since arriving in Spain the German international has made just 21 la Liga outings for the Madridistas due to injury and, more recently, the form of Portuguese stopper Pepe.
And Metzelder has reacted angrily to the Bernabeu bosses' decision to splash out over £130 million on Kaka and Ronaldo, saying the inflated figures are wrong in the current financial climate.
"I don't know much about this evolution and I'm worried about it," he said in The Sun.
"Spending $96million on someone that can get injured or be in bad form isn't correct to me, especially during this period of financial uncertainty."

UNITED FANS! Check FourFourTwo.com's ever-expandinginterviewsarchive for more stuff to read:
Web Exclusives Wayne Rooney, Peter Schmeichel, Carlos Tevez
Q&A Wayne Rooney, Cristiano Ronaldo, Ruud Van Nistlerooy
One on One David Beckham, George Best
Ask A Silly Question Bryan Robson
Boy's A Bit Special Danny Simpson
Perfect XI Garth Crooks, Bryan Robson, Sir Bobby Charlton, Eric Cantona
What Happened Next? David May, Norman Whiteside
Sing When You're Winning Dominic Monaghan, Ian Brown
And Another Thing Being a Big Four fan
Plus! Rate United players (and others) onTalentspotter
REAL MADRID FANS! Check FourFourTwo.com's ever-expandinginterviewssection for more stuff to read:
Q&A Ruud Van Nistelrooy, Raul, Robinho, Fabio Cannavaro, Fabio Capello, Samuel Eto'o
One on One Michael Owen, Ronaldo, Nicolas Anelka, David Beckham
Web Exclusives Guus Hiddink
And Another Thing Best league in the world?
Sing When You
Thank you for reading 5 articles this month* Join now for unlimited access
Enjoy your first month for just £1 / $1 / €1
*Read 5 free articles per month without a subscription
Join now for unlimited access
Try first month for just £1 / $1 / €1