Saudi Arabia's left-back requires facial surgery following win against Argentina
Yasser Al Shahrani has travelled to Saudi Arabia's capital Riyadh after being hit by a flying knee from his goalkeeper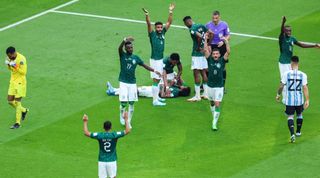 (Image credit: Getty Images)
Saudi Arabia's left-back Yasser Al Shahrani will undergo facial surgery in Riyadh after his goalkeeper accidentally kneed him in the face during the Asian nation's historic 2-1 World Cup 2022 victory over Argentina on Tuesday.
During the second-half stoppage time at the Lusail Stadium, Saudi Arabia's goalkeeper Mohammed Al Owais raced off his line to clear a ball entering his box. Al Shahrani and an Argentinian forward were also bearing down on the ball, meaning Al Owais had to jump to clear the danger.
However, he accidentally caught the left-back in the face with his knee, and Al Shahrani dropped to the ground with what appeared a serious injury. After trying and failing to get to his feet, the 30-year-old was eventually stretchered off.
Following the subsequent substitution, Saudi Arabia's medical staff took Al Shahrani to the Hamad Medical City in Doha.
Al Shahrani underwent a full medical check-up and spent last night in the hospital, before heading to Riyadh on Wednesday morning to undergo facial surgery at the National Guard Hospital.
A statement from the Saudi Arabia FA said: "Yasser Al Shahrani left Hamad Medical Centre in Doha heading to Riyadh's National Guard Hospital earlier this morning following the head injury sustained during yesterday's 2-1 victory over Argentina.
"The 30-year-old will now undergo surgery in the next few hours as per the medical staff's recovery plan.
"We all wish Yasser a full and speedy recovery."
Al Shahrani's injury is the only negative to come out of Saudi Arabia's game against Argentina, when looking at the result from the Arab nation's perspective. Indeed, their win over the South Americans was mathematically ranked as the most unlikely victory in the history of the World Cup - Argentina came into the tournament as one of the favourites, after all.
Al Shahrani performed admirably during the game, though, managing to keep Angel Di Maria on Argentina's right-wing largely quiet. Lionel Messi did manage to score a penalty, but Saudi Arabia's defensive line ensured Argentina scored three offside goals in the first-half.
Thank you for reading 5 articles this month* Join now for unlimited access
Enjoy your first month for just £1 / $1 / €1
*Read 5 free articles per month without a subscription
Join now for unlimited access
Try first month for just £1 / $1 / €1