Quiz! Can you name all 23 players to score for five or more Premier League clubs?
By Alex Reid
These heroic journeymen have travelled the Premier League landscape – and they have taken their goals with them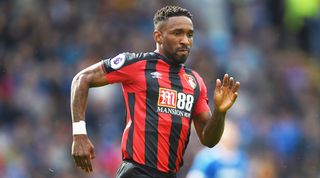 Jermain Defoe could well get his first start for Bournemouth in a Premier League match this weekend. Defoe was prolific for the Cherries on loan as a young striker, but he hasn't - at time of writing - scored for the club in the top tier.
If and when he does, Defoe will join an elite band of players to score for at least five different Premier League clubs (having already netted for West Ham, Tottenham, Portsmouth and Sunderland).
What we're quizzing you on now is the players already in this group, including the eight footballers who've scored for six clubs, plus the one player out on his own with seven. As you'd expect, most – but not all – are forwards, while two have the same surname, which is handy. Hint: it's not Gary and Phil Neville.
We've put five minutes on the clock, so get going and let us know how you fared @FourFourTwo (we'll retweet the best scores if you don't give answers away). Then challenge some journeyman pals too.
(Please note: Adblockers can stop you seeing our quizzes, so turn them off while you're here. Thanks!)
More time-killing quizzes on FourFourTwo.com
Quizzes, features and footballing fun
Get the best features, fun and footballing frolics straight to your inbox every week.
Thank you for signing up to Four Four Two. You will receive a verification email shortly.
There was a problem. Please refresh the page and try again.