Which Premier League team is winning the PR war?
Timothy Ellis assesses the health of communications between supporter and club at each of the big boys…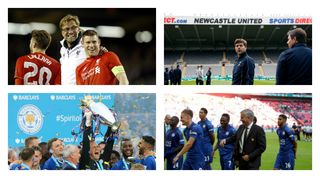 1) Liverpool (Jurgen Klopp) 
Target Market Won. Needs to Re-establish Brand Strength
Last season, Jurgen Klopp did his Shiny Happy People thing, with the German doing his best to imbibe himself into Liverpool's culture, language and, most importantly of all, passion.  There was nothing forced about it though, apart from that learning Scouse interview. Klopp was impossible to dislike and it had a magnetic effect despite a stumbling league campaign.
The only thing that raged against his machine was falling over at the final hurdle twice, losing both the League Cup final to Manchester City, and the Europa League final to Sevilla. Now he needs to deliver some big prizes with his own set of troops rather than someone else's hand-me-downs. Klopp has sent out the right messages: "This is my squad now. We built this team only to be successful, not one where we say we will have to wait."
2) Manchester United (Jose Mourinho)
Corporate Identity Lost. Aggressive Marketing Pitch Needed
After a traumatic Stamford Bridge collapse and the Carneiro case drawing old blood from raw wounds, is the old charm wearing off or can Jose Mourinho captivate us again in a job that some thought might never come to his table? One can already sense darkness to his mood in that he finds himself handicapped by the Europa League on Thursday nights, when his star demands centre stage.  He says, with a frustration that can only be directed at the mess his old pal LVG left: "So we are in the worst possible situation, but in this moment I want my players to think: 'Every day I want to be champion and want to fight for the title.'"
Can the Portuguese manager excite the faithful by unleashing the Old Trafford beast of attack, attack, attack? Or will he pragmatically park the bus? Over to Jose: "What is playing well? It is scoring more goals than the opponents, conceding less, making your fans proud because you give everything and you win. It is everything at the same time." You work it out...
3) Manchester City (Pep Guardiola) 
Award Winning Campaign Manager Found for Noisy Neighbours
Fabian Delph has already fallen under the spell of Pep Guardiola, suggesting he has learned more in the last three weeks than at any time during his career. Perhaps he was just listening for a change. In any case, Pep has been on his welcoming tour of Manchester, wooing the crowds with his brand of straight talk delivered with a sinister smile.
The former Barcelona and Bayern Munich boss was introduced on a specially-erected stage. He said: "First I have to meet my players, speak with them, hug them, kick their arse, and after… I am dying to know them. I have an idea, but I need time." If Pellegrini was This Charming Man then Guardiola is This Clinical Surgeon, ready to shake up the band of lightweights or, should we say, heavyweights, as he has already introduced 'fat camp' for those who have piled on the summer pounds. City supporters will buy into his huge attention to detail and trophy laden CV.
4) Chelsea (Antonio Conte)
Strong Public Image Projects Confidence in New Product Placement
"When he talks, his words assault you," Andrea Pirlo said of the new Chelsea coach. "They crash through your mind, often quite violently, and settle deep within." Conte has the look of a stalker, the kind of one that creeps up on you. Think Robert De Niro in the remake of Cape Fear. It is the eyes that really do it. Chelsea fans will soon know that the nightmare of last season will have no danger of a repeat with the Italian in charge.
When Carlos Tevez was asked during his debut season at Juventus what the differences were between Conte and Sir Alex Ferguson, his reply came back: "Not many." Interesting times ahead. If you thought Mourinho was good theatre, Conte could be a box set of bravado but with results to prove it. Three Serie A titles do not lie
5) Tottenham: (Mauricio Pochettino)
Volatile North London Market Brand Stabilised  
Mauricio threw his magic dust around last season to good effect and even charmed Fergie who said he was the best manager in the Premier League. When Tottenham beat Manchester City at the Etihad, it looked like the North London outfit were ready to throw away their cape of inferiority and fight the Foxes all the way to the finish line.  
Unfortunately, they stuttered over the line, unable to put away an Arsenal team reduced to 10 men and who ended up snatching second place, with a highly charged Chelsea rubbing salt into the wounds in an ill-tempered game at the Bridge. Pochettino even revealed how he wanted to kill his players after their 5-1 drubbing at Newcastle on the last day. No doubt the Spurs faithful won't mind hearing that their manager's holidays were ruined just as much as theirs.
6) Arsenal (Arsene Wenger) 
Cerebral Spin Doctor Alienating Core Support
Perhaps the problem with Arsene Wenger is that he is entirely logical in a marketplace that is entirely illogical. Arsenal have signed three players so far this summer: Granit Xhaka, Takuma Asano and Rob Holding. Not exactly ground-breaking stuff, and with the sheer frustration of the title collapse still fresh in the memory, the calls to chief executive Ivan Gazidis to spend more money sound like they must be heard. "I work every day with Ivan, believe me he is highly motivated to bring players in. Sometimes I have to calm him down. I believe as well this is a period where everybody wants to dream, and transfers bring dreams," said Wenger. Heard it all before, Gunners fans?
7) Leicester City (Claudio Ranieri)  
Mission Statement Confused in Difficult Second Season Syndrome 
What to expect from a team that defied all expectations apart from their own? Jamie Vardy has still tried to claim the underdog tag: "We're not supposed to win anything. We're only little Leicester, as everyone says. People still say it now. No-one has given us a chance again so we might as well enjoy it because that is what gets us the performances."
A pre-season drubbing by PSG might not be a huge worry but there will be a difficulty in retaining that sense of innocence when the team spirit enters the bear pits of Europe. The entirely affable Claudio has even admitted that Riyad Mahrez's head has been turned by an Arsenal link.
Quizzes, features and footballing fun
Get the best features, fun and footballing frolics straight to your inbox every week.
Thank you for signing up to Four Four Two. You will receive a verification email shortly.
There was a problem. Please refresh the page and try again.