4 big reasons why Cristiano Ronaldo might well leave Real Madrid
Rumours of the Portuguese hopping ship have surfaced periodically over the past couple of years, but this time there are legitimate reasons to give them due consideration, writes Rahul Kalvapalle...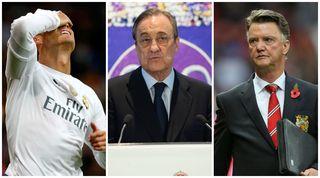 Cristiano Ronaldo disappointed in the clasico but still threatened more than most of his team-mates, forcing Claudio Bravo into two excellent saves. He has 13 goals and two assists in 16 games this season, and recently became Real Madrid's all-time record goalscorer. He has won the Ballon d'Or for the past two years running, and is a marketing phenomenon.
So, with both PSG and former club Manchester United in the hunt for his signature, why would Real Madrid and Florentino Perez consider letting him go?
1. Gareth Bale
Much of the groundwork for Ronaldo's transfer to Madrid in 2009 was laid by current club president Florentino Perez's predecessor, Ramon Calderon. It's an investment that is universally acknowledged to have yielded spectacular returns on and off the pitch.
However, the same cannot be said of Gareth Bale, the player Perez brought in to soothe the wounds of rejection inflicted by Neymar, who had the temerity (and foresight) to choose the Camp Nou over the Santiago Bernabeu.
Perez is heavily invested in Bale, and needs his record-breaking signing to start playing like one of the best players in the world. The club supremo must have squirmed in his seat as Neymar – lately making a strong case for being considered the second best player in the world – ran rings around the Madrid defence while Bale was largely anonymous.
RECOMMENDED Why Florentino needs to look at man in mirror to cure Real Madrid malaise
The former Spurs star's limitations have been cruelly exposed in Spain, where speed, strength and a thunderous shot will only take you so far. But it also doesn't help that he has to share pitch space with the alpha dog that is Cristiano.
Last season, Bale regularly found himself at the receiving end of Ronaldo's ire for daring to shoot at goal rather than set up the team's designated premier goalscorer. Many fans at the Santiago Bernabeu followed the resident legend's lead, booing Bale for the smallest of errors and heaping undue pressure on him.
In circumstances like these, it's impossible for the Welshman to even dream of dominating football games. Whereas Lionel Messi has been happy to share the glory with Neymar and Luis Suarez, Ronaldo has created a culture that makes it impossible for Bale to shine. Perez can't do much to improve Bale's technique and close control, but he does have the power to lift the player out of Ronaldo's all-consuming shadow once and for all.
NEWS Bale: I'll never say never to Premier League return
2. Rafa's right to reign
Carlo Ancelotti once said that having Ronaldo in the team gives Real Madrid a 1-0 advantage before a ball is kicked. As such, he and other coaches before him have been happy to put up with the Portuguese's individualist streak and accept that it's all part of the Ronaldo package – one that includes 50+ goals every season.
But Rafa Benitez sees things a little differently. The former Liverpool boss espouses the collective ideals of optimisation, efficiency and tactical control. There is no room in his footballing philosophy for a player who only works off the ball when he feels like it, and takes low-percentage attempts at goal when there are team-mates in better attacking positions.
RECOMMENDED Why Cristiano Ronaldo's form has slumped for Real Madrid
Of course, Benitez would have known this about Ronaldo before taking the Real Madrid job, and likely backed himself to find a way to keep the Portuguese happy while the Madrid machine rolled on.
But the two started off on the wrong foot. First, Benitez refused to state whether he thought Ronaldo was the best player in the world – a major faux pas at Real Madrid these days (he has since rectified this oversight). Ronaldo also took umbrage at Benitez's tactics, openly expressing his dismay in training sessions and during games. The relationship between the two is palpably frosty, especially compared to the warm rapport Ronaldo enjoyed with Ancelotti.
President Perez needs to give Benitez the best possible shot at success if he is to justify moving on from the coach who brought Real Madrid their long-awaited Decima. As ludicrous as it sounds, relieving the squad of its best player might just help.
3. Marriage on the rocks
Perez likes his Galacticos, but he's not afraid to move on from them if he feels they're getting too big for their boots.
Ronaldo recently gave an interview to German football magazine Kicker, in which he expressed an openness to leave Real Madrid. A few days later, before Real Madrid's Champions League clash against rumoured suitors PSG, cameras captured a visibly awkward exchange between Perez and Ronaldo, with the Portuguese clearly heard saying: "That's not what I said, I did something else."
RECOMMENDED Perez dismisses Ronaldo exit talk
Following the game, one of Ronaldo's worst wearing the white of Real Madrid, the Portuguese whispered something into PSG coach Laurent Blanc's ear on his way off the pitch. He then cheekily embraced club owner Nasser Al-Khelaifi in front of a gaggle of reporters in the mixed zone.
These actions are innocuous in isolation, but the optics are notable – Ronaldo knew they would provoke speculation and controversy, but went through with them anyway. It's his way of flouting his power and challenging Perez. But only one man can win that battle.
4. Sound business move
Ronaldo will be 31 in February and is not as explosive as he once was – 13 years of elite football and a troublesome knee will take their toll on even the most obsessively fit athletes. However, he is far from washed up and still has more than enough in his locker – and his brand valuation – to command a transfer fee close to the €94 million Real Madrid forked out for his services in 2009. Particularly if PSG and Manchester United enter into a bidding war for his services.
A self-made billionaire, Perez has struck some great business deals in his time, but few would match this one – buy a player who leads your club to every major trophy on his way to becoming its all-time record goalscorer, milk his global brand for seven years and sell him on while his stock is just about high enough to allow you to recoup your initial outlay.
Money from any sale could then be spent on an exciting, younger Galactico who would help fans forget about their departing legend. Eden Hazard, Sergio Aguero and Robert Lewandowski are possible targets, as are any new and exciting breakout stars that might emerge at Euro 2016.
Ronaldo's departure could also allow hometown favourite Jese Rodriguez, who plays in Ronaldo's favoured position, the opportunity to finally start realising his massive potential as a player and as a marketing commodity.
RECOMMENDED How Jese Rodriguez can avoid becoming yet another Real Madrid academy cast-off
While Ronaldo is idolised at Real Madrid for helping take the club back to the pinnacle of the European game, his departure wouldn't necessarily be as traumatic for Madridistas as you might imagine. Alfredo Di Stefano, Emilio Butragueno and Raul are only a few of the legendary goalscorers who were sold on by Real Madrid once their star faded.
Should Ronaldo be sold and an exciting new Galactico signed, Madridistas will live with it. And no one knows that better than Perez.
Thank you for reading 5 articles this month* Join now for unlimited access
Enjoy your first month for just £1 / $1 / €1
*Read 5 free articles per month without a subscription
Join now for unlimited access
Try first month for just £1 / $1 / €1
Get FourFourTwo Newsletter
The best features, fun and footballing quizzes, straight to your inbox every week.