The 7 fiercest club rivalries to be created in the Champions League
Crossing paths continually on Europe's biggest stage has forged these modern epics. As Barcelona and Chelsea clash once again in 2018, Michael Yokhin runs through the great club rivalries that mainly exist because of the Champions League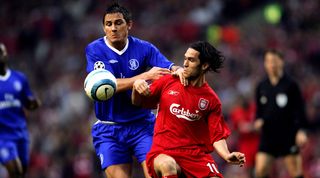 1. Barcelona vs Chelsea
This is most likely the most passionate and intense rivalry between clubs from different countries, which has developed into a sort of derby over the years.
It all started in 2005, when the Blues overcame Barca in an extremely dramatic last-16 battle. The Catalans came from behind to win 2-1 at the Camp Nou in the first leg, and staged an impressive comeback after going 3-0 down very early at Stamford Bridge. An immaculate Ronaldinho effort will forever be remembered as one of the most majestic goals scored in the competition, but that was all for nothing. John Terry popped up to net a late winner as Chelsea prevailed 4-2 in Jose Mourinho's first season.
A year passed, and Barcelona took sweet revenge at the same stage, as their 2-1 win in London featured not only two own goals but also an extremely controversial sending off for Asier del Horno for a foul on Leo Messi. From there on, the two sides became enemies, but it was impossible to predict that rivalry would reach an entirely new level in 2009.
Barcelona were everyone's darling at the time with some phenomenal football in Pep Guardiola's first season in charge, but Guus Hiddink's Chelsea managed to keep a clean sheet in a goalless draw at Camp Nou in the semi-finals first leg, then took a deserved lead at Stamford Bridge thanks to a wonderful Michael Essien strike.
The Blues then had four penalty shouts turned down (of varying degrees of legitimacy) by the Norwegian referee Tom Henning Ovrebo. Then, three minutes into injury time, Andres Iniesta netted the crucial equaliser and broke the Londoners' hearts.
Now it was Chelsea's time to take revenge, and they waited impatiently for three years, before ruining Guardiola's farewell season at Barcelona at the same stage. Chelsea were clear underdogs, even after winning the first leg 1-0, but their defensive organisation and resilience under Roberto Di Matteo were extraordinary.
Barca went 2-0 up and Terry was sent off, but Ramires scored the most important goal of his career in the dying moments of the first half. Messi missed a penalty, then Fernando Torres – the Catalans' nemesis in his Atletico Madrid days – secured the ticket to the final. Roman Abramovich would finally fulfil his dream in the unlikeliest circumstances.
It's somewhat unfortunate that Barca were not drawn against Chelsea in the MSN era, but now – six years on – they resume their rivalry, and it is expected to be as fierce as they come.
2. Liverpool vs Chelsea
Chelsea and Liverpool had never been particularly serious rivals in the Premier League, before frequent meetings in Europe changed their relationship forever. In fact, the Reds are single-handedly responsible for ruining Jose Mourinho's dream of winning the Champions League with the Blues, and Rafa Benitez is especially proud of that.
For starters, he threw Chelsea out of the competition in the semi-finals in 2005, when Luis Garcia broke the deadlock of the tie with a goal that may or may not have crossed the line. Then, two years later, the rivals met again at the same stage, exchanged 1-0 home wins – and Liverpool prevailed on penalties.
Luck changed only after the Special One was fired. Avram Grant, who has always enjoyed good slices of fortune, benefited from an incredible injury time own goal by John Arne Riise in the quarter-final first leg in 2008 to beat Liverpool in extra time at Stamford Bridge and put the curse to rest.
Then, a year later, the teams were involved in two nailbiting spectacles, with Chelsea winning 3-1 at Anfield thanks to a brace by Branislav Ivanovic, and Liverpool almost staging an incredible comeback in a 4-4 draw in London. It's a great shame they haven't met again in Europe since Benitez's departure, but it should happen again one day.
3. Manchester United vs Juventus
Ever since 2003, the football world has been waiting for Manchester United to face Juventus again, because the battles between Alex Ferguson and Marcello Lippi in the 1990s were sensational. In 1996, the Old Lady won twice at the group stage to gain the upper hand. Both teams took three points on home soil a year later, but that was all irrelevant because both qualified for the knockout stage anyway.
The most important fixtures – and arguably one of the most famous results in the Red Devils' history – took place in the semi-finals in 1999.
Juventus were hot favourites after a 1-1 draw at Old Trafford, even after Ryan Giggs managed to score an injury time equaliser. In the second leg, Pippo Inzaghi duly scored twice in the first 11 minutes at Stadio delle Alpi. That was probably too early for the Italians, because they lost concentration and allowed their rivals to stage a historic comeback. Roy Keane, Dwight Yorke and Andy Cole scored in the 3-2 win, and United eventually lifted the trophy in even more dramatic circumstances.
Juventus are still waiting for revenge, because they lost twice at the second group stage in 2002-03 (even though Juve eventually reached the final that season). We eagerly await the next meeting.
4. Barcelona vs Inter
They haven't met since that fateful evening at Camp Nou in April 2010, but it's unlikely to be forgotten, and the rivalry between Barca and Inter was sparked by Jose Mourinho.
Deeply hurt by the Catalans' refusal to make him the coach in 2008 and choose Pep Guardiola instead, Mourinho had a golden opportunity to beat the club he used to dream about. The fact that Zlatan Ibrahimovic was sold from Inter to Barcelona that summer and failed to settle, while Samuel Eto'o moved in the opposite direction, only added layers to an already curious script.
In fact, the rivals met four times that season, and Barca took four points while finishing ahead of Nerazzurri at the group stage. In the semi-finals, though, it was a different story. Inter attacked their vaunted rivals from the off to win 3-1 at San Siro, and then held out for a 1-0 defeat in the return leg, despite the fact that former Barcelona midfielder Thiago Motta was sent off following Sergio Busquets' infamous theatrics.
As Mou ran onto the pitch to celebrate after the final whistle, the stadium workers opened the sprinkler jets on him.
5. Bayern Munich vs Real Madrid
The most famous clubs in Germany and Spain share similar mentality, and their history in the Champions League is equally rich. Since the beginning of the millennium, Real and Bayern faced each other 16 times at the knockout stages, and the advantage belongs to Madrid so far, with five aggregate wins to three. The affairs have always been tight, apart from the famous 4-0 Real win at Allianz Arena in the semifinals in 2014 that humiliated the then Bayern manager Guardiola.
Their quarter-final run-in last season was probably the most controversial of all. Bayern won't be in a rush to forget Arturo Vidal's scandalous sending off at the Bernabeu or the overlooked handball which eventually allowed Cristiano Ronaldo to settle the tie. They'll be itching for another go at the Spanish giants.
6. Barcelona vs PSG
The Parisians' dream of winning the Champions League was buried by Barcelona no less than three times in the last five seasons, and they are unlikely to forget the amazing events of last March.
PSG dramatically lost on away goals in 2013 when Pedro scored the crucial equaliser at Camp Nou. Then were soundly beaten 5-1 on aggregate in 2015, but in 2017 they made sure of progressing by thrashing their illustrious opponents 4-0 at Parc de Princes.
Or so they thought...
An incredible comeback, inspired by Neymar and finished off by Sergi Roberto, resulted in the 6-1 win in the return leg. Now that Neymar has controversially left for Paris, the next meeting promises to be red hot with tension continuing to simmer between the two. If Neymar and PSG are to finally capture the Champions League, they will almost certainly have to go through Lionel Messi and friends to do it.
7. Real Madrid vs Borussia Dortmund
For some reason, Real are frequently drawn against German opposition, and have developed a significant rivalry not only with Bayern, but also with Dortmund whom they faced 10 times since 2012.
While the Spanish giants have the marginally better record overall, the most famous win goes to the Schwarzgelben when Robert Lewandowski scored four goals as part of a 4-1 trouncing in the first leg of the 2013 semi-finals.
Real took revenge a year later on their way to lifting the trophy, and won twice this season at the group stage, but that defeat still hurts. Whether Dortmund will ever return to the heights they achieved under Jurgen Klopp is uncertain - they're not quite a top-tier European power right now - but these were wonderful games.
Quizzes, features and footballing fun
Get the best features, fun and footballing frolics straight to your inbox every week.
Thank you for signing up to Four Four Two. You will receive a verification email shortly.
There was a problem. Please refresh the page and try again.