Andre Gomes: Valencia's terrific playmaker who could be Mendes's next big sale
The Portuguese starlet could be the key to Valencia rediscovering the form of last season, explains Lee Roden...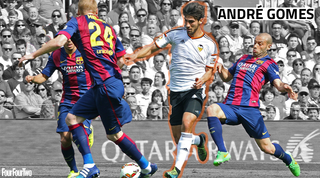 The drop in the quality of Valencia's play between this season and last has been dramatic to say the least. They have gone from overpowering Real Madrid, Atlético Madrid and Sevilla, to losing against Espanyol and drawing with Deportivo and Real Betis. From scoring 17 goals in their first eight league games of 2014/15 to scoring seven in the same timeframe this campaign.
FACT FILE
Date of birth: July 30, 1993
Place of birth: Grijo, Portugal
Height: 6ft 2in
Position: Midfielder
Current club: Valencia (43 apps, 6 goals)
Former club(s): Benfica
International: Portugal (4 caps, 0 goals)
Far from building upon their energetic revival last year, Nuno's team have slipped backwards.
They do, however, have a glimmer of hope, and his name is Andre Gomes. On Saturday, after a nightmare five months with injuries, the Portuguese playmaker managed to get through more than half a game at Mestalla for the first time this season.
The result was a 3-0 win for Valencia, with much of the home team's moments of quality coming from his boots. "That Andre Gomes is the Valencia player with the most class is no secret," noted Cadena Ser journalist Rubén Uría after the individual exhibition. "Nor that he is on his way to becoming one of the best in La Liga."
Value for money
Gomes was one of several Jorge Mendes-represented players Valencia brought in on loan-to-buy deals ahead of the 2014/15 campaign, and his modest €15 million fee belied the kind of quality los Che were getting. His performances gave the game away quickly. Almost instantly after arriving he started to thrill the club's reinvigorated fan base, dazzling with tricks, turns, and the kind of energy that seemed to symbolise the newfound optimism in the air at Spain's sleeping giant.
His victims were many and they were weighty, too. In the seventh fixture of the La Liga season he scored an astounding goal against Atlético Madrid, running onto a Paco Alcácer backheel, leaving Joao Miranda flat-footed with a faked shot, touching the ball past Gabi then surging further into the area before thumping a left-footed strike past Miguel Ángel Moyà.
More top-bracket showings against quality opponents would follow. In the 2-1 January win over Real Madrid that ended los Blancos' 22-match winning streak, Gomes was one of the best players on the pitch. Racing back to make tackles, keeping possession well under pressure, testing Iker Casillas and even audaciously flicking the ball over Toni Kroos' head, it was a big game performance from a big-game player.
Those magical victories made it clear that Valencia needed to build their creative approach around the 22-year-old, but what has made it even clearer is the drop in their quality in his absence.
A muscle injury picked up on the penultimate day of last season resulted in surgery and a summer of recovery for Gomes, and more physical trouble in his first starting appearance of the current campaign left him unable to compete for the next three games.
Without him, Valencia have looked flat, predictable and laboured. Unable to construct anything meaningful while in possession, they have quite often been unable to even fall back on the counter-attacking that Nuno has a habit of over-relying on.
RECOMMENDED How Johan Cruyff reinvented modern football at Barcelona
Return to form
At the San Mamés on October 4, the player made another attempt to return, and this time it wasn't a false start. Full match fitness wasn't quite there but while his energy reserves lasted, Valencia at least had a chance. Tiredness inevitably set in and the away team eventually lost 3-1, but there was one reason for optimism. "He was the only positive thing from the game," wrote local paper Plaza Deportiva. "After the international break he should be the piece that improves the team."
At the weekend against Málaga, the importance of his return was reinforced. In front of a home crowd that was grateful to see him starting again, the full bag of tricks was on show.
Playing one touch where possible, driving forward with confidence at defenders, popping balls off to team-mates on the turn and pirouetting around opponents to draw fouls, the only thing needed to cap off the performance was a goal. It arrived – and what a goal it was.
RECOMMENDED Ruben Neves: The brilliant Liverpool-linked leader made Porto captain at 18
After going ahead through a scrappy opener, Valencia had struggled to impose themselves further in the game. In the 32nd minute, a home corner was swung in but cleared everyone and curved out to the D, where Gomes was waiting. Cushioning it down into his path with a great first touch, he shrugged off one challenger, skipped through the middle of two more, then fired a left-footed shot into the net just as another assailant dove desperately to try to stop him. It was his second goal in only 275 minutes of action this season, effectively taking his rate to two in three from midfield.
Key to the future
That 3-0 win took Valencia to within four points of the top four, and the man-of-the-match performance from their most important player will have given them a necessary dose of confidence after such a barren start to the season.
As long as they can keep Gomes fit and inspired, they have a chance of climbing the table, as well as making it to the knockout stages of the Champions League. A player of his class certainly merits more European football and more sustained challenges. The question is whether Valencia can provide them.
If they can't, then it feels inevitable that Gomes will move on sooner rather than later – not least because he is a Jorge Mendes player. Aware of the possibility of that scenario, Valencia doubled his buyout clause from the originally agreed €50m when they made the transfer from Benfica permanent last summer, as well as handing him a salary increase.
RECOMMENDED 7 images that show how Rafa Benitez is moulding Madrid's defence into Europe's best
The local press claim that Joan Laporta had been working with Mendes on a deal to bring him to the Camp Nou as part of his failed bid to return as Barcelona president, while Jose Mourinho, Arsene Wenger and current Barça sporting director Robert Fernández are cited as admirers. Gomes is happy at Mestalla and has a contract until 2020, but as countless clubs have found out before, there is only so far that will can take you. Steady the ship and prove that the Peter Lim project is continuing in an upward trajectory this season, and los Che should be able to call upon their biggest star for further years to come. Combust before a return to the top of the pile has truly taken hold, and they may find it's more difficult to fend off the sharks.
More features like this every day on FFT.com (opens in new tab)
Thank you for reading 5 articles this month* Join now for unlimited access
Enjoy your first month for just £1 / $1 / €1
*Read 5 free articles per month without a subscription
Join now for unlimited access
Try first month for just £1 / $1 / €1