Cristiano Ronaldo joins exclusive club of players to appear at a World Cup while a free agent
Some other high-profile names have also played at the tournament across the years without being attached to a club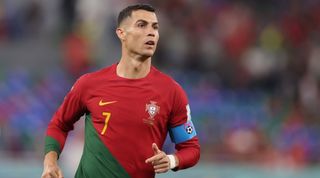 (Image credit: Getty Images)
Manchester United mutually terminated Cristiano Ronaldo's contract on Tuesday, leaving the Portuguese star a free agent ahead of World Cup 2022.
There are plenty of potential teams Ronaldo could join, but, for now, the 37-year-old is fully focussed on getting Portugal out of Group H, which contains Ghana, Uruguay and South Korea.
While appearing at the tournament as a free agent is unusual, it isn't the first time it has happened - in fact, he isn't the only high-profile player to even be leading a nation while unattached to a club.
Indeed, at the 2006 World Cup, Zinedine Zidane played for France while technically a free agent. Zizou had announced his plans to retire after the tournament, with his Real Madrid contract coming to an end.
He played his last game for the Spanish side against Villarreal a few weeks before captaining France at the World Cup in Germany. The Frenchman scored twice on the way to France reaching the 2006 World Cup final, before then chipping a penalty to ensure his nation took a 1-0 lead against Italy. Their European rivals equalised soon after, though, with Zidane then sent off for headbutting Marco Materazzi.
Frank Lampard is another elite-level player to also be unattached to a club while appearing in the tournament, the Englishman having left Chelsea a few weeks prior to the 2014 World Cup in Brazil. He joined Manchester City soon after, though, before heading to USA to play for MLS side New York City FC.
Cristiano Ronaldo is extremely used to breaking every record under the sun, however, should he lead Portugal to World Cup glory in Qatar, he wouldn't even be the first free agent to do so.
A few months before the 1978 World Cup, Argentine defender Alberto Tarantini had a contractual dispute with Boca Juniors that left him without a club. Argentina went onto win the tournament with Tarantini in the squad, though, making him the only player to have ever lifted the Jules Rimet trophy while unattached.
He moved to Birmingham City shortly after lifting the trophy in his home country.
Elsewhere, Gary Breen went to the 2002 World Cup with the Republic of Ireland a free agent, the defender having left Coventry just weeks beforehand. Meanwhile, Breen's fellow countryman Tony Cascarino had been released by Chelsea before the 1994 World Cup - he singed for Marseille following the conclusion of that tournament.
However, the Canada squad in 1986 had as many as six free agents among their ranks, including captain Bruce Wilson. Randy Ragan, Randy Samuel, Greg Ion, Jamie Lowery and Sven Habermann all played at the tournament in Mexico without a club.
Thank you for reading 5 articles this month* Join now for unlimited access
Enjoy your first month for just £1 / $1 / €1
*Read 5 free articles per month without a subscription
Join now for unlimited access
Try first month for just £1 / $1 / €1