FIFA 17: The 16 teams we can't wait to play as
Like you, we've been smashing the FIFA 17 demo, and now we can't wait for the real thing. Here are the teams we're most eager to try out once the full game is released and why…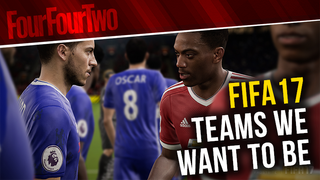 One of the biggest problems with online FIFA fixtures, perhaps, is that too many players are inclined to shamelessly (with apologies to genuine-issue Madridistas) stick with the objectively best team in the game, Real Madrid, rather than experimenting with other sides.
To whet your appetite for the imminent launch of FIFA 17, we've prepared the following guide to interesting sides that you really should try out. You'll still probably get kerb-stomped by an angry 14-year-old with an unhealthy Ronaldo fixation every other game, of course – but that's a story for another article.
Manchester United
Inexplicably overrated by EA in recent years, the mismatched lambs of Man United have regularly tottered to the slaughter at the hands of fellow five-star Seasons sides. The introduction of Ibrahimovic, Pogba and Bailly this year adds undeniable steel to the spine of the first team, while Mkhitaryan's talents as a creator translate more favourably in FIFA's simulation than the subtlety of the easily-bullied Mata. The centre-back pairing of Smalling and Bailly is also one of the fastest in the game, making them suited to the demands of dealing with the usual jet-heeled forwards you meet at this level.
United finally have good squad depth and tactical flexibility in most positions and, at long last, a handful of genuine-issue superstars. The only problem, perhaps, is that a lack of another top-quality right midfielder/winger rather condemns Mkhitaryan to duties on that flank when he might (whisper it) actually be a better fit for the slot just behind Ibra.
Barcelona
The curious thing about Barcelona is that, despite their abundance of talent, it's often been a struggle to get the most out of them in FIFA since the early Pep years. Despite obvious individual ability, trying to coax them to play as a cohesive unit in attack *and* defence – let alone authentically recreate the best pound-for-pound passing side in the world – has always been a puzzle that few people have ever solved, which is why you see so many online opponents opt for the more direct and palpable merits of Real Madrid, PSG, Bayern and Dortmund. Barca can be fun, but tend to feel oddly lightweight in the major head-to-heads.
If the initial impressions of the FIFA 17 demo hold true in the final game, though, this might be Barcelona's year in the digital domain. The quality of their front three is irrefutable: they're the second, third and fourth most highly-rated players in the game. But if defensive midfielders are more disciplined in their position, as appears to be the case, we might finally see Sergio Busquets make a difference when (and, more importantly, where) it matters. The addition of Umtiti to the back line will also strengthen the side in all the right ways: he's almost certainly due a respectable bump from his relatively modest FIFA 16 rating.
Manchester City
Though a very capable unit in FIFA 16, Pep's summer dealings mean that the two primary shortcomings of City's virtual side (a lack of depth in midfield and on the wings) have both been addressed. İlkay Gündoğan and Kevin De Bruyne make for a superb partnership in midfield, while the latter should function well as a second striker if you're looking for someone to play alongside Agüero. Iheanacho isn't quite yet up to the job in the demo, with an overall rating of 74, but we'd expect him to get some TLC from EA's ratings gurus soon. Indeed, if City's current real-life form continues, we should see noteworthy live update stat boosts for many players in the squad on launch day.
Juventus
The loss of Paul Pogba (and, to a lesser extent, Morata and Zaza) is more than cushioned by the introduction of Gonzalo Higuaín, Miralem Pjanić, Dani Alves, and a second year on loan for Juan Cuadrado. Though the strongest Juve line-up requires a formation with three at the back, there's just enough flexibility to revert to a more conventional four if you prefer. No matter which system you favour, the power of the engine room behind Higuaín and Dybala up front should lead to plenty of chances.
Tottenham Hotspur
If Harry Kane, Dele Alli and Eric Dier are shown the love that their performances last season clearly warrants (and their Euros disappointment and arguably slow start to this season overlooked), Spurs could be great fun to play as this year. Those who favour a reductive, pace-oriented approach to FIFA need not apply: this is not a sweat squad. What Spurs do have is the right kind of quality in each position to build and finish patient passing moves.
Much depends on their final team rating on launch day. If they remain as a four-and-a-half star team (as they were in FIFA 16), Spurs will be one of the most competitive sides in their matchmaking tier in Seasons. A promotion to 5* status, however, could lead to the frustratingly regular match-ups with Real, Bayern and Barca that Arsenal, Man United and Chelsea fans have had to endure in recent years.
Bayern Munich
Choosing 'sweat teams' might be infra dig for principled FIFA players, but the beasts of Bayern often get a pass where team selection snobbery is concerned: they're rather more technically demanding to operate. That might seem an odd thing to say about a team with world-class talent in every position on the pitch, but it's true. If you can set them up with a formation and a general strategy that suits you, however, they're probably the only team that can truly go toe-to-toe with Real in tight matches against similarly-skilled human opponents.
New signing Mats Hummels fits in perfectly when installed at the heart of the best back line in FIFA 17, though fellow recruit Renato Sanches probably won't supplant Thiago, Vidal or Alonso in midfield just yet. That said, the raw stats of Sanches mean that his combative, indefatigable style could be the right fit for certain fixtures if you look beyond the overall rating. If his real-life development continues apace, gradual stat boosts could make him a God-tier box-to-box general before the end of the season.
Borussia Dortmund
Second only to Real Madrid in the affections of players who turn online matches into an ugly blur of slaloming runs and trick stick abuse every year, you could uncharitably argue that most players that habitually pick Dortmund (real fans aside) will not miss Hummels, Mkhitaryan and Gundogan: they were only ever interested in the blistering pace and prowess of Pierre-Emerick Aubameyang and Marco Reus.
Advocates of carpet football who struggle to deal with direct, speed-oriented play from opponents in FIFA have every reason to curse Tomas Tuchel's summer spending spree: adding André Schürrle and the promising Ousmane Dembélé to the mix, with Mario Götze to create space and thread through-balls, could make Dortmund a ridiculously potent attacking force this year. But if you can't beat them (or, for that matter, catch them), join them: an attacking 4-3-3 with these guys is going to be a joy to play.
Leicester City
Leicester's ability to dictate and dominate matches without ever exceeding 50% possession wasn't ever truly represented in FIFA 16, despite stat increases for key players as the season developed. It was possible to emulate their style of play with a 4-4-1-1 augmented with very specific custom tactics, but using the default configuration was never a recipe for title-winning form. Vardy was always a nuisance, naturally, but too many of the other players rarely made a sufficient impression.
The loss of Kante is a real blow in FIFA terms, because we strongly suspect that their other central midfielders won't have the stats to really make a difference with off-the-peg systems in FIFA 17. The introduction of the powerful Slimani also complicates matters, because – if his Ultimate Team in-form cards in FIFA 16 are anything to go by – he's totally worth a place in the team. For this reason, we're really curious to see how Leicester might function in a 4-2-4 formation set up to absorb pressure and counter (a little-used tactic that could pay dividends with the right personnel in FIFA 16). With Drinkwater and a +1 of your preference set to stay back and shield the defence in the two midfield slots, a front line of Musa-Slimani-Vardy- Mahrez could lead to some incredible football on the break.
Paris Saint-Germain
The post-Ibra PSG may seem a diminished force in top-level FIFA, but don't be fooled: Cavani was always more than capable of leading the line, and most players will do better with the abundance of riches in this squad without the constant temptation to feed the ball to the erstwhile Swede. Jesé is a capable understudy to the Uruguayan, and is also fit to fill in on the wings – though we doubt he'll supplant Ángel Di María, Javier Pastore or fellow new boy Ben Arfa in the starting line-up on either flank.
Speaking of whom, Ben Arfa's footwork will be a perpetual source of torment for opposing players. Though he's a little faster than Pastore, and therefore seems a better fit for the left wing berth, his affinity for long shots and 5* skill moves rating could make him a more effective choice for the CAM role in the default 4-2-3-1 formation.
Schalke
Leroy Sane might have left for pastures sky blue, but Schalke's summer investment has added a lot of depth to an already interesting squad. Yvehen Konoplyanka and Breel Donald Embolo are the pick of the bunch. The Ukrainian winger was the beneficiary of a spectacular pink form card late in the FIFA 16 Ultimate Team season, so we know that the FIFA stats gods are watching him closely. Even his base card was strong, which should translate to great basic attributes in other competitive modes this year. Embolo, meanwhile, is a fair tip to become the new Aubameyang. At this stage in his development, he's more about pace than anything else – but this may soon change.
Few more FIFA 17 screens. Lighting is ridiculously good and I love classic kits. pic.twitter.com/Gu1JKgyG9Z
— Ben Wilson (@BenjiWilson) September 22, 2016
Honourable mentions
Despite operating in the 5* category that leads to constant trips to the Santiago Bernabéu, Chelsea were strong enough to give all members of the European elite a good game in match in FIFA 16. The addition of Kanté, Batshuayi and Luiz makes them even better for 17. Luiz might have lost the 'beast mode' characteristics that made him one of the best defenders in FIFA during his first spell at the club, but he's still mobile enough to be a good partner for Zouma in matches where opposing forwards are defined by their pace.
Arsenal have strengthened in ways meaningful to FIFA this summer. Don't dismiss them because the oft-maligned Giroud and Welbeck are their best options as centre-forwards: both had a certain indefinable something in FIFA 16 that we imagine will carry over to this year's game. They're not the best strikers in the game, but they *are* capable of best-in-game moments if you use them in the right way, especially with the likes of Özil and Sánchez working alongside them.
We can't say how Sevilla's summer acquisition spree will work out in FIFA terms, but the team certainly picked up a lot of talent. They're definitely worth a look.
More FIFA
If Stoke City can address the poor start to the season that will lead to punitive deductions in FIFA 17's live player stat updates over the coming weeks, they could be an intriguing prospect. Their primary deficiency in FIFA 16 was the lack of a strong, mobile target man to capitalise on the supply line from Arnautović and Shaqiri, but loanee Bony fits the bill this year. Bruno Martins Indi will also slot in well alongside Shawcross at the back.
Another team to look at when you get weary of the constant Real Madrid-PSG-Real Madrid-Man United-Real Madrid-Man City-Real Madrid-Barca-Real Madrid-Dortmund-Real Madrid rotation in five-star Seasons head-to-heads is Leverkusen: fresh faces Volland, Baumgartlinger and Dragovic were all solid summer buys.
And okay, yes – Real Madrid are pretty good, too. But know this: if you choose them, you're the devil incarnate.
Quizzes, features and footballing fun
Get the best features, fun and footballing frolics straight to your inbox every week.
Thank you for signing up to Four Four Two. You will receive a verification email shortly.
There was a problem. Please refresh the page and try again.