Football Manager 2018 wonderkids: Under £20m
Moving into bargain territory now, with 24 of FM's finest investments who won't blow a top team's budget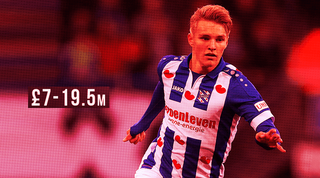 Eder Militao
Available for: £7m
In-game stats:
Need to know: Sao Paulo's rising star Militao is comfortable as a defensive midfielder or centre-back, but has actually established himself for his club as a right-back and held down a regular first-team berth since early September. The 19-year-old looks like a much cheaper alternative to John Stones in FM 2018.
Afonso Sousa
Available for: £7.5m
In-game stats:
Need to know: A player so obscure that he's got fewer than 2,000 Twitter followers and no Wikipedia page (the shame). Attacking midfielder Sousa is looking to jump up from Porto's B team in the near future, but could be your future star No.10 if you have £7.5m burning a hole in your pocket.
Matheusinho
Available for: £8m
In-game stats:
Need to know: Matheusinho featured high in FourFourTwo's own 100 Best Teenagers in the World 2017 list, having broken through promisingly in Brazil with America Mineiro. He particularly impressed after being involved in preparations for the 2016 Olympics, where he made friends with Neymar. Friends in high places won't hurt his cause.
Christian Fruchtl
Available for: £9m
In-game stats:
Need to know: It may be easy to christen the Bayern Munich stopper as Neuer Mk.II, but the Bavarian giants are holding fire on giving Fruchtl a senior debut for now. At only 17, the keeper is keen to learn behind one of the best in the world, with a solitary appearance against Milan in pre-season to his name at this point.
Rodrygo
Available for: £9.5m
In-game stats:
Need to know: Where do Santos get all of this talent from? Also aiming to follow in Neymar's footsteps is the Liverpool-linked Rodrygo, who made his senior Serie A debut in November aged 16. He'll need a bit of nurturing in-game to get the best out of him, but it looks like he'll be worth it in the long run.
Justin Kluivert
Available for: £9.75m
In-game stats:
Need to know: It's been a whirlwind 2017 for the Ajax star, who has the biggest boots to fill in Amsterdam. Son of club hero Patrick, the winger made his debut in January and has already featured in a Europa League final – at the end of which he had a very suspicious-looking chat with Jose Mourinho. Does Old Trafford beckon?
Ezequiel Barco
Available for: £10m
In-game stats:
Need to know: Already favourably compared to Independiente legend Ricardo Bochini, Barco has all the tools needed to make it. Stocked with an unlimited supply of shimmies and jinks, the young Argentine is a joy to watch whether bombing through the centre of the park or mazing his way through a pack of defenders.
Felice D'Amico
Available for: £10m
In-game stats:
Need to know: While his asking price may fluctuate depending on whether Inter Milan exercise their (outrageously cheap) future fee clause, there's nothing uncertain about this attacking midfielder's talent. Twenty-five goals from the left wing in Italy's U17 league hints at a player who knows where the goal is – and then some.
Cesar Montes
Available for: £10.25m
In-game stats:
Need to know: Montes is just one of those players who plays well beyond his years. He's already got 100 senior appearances to his name before turning 21 – including a handful for Mexico – and looks like he'll be around for a very long time yet.
Shaylon
Available for: £10.5m
In-game stats:
Need to know: Attacking midfielder Shaylon is proving to be excellent value for Sao Paulo, who paid Chapecoense a negligible R$500k (around £115,000) for the then-19-year-old in January. In November he made his first Serie A start against his old club, having scored two goals off the bench in matches before that.
Amine Gouiri
Available for: £10.75m
In-game stats:
Need to know: Gouiri has seen his stock rise dramatically this year, having equalled the all-time goals record for a player at the U17 European Championship (eight). The Lyon whippet is now reportedly on Arsene Wenger's radar, but is surely well placed to earn first-team minutes in Ligue 1 before thinking about a big move just yet.
Federico Valverde
Available for: £11m
In-game stats:
Need to know: The baby-faced midfielder may have a handful of La Liga appearances to his name with loan club Deportivo, but he's very much a playmaker that Real Madrid would like to keep. A keep-ball specialist in the Toni Kroos mould, it will be very interesting to see how Valverde gets on in a situation where many before him have sank rather than swam. A debut goal for Uruguay looks promising.
Lautaro Martinez
Available for: £11.5m
In-game stats:
Need to know: Pound for pound, probably the biggest bargain on this list – and Martinez isn't half bad in real life either. Both Racing and Argentina's youth sides have found out about his ridiculous talents and eye for goal fairly quickly. It shouldn't be too long before he arrives on the world stage in a big way.
Martin Odegaard
Available for: £12m (release clause)
In-game stats:
Need to know: The forgotten wonderkid. Odegaard made quite an impression having been signed for Real Madrid at 16, following a senior international debut for Norway at 15. That rapid trajectory hasn't quite continued, but a loan move to the Eredivisie with Heerenveen is going well – and you can get him in FM 2018 for a relatively cheap £12m.
Pietro Pellegri
Available for: £12m
In-game stats:
Need to know: Pellegri is a record-breaker: Not only is Genoa's striker the joint-youngest player ever to play in Serie A, he's also the first 16-year-old in history to score two goals in a top European league. After netting twice against Lazio, his father (a Genoa coach) burst into tears. All being well, he'll be making defenders cry for years to come – just not with joy.
Matthijs de Ligt
Available for: £13m
In-game stats:
Need to know: Another ludicrous bargain. You're looking at an epitome of the Ajax Way: calm, composed and confident in possession. It's remarkable to think De Ligt is only 17, having already established himself at Ajax and made his debut for the Netherlands. If you can tempt him away from Ajax, you'll have the best teenage centre-back in the game on your hands.
Riccardo Orsolini
Available for: £15m
In-game stats:
Need to know: If Atalanta don't swoop in for this Juventus winger, you'll have one of Serie A's best talents ripe for picking. With a great left peg and preferring to the play on the right side of midfield, Orsolini is using his Arjen Robben-esque talents to propel him towards the Italian national team.
Claudio Gomes
Available for: £17m
In-game stats:
Need to know: Here's hoping PSG look inwards at their own youth projects before splashing yet more cash elsewhere. Case in point: Claudio Gomes. He may only be 5ft 4in but is tenacious in the tackle and highly assured on the ball. Gomes is currently working his way up the French youth setups, and starring in the UEFA Youth League for PSG.
Emre Mor
Available for: £17.5m
In-game stats:
Need to know: Instead of kicking his heels at Dortmund, Mor decided to join Celta Vigo and prove his worth in Spain. The diminutive winger hasn't had things his own way just yet, but there's oodles of promise worth taking the time to refine.
Kasper Dolberg
Available for: £18m
In-game stats:
Need to know: Dolberg has long been attracting scouts from big-name clubs, and the Ajax frontman surely won't remain in Amsterdam for too much longer. He already boasts incredible all-round stats, so the talented Dane would be a boon for any team. Scarily, he's only going to get better.
Sander Berge
Available for: £18.75m
In-game stats:
Need to know: A Europa League quarter-finalist with Genk, 6ft 5in Norwegian midfielder Berge has a fine eye for a pass while also being an effective presence in the air. He may not look like a footballer at first glance, but the giant enforcer will quickly wow you with his tenacity.
Moussa Dembele
Available for: £19.25m
In-game stats:
Need to know: It says a lot about Celtic's talent this season that the prodigiously talented Dembele is the cheapest player of their three on this wonderkid list. He joined Celtic for a paltry 500k after making a splash at Fulham, but one day it wouldn't be a huge surprise to see the Frenchman return home to where he started his career: PSG.
Aaron
Available for: £19.5m
In-game stats:
Need to know: Aaron Martin, not to be confused with eight-club Oxford United centre back Aaron Martin, has made the left-back spot his own at Espanyol. While a Spain call-up has eluded him for now (though he's played for Catalonia), it's thought that Jose Mourinho is a huge admirer of his talents.
Patrick Cutrone
Available for: £19.5m
In-game stats:
Need to know: Cutrone has already bagged five goals for Milan this season, proving he can hang tough with the expensively squad that's been assembled at San Siro. You can make him yours for just under £20m – a great price for a striker equally as good with his head as his feet.
Unlimited • Under £35m • Under £20m • Under £7m • Under £3.5m
The 95 best Football Manager 2018 wonderkids… sorted by budget
Thank you for reading 5 articles this month* Join now for unlimited access
Enjoy your first month for just £1 / $1 / €1
*Read 5 free articles per month without a subscription
Join now for unlimited access
Try first month for just £1 / $1 / €1
Get FourFourTwo Newsletter
The best features, fun and footballing quizzes, straight to your inbox every week.