FourFourTwo meets Monaco's main men: "My objective is to get to a club like Man United - but I don't know if it will happen"
The Ligue 1 side are Europe's best attacking outfit, packed with young talent – no wonder their stars are being linked with the Red Devils and their boss is being linked with Arsenal. Now, they tell Tiago Marques why they're ready for Manchester City in the Champions League…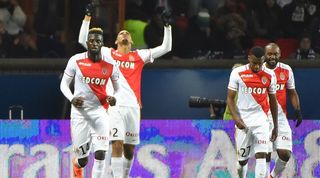 The rain is hammering down on a chilly day in Monaco, as FourFourTwo sits down to speak to Leonardo Jardim. It's not impossibly glamorous in the principality for all 365 days of the year, you know – just 364 of them.
Jardim is the manager of a Monaco side who have undoubtedly brought glamour and style to the Stade Louis II this season. Ahead of Tuesday's Champions League last 16 clash with Manchester City, they sit top of the Ligue 1 table, having netted a stunning 76 goals in just 26 league fixtures.
To put that into context, that's 26 more than PSG, the team who put four past Barcelona last week. It's also 13 more than the MSN-aided Barca (albeit from three fewer games), 30 more than Bayern Munich, 24 more than Chelsea and 25 more than the Manchester City side they're preparing to face at the Etihad Stadium.
"Games against the English clubs have gone well for me," Jardim tells FFT. "When I was at Olympiacos we won against Arsenal, and we did it again two years ago with Monaco. Then in the group stage this season, it was Tottenham."
In with the new
Monaco beat Spurs home and away, having triumphed 3-1 at the Emirates in the last 16 in 2015 – a result that was ultimately enough to eliminate Arsene Wenger's Gunners. "We're under no illusions, though," Jardim stresses. "The level in the Champions League is always very high. We want to make the quarter-finals, but we never forget what we've already achieved."
Manchester City's squad has undoubtedly been more expensively assembled. Monaco's own spending has been reined back a little since the days when they paid €45m for James Rodriguez and €60m for Radamel Falcao during Claudio Ranieri's reign back in 2013, shortly after the arrival of Russian billionaire owner Dmitry Rybolovlev. Rodriguez has since departed, while fellow experienced players Ricardo Carvalho, Jeremy Toulalan and Dimitar Berbatov have been and gone.
Falcao remains – back from loan spells with Manchester United and Chelsea – and Portugal's Euro 2016 winner Joao Moutinho is still a key presence in midfield. But otherwise Monaco's line-up is largely packed with young talent.
"Here we try to specialise and maximise the number of young players we have," says Jardim, who joined Monaco from Sporting in his homeland of Portugal two years ago – although he was actually born in Venezuela.
"That's what we have done and with very clear examples like Yannick Carrasco, Anthony Martial, Layvin Kurzawa or Geoffrey Kondogbia. They left and now we have other players emerging like Thomas Lemar, Bernardo Silva, Tiemeue Bakayoko, Fabinho, Djibril Sidibe and Benjamin Mendy. Jemerson, a little older, is also in that group. They're all young people who, for the first time, are playing at a high competitive level. They're growing."
Eyes on a move
With that, comes interest from Europe's top clubs. Carrasco is now at Atletico Madrid and Martial at Manchester United, who made serious moves to lure Fabinho to the club in the summer.
"There was some contact," the Brazilian right-back-cum-holding midfielder confirms to FFT. "Not with me, no-one got to speak with me, but with my agent. I also saw a lot going on in the press. I'm happy to be linked with big clubs but if nothing real and clear happens, it doesn't mean a thing, does it? That's why I keep on working."
Fabinho's agent is none other than Jorge Mendes, who also represents Jose Mourinho.
"Working with Jorge is good because he's the best in the world," the 23-year-old says. "I don't talk with him all the time – he has a huge list of players – but he still has time for everyone. He always tries to check everything's OK and ask whether I need anything."
Fabinho signed a new contract recently, running until 2021, but he's keen to play in the Premier League one day.
"My objective is to get to a club with the dimension of Manchester United – I have no clue if one day I'll be a United player, but I'll keep on working so it stops being a rumour and becomes reality," he explains.
"I've spoken to David Luiz and Filipe Luis about their experience in the Premier League. Filipe told me that it's a high intensity league, in every match. Maybe in other leagues you can rest in some weeks, but not in England. That's a league where I want to play. Every match is sold out. Football in England is physical, but here in France it's the same so I wouldn't have problems adapting."
Working with the best
Fabinho has adapted rather well to life at Monaco - having previously had a spell at Real Madrid, moving on loan from Rio Ave, only weeks after joining the Portuguese side from Fluminense in Brazil.
"I'd only a played a friendly for Rio Ave before I went to Real Madrid, I didn't even spend a month in Portugal," he says. "Suddenly, from Brazil I was going to Real Madrid – it surprised me and my family, it was a lot more than what we were dreaming of.
"When I first got there, a lot of senior players were away so I started training with the first team – with world class players like Kaka, Angel Di Maria, Gonzalo Higuain and Luka Modric. I spent the season with the Castilla squad and it was a good year – months later I got the chance to play for the first team, at the Bernabeu against Malaga. I got an assist for a Di Maria goal: it was the perfect debut. For a first season at a senior and professional level in Europe, it was a great start."
It would only be a solitary season in Madrid, though, after Monaco came knocking.
"I had the opportunity to stay with the Castilla squad, but Jorge Mendes spoke to me about Monaco," Fabinho says. "When I saw the project they were starting and the players they were signing, I wanted to come here."
Silverware on the horizon?
The project has yet to deliver a league title – after promotion from the second tier, they finished second in 2014, and third in 2015 and 2016 – but now could be their big chance.
"Results have been good in our three seasons in Ligue 1, but we want to win titles, of course," Monaco's vice president Vadim Vasilyev tells FFT. "Nice have been surprising everyone this season, and Paris Saint-Germain are still the favourites, but I hope that if someone can cope with fighting for the title, it will be us.
"To finish top of our Champions League group also confirmed all the work that we've done and made us very proud. Our project is very clear: empower young talents alongside experienced players. Two appearances in the knockout stage of the Champions League in the last three seasons is proof of our stability.
"Leonardo Jardim manages to get the best out of the players here – he has done a great job since he arrived. Many young players have stood out. Falcao's return here and his very promising form, where two great English clubs failed, says much about Leonardo's work."
English scalps
Bernardo Silva has flourished working under Jardim, too – the 22-year-old moved from Benfica in 2014, and has broken into the Portuguese squad thanks to his sparkling form. He would have gone to Euro 2016 had it not been for injury, which allowed Renato Sanches to earn a late call-up instead, and go on to win young player of the tournament.
"Leonardo Jardim has always trusted me and allowed me to express myself on the field," Silva tells FFT. "He's close to the players and pays attention to every detail. I'm in my third season at Monaco now and I've made a lot of progress with Mr Leonardo, just like many other players in the team."
Silva was a goalscorer in Monaco's 2-1 win over Spurs at Wembley in September. "That was a great moment," says the attacking midfielder, who has also been linked with Manchester United. "To play in a mythical stadium with 90,000 spectators and get a great victory, I will never forget that day. Beating Tottenham twice – in theory, they were the best team in the group – was something we were proud of.
"Now we play Manchester City, a great team, and no doubt they are favourites. But we have our strengths and we'll do our best to go further."
Distant fans
There will not be 90,000 at the Stade Louis II for the second leg in three weeks' time – not even close. The stadium holds 18,500 and is rarely full – average attendances this season are just under 9,000, the lowest in Ligue 1, despite Monaco leading the table.
"Our attendances aren't the largest in Europe, but we have to consider the size of our population," Vasilyev stresses – Monaco is home to only to 38,000 people. "Also, our digital fan community puts us in the top 20 of European clubs – proof that there are many supporters of AS Monaco."
"The stadium isn't empty, don't think that," Fabinho says. "We have supporters that follow us always."
Small crowds aside, there are certainly worse places to live and work than Monaco. "Living in Monaco is magnificent," Jardim says. "We have the sea a few meters away, and also the safety and quality of life. Contrary to what you may think, Monaco is an extremely quiet place to live. Monaco is very characterised by glamour, cars and money, but at weekends you do not see many people on the street. Plus Italy is 20 minutes away by car, Nice is half an hour away, and the mountains are also nearby. We have many advantages here."
"The quality of life here is really great and on the football side it's really peaceful," adds Fabinho. "There's no big harassment, even for players like Falcao, our most recognised player. People don't always ask for photos and autographs - Monaco is unique for that."
No boredom
In addition to that welcome anonymity, there are also big events and big names on their doorstep – none more so than the Monaco Grand Prix and Prince Albert.
"He always meets us in the locker room after big games and I also met him in some events in Monaco," Fabinho explains. "The first time I met him I thought to myself, 'Wow, Prince Albert is here by my side'. Now I'm more used to it and more at ease. It's good to be able to hang out with him – it's another thing that's different to other clubs, and it's special.
"I've also been invited to watch the Formula 1 practice day here, at the house of someone I'd never met before. I was excited to see it, I met the guy and he greeted me as if I was a long-term friend. Then there was the time me and my team-mates were invited to an art exhibit, to see some yachts and drive some fast cars. I got the chance to try out the cars – maybe in the football world things like that are normal, I don't know, but for me it was very different. I'd never had an experience like that before."
Fabinho has enjoyed many new experiences in recent times. He played his first game for Brazil in 2015, although he plays down suggestions he could be the next Dani Alves – the Juventus right-back is now 33.
"I just want to establish myself in the national team," he says. "Dani Alves is still doing really well, age isn't a problem for him. But I hope to get opportunities.
"Club wise, I want to leave a legacy here at Monaco and write a page in the club's history. I know that I'll always be well spoken of here, but I want to win trophies so that one day my photo will be in the club's corridor and I'll be remembered by everyone. Then, if I have to go, I will go by the front door, to a big team."
Different approach
How long Monaco can hang on to players like Fabinho, only time will tell.
"We always have to ask ourselves if it's the right time for players to leave and go to a higher level – we analyse the situation of the club and the player before making those decisions," Vasilyev says.
"It's also necessary to consider the economic aspect, because our model is partially based on transfers - like any other club, apart from a dozen giants like Barcelona, Bayern, Real, Manchester City and Chelsea. But seeing Yannick Carrasco, a player developed at Monaco, scoring in the Champions League final with Atletico Madrid last season, I feel that everything worked well."
The knowledge that his best players probably won't be around forever adds an extra difficulty to Jardim's job.
"This project has to develop very well in two aspects: performance and results, and also in the development of players," the coach explains. "Very few clubs in Europe are able to meet those requirements. The most usual is to have more performance-oriented clubs where every year there is investment with eyes on the results or, on the other hand, an orientation towards the development of players where the sporting performance is overlooked. Here we have to do both simultaneously. We've sold a lot of players in the past two years and the results have to look the same."
Production line
How does Jardim achieve that?
"My first rule as a coach is to monetise what exists," he says. "Obviously I always want to have more resources but the first thing is to monetise what we already have. In all the clubs where I worked, whether in Portugal, at Olympiacos and now here in Monaco, I've always looked for that.
"You have to understand how young people work. Because they're new, they don't have the same consistency as the older ones. They'll make mistakes, they'll screw up more often than the older ones, and they'll have bigger fluctuations in form. As a coach, I have to have the sensitivity to guide them in a way that minimises those situations and enhances what they already have. That's my job.
"If important players leave, we have younger ones who have already played for the first team – Almamy Toure, Kylian Mbappe, Adama Traore, Kevin N'Doram. We try to gradually consolidate these kids to be prepared in the event that others leave."
Varied threat
Jardim's current crop aren't short of pace, but he values teamwork over pure physicality.
"The essential thing is to have a team where everyone gives their best and everyone can interpret the game and our strategy to help their colleagues," the coach says. "In football the physical side is important, but not the most important thing. Neither Maradona nor Messi would win the 100 metres or the marathon. It doesn't interest me to have an athlete who is very explosive but kills the qualities he has by thinking it's also important that he becomes muscular and strong. That can kill the system of a player, and also the team's system. It's the same thing as wanting to change the pH of a river – you can end up eliminating an entire ecosystem."
That so many players have developed under Jardim means that Monaco are not and never have been reliant on just one star.
"If we depend on just one player, it's easier to stop us," he explains. "That's why, in the last three years, I've never had an attacker who has scored more than 10 goals per season - the exception is Falcao this season, although even now most of the goals are divided between the whole squad. Here, all players score - the centre-backs, midfielders, wingers, right-back, left-back."
Premier League bound?
Jardim's influence extends beyond just Monaco's young players, too – William Carvalho, Adrien Silva and Joao Mario were all on Sporting's books during his time at the Estadio Jose Alvalade. Perhaps it's little wonder that he's been tipped as an outsider for the Arsenal job, should Arsene Wenger leave at the end of the season.
The 42-year-old doesn't hide from an ambition to work in the Premier League at some point in the future.
"My perspective is always working to reach a higher level," he admits. "Who wouldn't want to work in Europe's best league? All coaches would like to have that experience, and I don't escape that reality."
Right now though, his focus is on the Champions League, and on defeating one of the Premier League's finest instead. After all, if you can't join them, beat them.
Quizzes, features and footballing fun
Get the best features, fun and footballing frolics straight to your inbox every week.
Thank you for signing up to Four Four Two. You will receive a verification email shortly.
There was a problem. Please refresh the page and try again.