How Danilo helps to complete Real Madrid's new watertight defence
Kiyan Sobhani analyses the impact of Los Blancos' athletic arrival from Porto in the summer – and why Dani Carvajal's fighting a losing battle...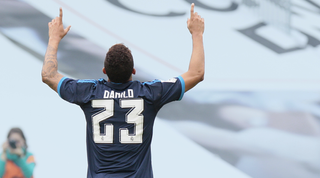 FACT FILE
Date of birth: July 15, 1991
Place of birth: Bicas, Brazil
Position: Right-back
Height: 6ft
Club: Real Madrid (5 apps, 1 goal)
Former club(s): América Futebol Clube, Santos, Porto
International: Brazil (15 caps, 0 goals)
Brazil might be floundering on most fronts these days, but when it comes to producing right-backs they're still going strong.
Danilo Luiz da Silva is the latest Samba wing-back sensation to follow a list of greats which includes Dani Alves, Maicon, Cafu, Djalma Santos and Carlos Alberto.
Of course, including him in that list of legends is untimely, but there are high hopes for the ex-Porto right-back to live up to his price tag at the Bernabeu.
Splashing out on a world class player in a position otherwise occupied by another world class player is not uncommon at Real Madrid. De facto, it's part of their DNA.
Signing Danilo from Porto for a slot that Dani Carvajal already occupied was tantamount to signing Fabio Coentrao for a team that already had Marcelo.
Some would call it excessive, but these are the ostentatious moves that Real Madrid love.
Danilo over Dani
When Jose Mourinho was at the helm, the Portuguese held a policy to have two players per position in the squad – a philosophy that has carried over to the present day. Danilo was signed under Carlo Ancelotti (although he didn't join until the summer), who didn't like to rotate players much unless it was one of his wing-backs. The Italian tactician implemented a scheme that demanded a lot from the defensive flanks.
And so it stands, when it comes to the wing-back position, Real Madrid have incredible depth. When Danilo was signed for €31.5 million from FC Porto, he came with the expectation of a starting role.
That it might not be fair for Dani Carvajal is a mute point. Danilo is a more solid wing-back – one capable of barnstorming runs with strong tackling ability.
Like his team-mates Sergio Ramos, Cristiano Ronaldo and Gareth Bale, Danilo is an athletic specimen. He stands just over 6ft, is strong, has outstanding pace and a cannon of a shot. He's a right-sided player, but can score with either foot. Last weekend against Celta Vigo he netted his first goal for Los Blancos.
It's nearly impossible to find a comparable wing-back in the world, so any comparisons to Danilo have to come from other positions. Think Bale, but right-footed and playing from a deeper position.
Danilo is built like Bale. He scores goals that Bale is known for – goals stemmed from runs ignited by power and speed, polished off with a natural shooting ability.
You'd perhaps have to go back to Roberto Carlos to find another wing-back who can score goals like this.
Defence into attack
With Bale, Ronaldo, Marcelo and now Danilo on the flanks, defending against Real Madrid has become extra problematic: whether the opposition force the wingers inside or outside, they could find themselves in trouble. It requires a defensive setup which allows for doubling up on the wings, while simultaneously preparing to shift inside once there's a cut to the middle of the field. Danilo's robust dribbling and shooting ability set him apart from other full-backs, but those are tools he may not be able to use often in a team that already has Ronaldo, Bale and James Rodriguez (when fit) floating around in front of the central midfield. But what Danilo is really going to provide Madrid with is bombarding runs down the flank from where he can put in crosses.
Danilo can also use his vision to make killer passes from deep.
It was the second game of the season – a five-goal thumping against Real Betis – which started to produce the fruits of Danilo's signing. The 24-year-old spent lots of time in the attacking third making overlapping runs in support of Bale and James. His most notable attack came when he combined with James for some intricate passing which eventually fed the ball out wide to Bale, who crossed for a Karim Benzema goal.
Danilo completed 68 of 71 passes, none more dissecting than the ones above.
Built for big games
Defensively, Danilo's positioning had been suspect at times before the injury which ruled him out for five La Liga matches, but nothing to panic over as he continues to adapt to the tempo.
Danilo is known more for his exceptional tackling than his tactical awareness, although individually he's not only a better attacker than Carvajal but a better defender, too.
This is an interesting distinction to be made between the Danilo-Carvajal dilemma, and the Marcelo-Coentrao equivalent of last season. The latter is a matter that comes down to attack and defence.
Under Mourinho, Coentrao was often summoned in big games because of his defensive staunchness, while Marcelo played every other match. The latter's incredible offensive aptitude routinely outweighs his defensive shortcomings, but every now and then it doesn't – in a disastrous way.
RECOMMENDED How Jese Rodriguez can avoid becoming yet another Real Madrid academy cast-off
The right-back situation is more straightforward. Danilo needs not be demoted for big matches where defence is prioritised, as he is already strong in that sense.
Aerially, Danilo is a strong presence – another attribute that Carvajal doesn't boast. Danilo can leap into the Ramos/Pepe/Raphael Varane spectrum, which provides Real with another threat from set-pieces, as well as an extra defensive commando on opposition corners and free-kicks. To cap it all he's also also a threat from both penalties and free-kicks – not that he'd ever stand a chance to contribute in this field at Real.
RECOMMENDED Revealed: Europe's 11 best free-kick takers
Composure key
What Danilo chiefly brings to the table, though, is composure in the big games – something that Carvajal has lacked in the past for Real Madrid. Where Danilo's tackling is more decisive, Carvajal has been clumsy at times in games where the pressure is on. The most notable example was at the pinnacle of Real Madrid's season – a 2-1 Champions League semi-final loss to Juventus in Turin. Carvajal was outplayed by Patrice Evra, and committed a dire challenge on Carlos Tevez inside the box which led to a Juventus penalty. He was lucky not to concede a second on Arturo Vidal.
But what Carvajal has in his favour is his resilience and willingness to fight for the club he was essentially raised in. Time will tell if that will be enough to dethrone a 24-year old with his best days ahead of him.
RECOMMENDED How Rafa Benitez's subs have shot Real Madrid to the top
More features every day on FFT.com • More on Real Madrid
STATS ZONE Free on iOS • Free on Android
Quizzes, features and footballing fun
Get the best features, fun and footballing frolics straight to your inbox every week.
Thank you for signing up to Four Four Two. You will receive a verification email shortly.
There was a problem. Please refresh the page and try again.