How Real Madrid can beat Barcelona without Gareth Bale
Los Blancos might be riding high in La Liga – but they won't have their Welsh wizard for Saturday's Clasico. Kiyan Sobhani assesses Zinedine Zidane's options for the big 'un...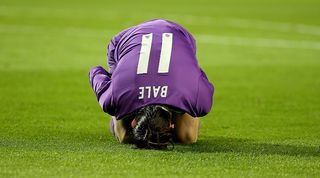 In the 80th minute of last April's Clasico, a 2-1 victory for Real Madrid at the Camp Nou, Gareth Bale rose like a salmon to meet Cristiano Ronaldo's cross. Bale's header – easily won over the dwarfed Jordi Alba – duly found the back of the net.
The Welshman celebrated for what seemed like an eternity before it finally became apparent that the referee had called play back for an alleged foul on Alba. It was Bale's second disallowed goal at the Camp Nou in as many seasons.
Bale's ability to influence the biggest game in Spain – heck, quite possibly the world – will be sorely missed when Madrid travel to Catalonia on Saturday. Since arriving in the Spanish capital from Tottenham, Bale has become one of his side's most conspicuous performers in meetings with Barcelona.
Key player
For one, he's a behemoth who outmuscles his opponents in the air, while his blistering pace can throw Barcelona's defence into a frenzy. To make matters worse for Luis Enrique's men, Barca tend to struggle defending counter-attacks once their initial counter-press is broken, and Bale's ability to launch quick breaks helps to connect Madrid's midfield with Cristiano Ronaldo in attack.
The relief for Zidane is that Madrid have a six-point cushion heading into the match, while their rivals in Catalonia are on the verge of imploding. The Blaugrana have looked lost without Andres Iniesta's calming presence in the centre of the park, with both Ivan Rakitic and Sergio Busquets regularly struggling to find passing outlets.
Yet this is the Clasico, and things rarely go according to plan. And while Barcelona head into this match like wounded animals, Real Madrid have a glut of injuries: Bale, Toni Kroos and Alvaro Morata are all ruled out, while Casemiro is unlikely to start.
How, then, can los Blancos cope without such important players – particularly Bale, who's been so important in previous editions of the Clasico?
Grab the popcorn for 2014 re-run
It's somewhat ill-fitting to the narrative that, despite Bale being such a key player in previous editions of the Clasico, one of Madrid's most impressive recent triumphs over Barcelona came without the Wales international in 2014.
In that match, a 3-1 victory at the Bernabeu, Carlo Ancelotti rolled out a rabid, high-octane pressing scheme in which James Rodriguez, Luka Modric and Kroos closed down cohesively, disrupted Busquets and allowed Madrid to retain possession in the final third.
James, however, tends to look dazed when deployed as a central midfielder in a 4-3-3: in avenues where Real Madrid absorb attacks, the Colombian struggles to close passing lanes, and is better suited to a more advanced role. His counterpart, Isco, understands movements without the ball much better and can defend space well, while his understanding with Marcelo on the left flank represents one of the team's most unsung tandems.
Together, those two can pierce through defensive lines on the left: Isco ventures forward pragmatically and Marcelo blitzes the wing while the Spanish ace covers in behind to snuff out impending counter-attacks.
And therein lies the answer to beating Barcelona without Gareth Bale. In 2014, Isco and James shared the pitch in a way few would have predicted. While the former helped pack the midfield alongside Kroos and Modric, James hared forward as the leading man in a high press, stifling Barcelona's midfield and causing plenty of turnovers.
Few are better than the 25-year-old when it comes to finding pockets of space with deft passes in advanced areas, and Ancelotti's scheme of stuffing the midfield with technically gifted midfielders allowed James to roam more freely.
No Toni, no problem
Without Kroos, Zidane's best bet would be to use Mateo Kovacic in a box-to-box role. Even if Casemiro is fit enough to start, games against Celta Vigo and Real Sociedad earlier this season demonstrated the Brazilian's discomfort in passing his way out of a press. Kovacic, meanwhile, is in the form of his life, making the leap from promising midfielder with an ambiguous identity to a de-facto Modric heir.
Opting for a packed midfield provides more advantages than just giving the attackers more freedom – it also offers defensive stability, and masks the deficiencies of a team who have often struggled without an anchorman.
A four-man midfield was employed against Atletico Madrid two weeks ago, and Zidane may opt for something similar here. The idea may seem paradoxical at first glance, given that Bale's ability to defend from the flanks and transition at speed to create chances for Ronaldo was paramount in the 4-4-1-1's success.
But a realistic solution could see the diligent Lucas Vazquez start in place of Bale, thus opening up space on the opposite flank for someone like Marco Asensio. While Vazquez has struggled with the ball at his feet in this formation, he brings plenty more to the table, tracking and playing as a traditional winger while assisting the central midfielders in swarming opponents and providing passing outlets.
Vazquez wasn't heavily involved offensively in the Calderon, but he made three successful tackles and two clearances while doing a great deal of defensive work to assist Carvajal, Modric and Kovacic
Stick or twist?
Still, Zidane may opt against deviating from his more traditional 4-3-3 now that Casemiro and Karim Benzema are back, particularly as a draw would be a good result this weekend.
Indeed, a draw might be a wise thing to aim for. While Zidane might want victory over a struggling rival, he must remember that his side are facing a sleeping giant who have little to lose and will see this match as the perfect motivation to improve.
"We have to start improving. We've produced the worst game of our era and we'll certainly see a different Barça in the Clasico," Luis Enrique said after a disappointing 1-1 draw at Real Sociedad last time out.
"The battles will be important and they will be decisive. I'm sure that we will fight."
Thank you for reading 5 articles this month* Join now for unlimited access
Enjoy your first month for just £1 / $1 / €1
*Read 5 free articles per month without a subscription
Join now for unlimited access
Try first month for just £1 / $1 / €1
Get FourFourTwo Newsletter
The best features, fun and footballing quizzes, straight to your inbox every week.