Meet the defence-cracking German maestro who Chelsea will need to wait for
Schalke star Max Meyer has got tongues wagging all over Europe. Alex Chaffer explains why...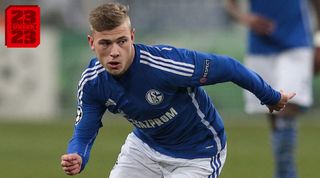 The 60-second story
FACT FILE
Date of birth: September 18, 1995
Place of birth: Oberhausen, Germany
Position: Attacking midfield
Height: 5ft 8in
Current club: Schalke; 68 apps, 10 goals
International: Germany; 1 cap, 0 goals
Schalke's famous Knappenschmiede is widely regarded as the top production line in Germany. In recent years we've seen the likes of Manuel Neuer, Mesut Özil and Julian Draxler make their names household after starting their footballing lives within the Gelsenkirchen club's walls.
Their academy produced four of Germany's World Cup winners, including club captain Benedikt Höwedes, and is now bringing out new talent at will. Meyer is already being considered one of the Royal Blues' best and most unique ever, with his love of futsal being an integral part of what makes the precocious teenager shine on the pitch.
Meyer, who only turned 19 in September, has already made himself a vital part of everything good for Roberto Di Matteo's side. Entering his second full season with the first team, Meyer has featured in all but three of Schalke's 21 games this season.
Again the youngster has taken advantage of injuries to feature in all six of his side's Champions League group stage games this season; one up on last season. 'Mini-Max', as his team-mates call him, has had to work for appreciation from new boss Di Matteo so far. But a vital goal against Maribor saw the Italian recently dub him "a real talent". No getting carried away here, then.
NEW ISSUE Meyer included in our '23 under 23' for 2015
Why you need to know him
When Schalke extended Meyer's contract until 2018 in November last year, they knew they had something special in their grasp. A €25.5 million release clause was wedged in for good measure, which was the main reason Chelsea's reported interest fell through. Then again, his performances since won't have put off any potential suitors.
The baby-faced midfielder grew up with MSV Duisburg, but after the majority of his training sessions or games with the Zebras, he'd head onto the futsal pitch for several hours. He puts his success so far down to his time spent working on his technical ability with coach Naim Sassi.
Meyer played futsal from the age of 10 for four years with PSV Wesel-Lackhausen in a team run by Sassi, who says the youngster's success is "a proud moment for all of futsal played in Germany". Meyer is officially the first German player to turn professional in football having grown up playing the alternative sport created in Brazil.
In an interview with Spox, Sassi explained just how important futsal is to the development of technical footballing ability, saying: "Apart from Fabio Cannavaro, all of the winners of FIFA World Player of the Year since 1996 have played it in their youth careers."
For Meyer, it was a chance to get away from the pressure of youth football with Duisburg and enjoy learning different skills. "When playing futsal, Max was like a parrot from the pet store that had been brought back to the Amazon for 90 minutes," declared Sassi.
Strengths
Using his futsal background to his advantage, Meyer is one of the best creative players in the Bundesliga right now. His close control and ability when dribbling is exceptional, and with excellent balance he spends more time on the ball than most are able to.
Confident with both feet, the 19-year-old takes up positions behind the striker and uses his creativity to carve out chances for himself and others on a regular basis. In his 14 Bundesliga appearances so far this season – of which he has only completed 90 minutes four times – Meyer created 10 chances, of which 9 led to shots from inside the box.
In Germany U21s' 3-0 win against Ukraine in October, Meyer assisted two goals brilliantly. First he weighted a pass through the Ukranian defence for Kevin Volland to finish, before showing superb skill to beat his marker into the box and cut back for Jonas Hofmann.
Weaknesses
With Meyer's style of play being all about attack, it's fair to say he's a liability when it comes to defending: 'Mini-Max' has completed less than a tackle per game in the Bundesliga this season.
At this moment in time, Meyer's biggest issue is new manager Di Matteo, who has been questioned about his supposed lack of faith in Schalke's younger players. But the former Chelsea midfielder told Bild: "In key games experience is vital, and we're playing key games all the time."
They said…
While he has only featured in one friendly for the German first team, rumours were circulating in the national press that Meyer was a serious contender for a position in their eventual World Cup-winning squad. Joachim Löw had been quick to praise young Max last season, saying: "He is technically very good and plays without fear, which at his age is a fantastic attribute."
Meyer has also received praise from more unlikely sources. It's rare to hear your name mentioned so highly by the manager of your fiercest rivals, but Jürgen Klopp obliged. "He would be a starter and captain at 90% of national teams," declared the Borussia Dortmund chief.
Did you know?
After signing his contract with Schalke just after leaving school, it was revealed that Meyer had also agreed a record-breaking deal with Nike. According to reports, Meyer penned a 10-year deal with the American sports giant worth €10m. Aged just 18 at the time, it meant he was the youngest German footballer to have ever signed a deal with Nike.
TALENTSPOTTER RATINGS
Shooting 7
Heading 5
Passing 8
Tackling 4
Pace 7
Dribbling 9
Creativity 9
Work-rate 7
What happens next?
Meyer's immediate future remains firmly with Schalke, with three years left to run on his contract. Winning the trust of Di Matteo is of great importance in the short-term.
There's no doubt the Champions League-winning coach admires his youngster, though. "Meyer will play a very important role in Schalke's future," he said after Meyer's decisive goal against Maribor.
With a bright future ahead of him, Meyer will have options to consider when they arrive. If he isn't being giving the game time a player of his age and ability desires, the young midfielder may decide to leave Gelsenkirchen. He wouldn't be short of potential suitors willing to show him some love. Your move, Roberto.
SEE ALSOOne-on-One: Roberto Di Matteo
Thank you for reading 5 articles this month* Join now for unlimited access
Enjoy your first month for just £1 / $1 / €1
*Read 5 free articles per month without a subscription
Join now for unlimited access
Try first month for just £1 / $1 / €1
Get FourFourTwo Newsletter
The best features, fun and footballing quizzes, straight to your inbox every week.