Ranked! Arsenal's 10 best academy graduates of the last 25 years
It's a club that's renowned for producing youth talent, but who makes the final cut as James McNicholas counts down Arsenal's top youth products of the Premier League era?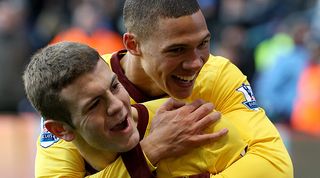 Also in this series...
10. Kieran Gibbs
He may have been sold to West Brom this summer, but for 10 years the academy graduate was a fixture in Arsenal's first-team squad.
Gibbs first caught the eye in 2007's Emirates Cup. He was handed his first senior start for the friendly against Inter, and shone as a left-winger. By the time the 2008/09 season came around, the teenager was getting regular first-team outings, this time as a left-back. When Gael Clichy was sold to Manchester City in 2011, Gibbs was anointed as his successor.
Ultimately, his development stalled as he arrived at his mid-20s. The arrival of Nacho Monreal relegated Gibbs to the bench, and he arguably should have left Arsenal a year or two earlier to pursue first-team football.
9. Francis Coquelin
Coquelin's story is one to inspire any academy player. It's a tale of persistence in the face of adversity: while many of the names featured in this list made the breakthrough in their teens, Coquelin was 23 when he finally established himself as a first-team player.
Although Arsene Wenger always admired Coquelin's talent, he couldn't find a regular place for the midfielder in his squad. The Frenchman had loan spells with Lorient, Freiburg and Charlton before an injury crisis at Arsenal in December 2014 prompted Wenger to recall him to the senior set-up.
Coquelin seized his chance, immediately establishing an unlikely partnership with Santi Cazorla that would become the hub of Arsenal's team for the next two years.
8. Oguzhan Ozyakup
It's not always possible for Arsenal's academy products to force their way into the first team at the Emirates Stadium. Sometimes they need to move away from north London to fulfil their potential.
So it proved with Ozyakup, who made just two senior appearances before being sold to Besiktas. The playmaker has subsequently led his team to two consecutive Super Lig titles, and is a regular international with 30 Turkey caps to his name.
7. Alex Iwobi
Nigerian midfielder Iwobi is one of the Arsenal academy's more recent graduates, and the early evidence suggests he could prove to be one of the more successful.
Iwobi is, in many respects, an archetypal Wenger player. He's enormously gifted technically, and very easy on the eye. He looks every inch a player reared on 'Wenger-ball'.
The challenge now is for Iwobi to begin to converting his potential into tangible results. As an attacking midfielder, his contribution will ultimately be measured in goals and assists.
6. Serge Gnabry
Like Ozyakup, Gnabry is another who has flourished away from London. He initially arrived from Stuttgart aged 16, and it was just a year later than he began to make an impression on the first team. However, injuries slowed his progress and doubts began to surface over Gnabry's ability to make the step to senior football.
That all changed in the summer of 2016, when Gnabry was top scorer and silver medallist at the Olympics. Wenger hoped to recall the resurgent winger to Arsenal, but the player had made up his mind to leave. He was promptly sold to Werder Bremen, and has since signed for German giants Bayern Munich. If Gnabry continues to develop like this, he will be forever regarded as the one that got away.
5. Jack Wilshere
When Wilshere first burst onto the scene as a teenager, he seemed destined to become one of the best homegrown players in the club's history. He had everything: immaculate technique, a combative spirit and a preternatural ability to interpret the play.
Unfortunately, he has not become the player he threatened to be, and a series of injury setbacks have dramatically impeded Wilshere's progress. At 25, he is effectively just a squad player at Arsenal.
Now that he is free of injury, hopes are revived that he could yet fulfil his potential. Wilshere is certainly playing like a man determined to make up for lost time.
4. Wojciech Szczesny
When Szczesny supplanted Manuel Almunia at the tender age of 20, it looked as if Arsenal had found a goalkeeper for the next decade.
However, on-field mistakes and off-field misdemeanours led to Wenger losing faith in the Polish shot-stopper. When Petr Cech arrived from Chelsea, Szczensy was sent out on loan to Roma. He never returned.
Last summer he joined Juventus, where he is expected to succeed the great Gianluigi Buffon as No. 1. There is no higher compliment for a goalkeeper.
3. Hector Bellerin
It's no exaggeration to say that Bellerin could eventually become the most exciting attacking full-back in the world. He has all the requisite attributes: explosive pace, excellent stamina, sharp technique and a willingness to learn.
Arsenal's biggest problem might be keeping hold of him. Bellerin began his career in Barcelona's La Masia academy before joining Arsenal's youth academy aged 16 – and his swashbuckling style would be a natural fit back at the Camp Nou. Arsenal have tied him down to one of the longest contracts in their history; a clear sign they intend to resist offers from any potential suitors.
2. Ashley Cole
He might be universally despised by Arsenal fans, but Cole's talent is not in question. The reason supporters were so hurt by his defection to Chelsea in 2006 is that he is one of the club's finest academy products.
Cole was an integral part of the 'Invincibles' team of 2003/04. That team typically attacked down the left flank, and Cole's interplay with Robert Pires and Thierry Henry became the stuff of legend.
When he chose to join a London rival, Cole's name was blacklisted in north London. However, his trophy haul at Chelsea has provided the left-back with some measure of justification for his betrayal.
1. Cesc Fabregas
In his mid-teens, Fabregas waltzed into the Premier League and immediately stamped his playing style all over the Arsenal team.
There are those who would class Fabregas as a product of Barcelona's academy rather than Arsenal's, but he arrived in north London as young as 15. He might not be a local boy, but crucial years of his footballing education were spent with the Gunners. Fabregas had Barcelona in his blood, but Arsenal in his heart.
Sadly, that affection for Arsenal wasn't enough to keep him at the Emirates Stadium beyond 2011, and his decision to rejoin Barcelona left supporters wondering what might have been. Fabregas was an Arsenal hero and a club captain to boot, but had he remained for more time, would surely have become truly iconic.
Thank you for reading 5 articles this month* Join now for unlimited access
Enjoy your first month for just £1 / $1 / €1
*Read 5 free articles per month without a subscription
Join now for unlimited access
Try first month for just £1 / $1 / €1