Rated: the 5 best contenders to fill Chelsea's striker vacancy
With Diego Costa in his Atletico shirt and on the way out of Stamford Bridge, the Blues need a new forward. Nemanja Grbic assesses the top five Chelsea transfer targets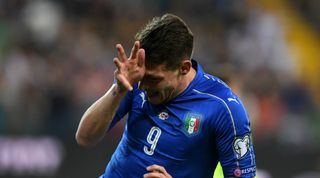 Pierre-Emerick Aubameyang (Borussia Dortmund)
Aubameyang enjoyed his best ever season in 2016/17, scoring 40 goals in 46 appearances for Dortmund. Following such a fruitful campaign, it's believed that the Gabon international will finally depart Germany this summer in search of a new challenge. He was close to signing for PSG last month but the French club eventually decided to pull the plug, meaning that the player is still up for grabs.
Chelsea, however, will need to act fast if they want lure Aubameyang to Stamford Bridge: Dortmund's CEO Hans-Joachim Watzke says BVB are only willing to listen to offers for their most valuable player for "a few more days", before they take him off the market.
Positives
At 28, Aubameyang is at the peak of his powers. He's an experienced and proven goalscorer who has tormented defences in Germany and across the continent in the past few years. With his startling pace, perfect movement inside the box and lethal finishing, the former Saint-Etienne man could be an ideal fit for Antonio Conte's fast-paced and dynamic team.
The possibility of seeing the reigning champions execute a counter-attack (which served them well on many occasions last season) with Aubameyang up front is a frightening prospect. He's also versatile and can be used on both flanks if needed, while his work-rate and willingness to help out his team-mates in defence is another asset which Conte would surely appreciate.
Negatives
Ironically, Aubameyang's biggest strength could also be his biggest weakness. He's a player who relies on his speed and, at his age, you have to wonder when he will start to decelerate. The 28-year-old doesn't create a lot of opportunities for his team-mates and his passing abilities can let him down. He has been accused of being selfish in the past and it's something he will need to correct in order to integrate properly into Chelsea's team. The physical nature of the Premier League could also be a problem for Aubameyang, as he doesn't have the necessary strength to outmuscle opponents.
Alvaro Morata (Real Madrid)
Morata was one of Manchester United's main targets this summer, but the negotiations with Real Madrid dragged on and the two sides couldn't find an agreement. United quickly turned their attention elsewhere and snatched Romelu Lukaku from under Chelsea's nose. Now the Blues are reportedly looking to return the favour, and hoping to be more successful in their attempts to persuade Madrid to send Morata their way instead.
Positives
Conte is a long-term admirer of the Spanish forward, having once urged Juventus to sign him. Unfortunately the pair didn't have a chance to work together: Conte shockingly resigned from his position in the summer of 2014, before Morata's arrival in Turin. Three years later they might finally have another opportunity, this time in England.
The 24-year-old has a number of qualities which would suit Chelsea and their system. Morata is a tactically intelligent and unselfish player who possesses splendid athleticism and mobility in the final third. He knows how to shield the ball and is also direct with his runs, proactive with his passing and combines perfectly with other team-mates up front.
Despite not being considered a regular at the Bernabeu, Morata is coming off a career-best season with 20 goals in all competitions, having netted on average every 89 minutes. His 27.2% conversion rate was superior to Lukaku's 22.72%, and even surpassed Premier League top-scorer Harry Kane's 23.36%. Morata also has a reputation of showing up in big games, which he earned during his time at Juventus with goals in the latter stages of the Champions League.
Negatives
Despite playing for European giants Real Madrid and Juventus, as well as representing his country 20 times, there are still doubts if Morata is ready to be a first-choice striker at a big club. He hasn't been able to cement his place in the starting line-up in either of his spells in Italy or Spain, and there are many who question his ability to step up consistently. Morata certainly deserves a chance to prove that he can be a great No.9 who can lead a team, but will Chelsea be the club to take that risk? They'll face a fight from Milan first.
Andrea Belotti (Torino)
Belotti is one of the most sought-after players in this transfer window, regardless of his €100m release clause (and Torino are adamant they won't sell him for anything less). He notched up 26 league goals and seven assists for his club last season, and is already regarded as Italy's best striker following his stellar campaign in Serie A. Chelsea icon Gianfranco Zola has already urged his former club to sign the Italian this summer, believing that Belotti would perfectly suit Conte's side and that he would have no trouble adjusting to the Premier League.
Positives
Belotti is the first striker in Serie A to score 24+ goals before turning 24 since Andriy Shevchenko in 1999/2000. But that's an omen to ignore: the 23-year-old's style of play and variety of ways in which he scores goals are genuinely impressive – 'The Rooster' netted 11 goals with his favoured right foot, six with his left and 10 headers.
Of all reported targets, Belotti is the most similar to Diego Costa. He's a dominating presence in the box, strong and capable of holding up the ball long enough to allow his team-mates to join the attack. Although he's not fleet-footed, he boasts excellent timing at running behind defences.
Negatives
Belotti had an incredible season and his rise to prominence points towards a player with a bright future ahead of him. However, he's inexperienced and hasn't played in any major competition outside of Italy. He's not particularly skilful with the ball and needs to put more work into the defensive side of his game. Spending a giant fee on a young player who had an amazing year (or year-and-a-half) and expecting him to perform on all fronts next season for Chelsea is a big ask, but Belotti has broad shoulders and might just be able to carry those expectations.
Mauro Icardi (Inter)
Signing any of the aforementioned players would require Roman Abramovich to dig deep into his pockets and make one of most expensive purchases in the Premier League's history. If the Russian owner is ready to do that, then Chelsea should seriously consider one the continent's most deadly strikers of the past few years.
Unlike the other players here, Mauro Icardi isn't strongly linked with the reigning Premier League champions, but the Inter captain's name has been mentioned frequently alongside Chelsea in the past - and Conte might revive his interest in the player if the opportunity presents itself.
Positives
This Barcelona youth product has come a long way since he left Spain. In 2013, Icardi joined Inter and is now their captain, having amassed more than 140 appearances and 80 goals for them and improved every year. He is an ice-cool finisher who rarely misses opportunities once they're presented; in recent years, only a few players across Europe have shown such movement and predatory skill in front of goal.
Last season, Icardi improved in a number of other areas. He was more involved in Inter's build-up play, increased his defensive effort and was far better with the ball at his feet. If you compare him with Diego Costa last season, there's hardly any differences: Icardi netted 24 league goals and assisted eight, while Costa scored 20 and provided seven assists.
Negatives
Just like Costa, the 24-year-old is a controversial figure, although most of the Argentine's career problems have been off the pitch. Icardi and his wife Wanda Nara, who's also his agent, can cause a stir when things aren't going smoothly for them. But even though Inter and Icardi have endured a tumultuous time together, nothing has prevented the player from performing admirably week after week.
Moving to England and playing in the Champions League would be a challenge for Icardi. He would likely take some time to adjust to Conte's methods and his own new surroundings. But other than that, there are no major obstacles or reasons why he wouldn't be a significant boost for the Premier League champions.
Sergio Aguero (Manchester City)
According to the latest reports, Chelsea are considering Manchester City marksman Aguero - and it's rumoured that Pep Guardola has already sanctioned the move. Whether or not the news is true, the 29-year-old forward is definitely another name who the Blues manager should give some serious thought to – assuming this is a genuine possibility.
RECOMMENDED
7 Championship bargains who'd make great Premier League transfers this summer
Transfer trouble, joy at the FA, chaos in Football Manager: What will Brexit mean for football?

Positives
Unlike all of Chelsea's other targets, Aguero has Premier League experience and been one of the most devastating strikers for the last six years. His 169 goals from 253 games for City are testament to his influence, and it should be an adequate reference for Conte in his quest for more firepower in attack. Fast, efficient, a constant danger from inside or outside of the box and capable of creating chances for himself and others, the Argentine should be a no-brainer if Chelsea have a chance to sign him.
Negatives
Aged 29, Aguero is injury-prone and already showing slight signs of decline, despite still producing impressive numbers in 2016/17. If it weren't for injury to Gabriel Jesus, it's quite possible that the young Brazilian would have ended the season as Guardiola's first-choice striker at the Etihad Stadium. It also remains to be seen how Aguero how would integrate into Chelsea's system of play – his characteristics are very different from the more physical forwards in this list.
Thank you for reading 5 articles this month* Join now for unlimited access
Enjoy your first month for just £1 / $1 / €1
*Read 5 free articles per month without a subscription
Join now for unlimited access
Try first month for just £1 / $1 / €1