Sergej Milinkovic-Savic: Liverpool transfer target who's had a Pogba-like impact on Serie A
Lazio's 22-year-old midfield colossus has had a breakthrough season in 2016/17, adding to every aspect of his game. Nemanja Grbic explains all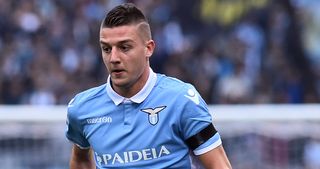 The 60-second story
"If I was a sporting director of any top European club now, the first player I would buy is Sergej Milinkovic-Savic."
These are the words of Leonardo, PSG's former director of football and the Brazilian who was responsible for bringing in the likes of Kaka, Alexandre Pato and Thiago Silva among others during his time at Milan.
When Paul Pogba made a record-breaking transfer from Juventus to Manchester United last summer, it wasn't expected that another young midfielder playing in Serie A would rise to prominence so soon and command a whopping fee for his transfer.
That's exactly what is happening now with 22-year-old Serbian Milinkovic-Savic, who became Lazio's most important player after a superb campaign in Italy. Liverpool's €28m bid for the player was rejected swiftly as Lazio are reportedly asking for a stupendous €70m to allow their most prized asset to leave Rome.
Whether their price is realistic or not, Lazio know they have a rising star in their ranks that already attracted the interest of Juventus, Chelsea and Manchester United recently and may yet draw them all into a bidding war.
Why you need to know him
Born in Lleida just a hundred miles west of Barcelona, Milinkovic-Savic's genes mean he was destined to become a professional athlete. His mother Milana Savic was a top basketball player in the former Yugoslavia, while his father Nikola Milinkovic played football professionally in Serbia, Spain, Portugal and Austria.
"I started to kick the ball since I made my first steps," Sergej said in an interview with Mozzart Sport in Serbia. "I watched my father doing it and I wanted to be like him. My parents were following their own ambitions and desires when they were young and because of that, they allowed me pursue my own. I'm grateful to them because of it."
Sergej followed the path of his father and inherited his height (just under 6ft 4in), but in terms of footballing talent, he quickly surpassed him. After spending their early life in Spain and a brief period in Austria, the family returned to live in Serbia where the young footballer joined the youth academy of FK Vojvodina.
He immediately impressed there and was a part of Serbia U19 team which won the European championship in 2013. After just a single professional season in Vojvodina, the 18-year-old Milinkovic-Savic signed for Genk.
The Belgian side has been a springboard for numerous talented players in recent years. Kalidou Koulibaly, Kevin De Bruyne, Thibaut Courtois, Christian Benteke and Wilfred Ndidi all benefited vastly from their experience there.
"It was a key year for my development," Milinkovic-Savic said. "In Belgium, football is rough and physically demanding. The aggressiveness, the action, aerial duels… There are a lot of strong players there and that's why the league is perfect for youngsters to toughen up and improve."
Just like in Vojvodina, his spell at Genk only lasted a year before he moved to another country – but not before he had further international success with Serbia.
In the summer of 2015, Serbia won the U20 World Cup and Milinkovic-Savic was instrumental to their triumph. The towering Serb was awarded the Bronze Ball for his displays at the tournament where he was a dominating figure in midfield against almost every opponent Serbia faced.
Upon his return, he found out that Lazio and Fiorentina were fighting for his signature and it was the Rome club who in the end came out as winners, forking out €9m for his services.
Adapting to a new league and country didn't prove a problem for Milinkovic-Savic. In his maiden campaign, he made 35 appearances in all competitions for the Biancocelesti. Yet it was in the 2016/17 season and under the guidance of head coach Simone Inzaghi when all of his qualities and his evolution as a player came to the fore.
"It is unreal how much Italians focus on tactics," he stated. "I heard and saw some things before, but before I experienced it, I didn't believe it. Tactics, tactics, tactics! It's good that I came here young, because I learned a lot and I'm more confident now."
The 22-year-old has now established himself as indispensable part of the team who finished the season in fifth place. His seven goals and nine assists in Serie A and the Coppa Italia tell just a part of the story of his significance on the pitch. His dazzling two games against city rivals Roma earned him heroic status among Lazio supporters.
Bernardo Corradi, Lazio's former striker, was in awe of the Serb's performances last season. "He has so much room to grow as a player and is already making difference on the pitch. He brings a lot to this team and many top teams will be after him in a near future. Lazio must hold onto to him."
Strengths
Milinkovic-Savic's aerial ability is where he stands out. There's hardly a player in Serie A who can match him when it comes to duels in the air. However, he is much more than a physical presence on the pitch.
He combines both power and technical ability to resist pressure from his opponents and dictates play from the middle of the park. His tactical intelligence and movement all over the field allow Lazio to use him in a way as a target man and as a safe harbour for their team to retain the ball.
In Lazio's primary 4-3-3 formation, Milinkovic-Savic occupies a place in a three-man midfield and is at his best when given freedom to go forward and create. He's also capable of playing as a No.10 in their secondary formation, as he can be a menace for the opposing team when he's closer to a goal.
He reacts quickly and usually makes excellent decisions in the final third, while his runs in the box after crosses are well timed. With his strength and energy, he's very useful when defending and is increasing his number of successful tackles and interceptions.
Weaknesses
After this season, it isn't easy to identify Milinkovic-Savic's weaknesses as he has improved in every aspect of his game when compared to his first season in Italy.
He may lack pace and was making a lot of fouls which earned him a fair share of yellow cards before, but his timing with tackles has improved significantly. He can sometimes be frustrated when a result doesn't go in favour of his team, but as he matures as a player this will likely change too.
Did you know?
Sergej has a younger brother Vanja, who is a goalkeeper at Torino and who was once close to signing for Manchester United, but the move fell through due to work permit issues.
Milinkovic-Savic is known by the nickname 'SMS' in Serbia and as 'Sergente' (sergeant) in Italy. "I like both nicknames. They told me in Italy when I score a goal to celebrate by saluting like a soldier, but I haven't scored since then," Sergente laughed.
He's a fan of Real Madrid since his childhood and dreams of wearing Los Blancos' shirt one day.
What happens next?
Milinkovic-Savic extended his contract with Lazio in April and although he is enjoying his life at Rome at the moment, he stated that Lazio will decide his future.
"I've renewed my contract, but regarding a transfer elsewhere you never know. I am tied to Lazio, but what will happen next, we'll see. It's up to club to decide."
Lazio's president Claudio Lotito can be a difficult man to negotiate with and is often reluctant to sell his players even when their contracts are expiring soon – so it's safe to say it would take a massive offer to persuade him to sell one of his most valuable players.
One thing is for sure, Serie A has a new midfielder en route to stardom following Pogba's departure. One that has an opportunity to become a top-class player and will have plenty of potential suitors, now and in the future.
Thank you for reading 5 articles this month* Join now for unlimited access
Enjoy your first month for just £1 / $1 / €1
*Read 5 free articles per month without a subscription
Join now for unlimited access
Try first month for just £1 / $1 / €1