The Tottenham Hotspur squad exodus: Every player leaving, staying or being released this summer
Tottenham Hotspur are at a crossroads right now with so many of the squad deemed surplus to requirements by fans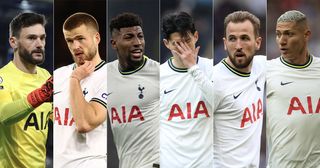 (Image credit: Future)
When Tottenham Hotspur were battered 5-1 by Newcastle United in 2016, the relegated Magpies fielded a side unrecognisable to today. Gini Wijnaldum went onto Champions League glory – Moussa Sissoko would actually aid it by giving away the first-minute penalty for Tottenham against Liverpool – and Aleksandr Mitrovic has lived a fair many lives since.
Yet five of Tottenham's XI for that game seven years ago, were still in the squad for Sunday's 6-1 disaster against Newcastle. The club's new acting manager following Cristian Stellini's sacking, Ryan Mason, lined up in the midfield. If it's a reflection of chairman Daniel Levy's refusal to evolve, this summer marks a make-or-break transfer window in which Tottenham will simply have to bring in a new generation – or risk stagnating further.
After all, Newcastle may end the Big Six era altogether, leaving Spurs as a competitor on the fringes of the elite. Huge decisions need to be made on practically every player in the squad, from back to front.
The Tottenham Hotspur squad in full, with who's staying and going
Hugo Lloris
Age: 36
Contract expires: 2024
The eroding rock at the heart of the club, Hugo Lloris has is now 36, has retired from international football and may struggle to ever recover from 45 minutes at St. James' Park where he conceded five and left the field with a vague "hip injury".
Captain fantastic for so long is, unfortunately, past his prime. There's little to no chance of another side offering money for him now but he may yet be kept in the fold until his contract expiry, while Tottenham bed in a newer, younger model. Surely they have to sign a new keeper after this season?
Fraser Forster
Age: 35
Contract expires: 2024
Tottenham perhaps hoped that they wouldn't have to call on Fraser Forster too often this season, yet injuries to Lloris have put him front and centre. Surprisingly, he's actually Lloris's junior by a few months. Who knew?
Unlikely to be the long-term option for an ambitious club either, however, it looks like Spurs are stuck with both older keepers for another year unless an offer comes in or they feel like terminating one of the deals. One of the two would be relegated to third-choice, otherwise.
Djed Spence
Age: 22
Contract expires: 2027 (currently on loan at Stade Rennais)
Antonio Conte made it very clear that Djed Spence was not one of his signings, throwing him limited minutes here and there before a loan move in January. The 22-year-old cost Spurs at least £20 million and was seen by some as the board investing in the future – but that future is a little hazy, now.
Given that Spence is best as a right wing-back – as shown on loan during Nottingham Forest's promotion campaign – where he plays next season may depend on whether the new manager in opts for a back four or back three. He may become a squad option next season behind Pedro Porro… so long as Neil Warnock doesn't land the job.
Cristian Romero
Age: 24
Contract expires: 2027
One of Tottenham's better players this season, Cristian Romero is one for the next manager to build on and may determine the style of play for the side.
The Argentine functions best in a back three but would need to see a top left-sided centre-back join to help him out in a back four. If Spurs could tempt Aymeric Laporte to north London, maybe Tottenham may open up and become more expansive…
Eric Dier
Age: 29
Contract expires: 2024
Eric Dier will have been at Tottenham a decade next year. This summer is the last that they can command a fee for the defender, who like some of his colleagues, feels a little too limited to play more expressive football. On that basis, you would imagine Tottenham would entertain offers for the defender – and that they could receive a decent fee for an experienced, versatile England international.
Alternately, every Spurs manager has loved Dier: Mauricio Pochettino used him as the fulcrum between switching systems before Jose Mourinho and Antonio Conte both bedded him in as the centrepiece of their defences. It's likely the next manager will want to have him around, too. An exit would be surprising.
Davinson Sanchez
Age: 26
Contract expires: 2024
Once Tottenham's record signing, Davinson Sanchez's most noteworthy moment of the season is perhaps getting substituted after coming on against Bournemouth. Romero's emergence has limited his game time, somewhat.
Still, it's crazy to think he's only 26. He's probably due a fresh start and with a year left to run on his deal, Spurs will undoubtedly be open to bids for a centre-back who still has a lot to offer. Bids of £20m would likely lead to hands getting snapped off.
Clement Lenglet
Age: 27
Returns from loan to Barcelona: this summer
Due to return back to Barcelona, Lenglet has actually been linked with a permanent move – perhaps more out of the price than anything else. He's Tottenham's for £12m.
The deal would provide experience and cover – incredibly, he's only 27, so long-term cover, too – but there are concerns from some corners that he's not quite at the required standard. Tottenham's choice feels like one between looking a gift horse in the mouth or being able to secure a better player on that kind of bargain.
Japhet Tanganga
Age: 24
Contract expires: 2025
Japhet Tanganga's Tottenham career thus far consists of impressive man-marking jobs against the big boys. The jury is still out on whether he has the kind of technical consistency needed to challenge at the top.
At 24, he's not exactly young anymore but he's a handy squad player for shoring up leads, taking to big grounds and passing homegrown quotas. It seems unlikely he'll depart unless an offer arrives at Spurs' door.
Ben Davies
Age: 30
Contract expires: 2025
The last of Poch's full-backs, Davies is another player caught between systems and styles. The Welshman is useful as a wide centre-back in a back three and can play as a full-back or a wing-back, making him handy to have in the group: but is he good enough for a big club at any of those roles consistently across the season?
Offers are likely open once more as 30-year-old Davies' best years are behind him. A new deal seems doubtful – but with two years' left and enough versatility to cover, offloading him doesn't feel like a priority. One more year in north London seems more likely.
Pedro Porro
Age: 23
Joins permanently: this summer
Yet another player more suited to a back three, Tottenham bought Pedro Porro as the perfect Conte buy mere weeks before sacking their coach. In doing so, they may have wedded themselves into hiring another manager just to deal with all these wing-backs and back-three centre-backs.
With only 30 or so appearances in Porro's senior career being in a back four, the Spaniard would take adaptation – but he's one definitely staying, with his loan deal obligatorily becoming permanent this summer.
Emerson Royal
Age: 24
Contract expires: 2026
Having impressed and infuriated in equal part, Emerson Royal – a buy from the short-lived Nuno Espirito Santo era – might have looked the best bet for a sale of Tottenham's three right-backs, had it not been for knee surgery in March. That might put off potential suitors.
A loan deal seems almost inevitable now. It would allow another club to try before they buy, give Royal time to recover and with another three years on his deal, Tottenham won't have to worry about losing him on a free. If he were to impress elsewhere, the Lilywhites might even recoup the £25m they spent on Royal.
Sergio Reguilon
Age: 26
Contract expires: 2025 (currently on loan at Atletico Madrid)
Sergio Reguilon has played just over 90 minutes spread across five games for Atletico on loan, getting sent off in that time, too. It's highly unlikely that Atleti take up the option to make his move permanent.
Reintegrating him as a backup left-back certainly wouldn't cripple Tottenham and may save some money – though there's no shortage in that position in the squad. The Spaniard may go out on loan again, however, hope for more luck and then secure another move. Next season marks the year-until-expiry date of his deal, making a sale more likely then than now – so he'll likely still be on the books in 12 months' time.
Joe Rodon
Age: 25
Contract expires: 2025 (currently on loan at Stade Rennais)
A somewhat forgotten Jose Mourinho "one for the future" is now 25, on loan with Rennes and unlikely to command a starting place for Spurs any time soon – but he can play in either a back three or back four.
Rodon could become a squad option next season, especially if there's a high turnover of defenders in the squad. Unlikely to ever reach the kind of heights needed for a starting Tottenham centre-back, however, Spurs will likely accept an offer if it comes in between now and his contract ending in two years' time.
Destiny Udogie
Age: 20
Contract expires: 2027 (currently on loan at Udinese)
A young talent bought from Udinese and loaned straight back, Udogie is yet another left wing-back. Were they stockpiling for a rainy day?
Spurs will likely be in two minds as to integrate him now. On the one hand, he's young, could add some fresh impetus and he's only going to improve – on the other, Tottenham have Davies, Perisic, Reguilon and Sessegnon who can all play here… and they arguably need a new starting left-back, too. All depends on whether the new manager is a Pochettino-type looking for young stars to flourish under him or a Conte-type wanting to lean on experience.
Oliver Skipp
Age: 22
Contract expires: 2027
Oliver Skipp offers valuable cover for senior midfielders. He's not one of the bigger headaches in this Tottenham squad: he's young, likely to develop further and unlikely to be on a high wage.
Like many though, Skipp is probably a player who Spurs would be happy to let go for the right offer – despite his status as an academy graduate. He's yet to find his niche, either but he'll likely stick around another year.
Pierre-Emile Hojbjerg
Age: 27
Contract expires: 2025
Pierre-Emile Hojbjerg was a smart signing for just £15m. He might not be the most dynamic midfielder but he's underrated in many aspects of his game, seen as a leader and has tons of experience behind him for just 27.
Hojbjerg is likely to be one for the next manager to lean on – but it's worth considering that right now, he's at peak age and contract time to be moved on. Should a Champions League side offer £20m or more, Tottenham could be persuaded to part ways – though that doesn't look like happening.
Rodrigo Bentancur
Age: 25
Contract expires: 2026
Antonio Conte may argue that Rodrigo Bentancur's injury derailed Tottenham's season. Currently in recovery and having only joined last year, there's no chance he leaves in the summer.
Bentancur will be another player the next manager builds around. Here's hoping he has a swift return to the heights he's shown in his Spurs career already.
Yves Bissouma
Age: 26
Contract expires: 2026
Yves Bissouma is still yet to stake his place in this Tottenham team – but that's not wholly his fault. Conte never gave him a full run of fixtures to get up to speed and in February, he fractured his ankle.
There's still time for the Brighton Bissouma to come to the fore under a new manager. Bissouma, Bentancur and Hojbjerg are three workmanlike but physical midfielders to build around, at least.
Pape Matar Sarr
Age: 20
Contract expires: 2026
Hopefully, getting hooked after 20 minutes against Newcastle is a mere blip in his Spurs story.
Pape Sarr has the potential to be a top midfielder – but there's still a chance he'll have to leave first to realise his talents. With plenty of competition in midfield and with him still just being 20, a loan move seems sensible, even to a Championship side.
Harry Winks
Age: 27
Contract expires: 2024 (currently on loan at Sampdoria)
He dominated in the Camp Nou and looked like the kind of progressive midfielder that England hadn't produced for a generation. That seems like a long time ago now, though.
Harry Winks has finally burst into the Sampdoria team following an injury-ravaged start to his loan deal but the Italian giants are rooted to the bottom of the table. With his contract coming to an end next summer, now's the last chance to secure a move elsewhere but even that's looking like a tall task right now. Another loan up until he becomes a free agent feels like a last resort but one growing increasingly likely.
Giovani Lo Celso
Age: 27
Contract expires: 2025 (currently on loan at Villarreal)
Gio Lo Celso underwhelmed in north London and was cast out to Spain once more. It seems almost impossible that an incoming manager will integrate him into the fold given how many other midfielders there are competing for positions.
Rumours of Unai Emery wanting to bring Lo Celso to Aston Villa, however, could well provide Spurs with a get-out on an expensive flop. The funds would be most welcome.
Tanguy Ndombele
Age: 26
Contract expires: 2025 (currently on loan at Napoli)
Another costly flop and still Tottenham's all-time record signing. Tanguy Ndombele's best chance of getting another shot at Spurs is probably for the club to hire a former manager of his who knows how to get the best out of him.
That chance feels particularly slim, leaving another temporary move almost inevitable – unless someone fancies taking those wages off the books. He hasn't been a regular starter at Napoli but the Scudetto champions-elect may well opt for the same again on his loan deal.
Ryan Sessegnon
Age: 22
Contract expires: 2026
Ryan Sessegnon is one of the more sellable assets in Tottenham's squad. Now's the best time to cash in on him, too.
The former Fulham isn't a natural wing-back, there's ferocious competition in forward areas and he isn't knocking at the door regularly. Whether permanently or otherwise, this feels like the summer that he has to change his fortunes or risk getting lost in the pecking order.
Ivan Perisic
Age: 34
Contract expires: 2025
The problem with managers signing really specific older players is that if said manager leaves the club, it leaves the player himself caught in limbo. Where does Ivan Perisic fit in for any future Spurs boss?
The Croatian will be 36 by the time he leaves Tottenham for free – and it's hard to imagine any other outcome. Add Perisic to the list of players who make it feel almost inevitable that the next manager will play with a back three and wing-backs…
Son Heung-min
Age: 30
Contract expires: 2025
In hindsight, the best time to sell Son Heung-min would have been last summer, aged 29 off the back of the best goalscoring season of his career. But who'd have envisaged quite a tail-off in terms of goals?
Son might deserve another chance at Tottenham more than anyone for his work ethic, his connection to the fans and the fact that his goalscoring has always come in bursts. Judging by Liverpool selling Sadio Mane, Spurs may get £30m if they were to sell Son… but is that really worth it?
Probably not if the next manager can squeeze another 10-15 league goals out of him next term. Definitely one to hold onto another year – especially if they lose the 20+ goals that Kane almost guarantees.
Arnaut Danjuma
Age: 26
Returns from loan to Villarreal: this summer
He's not exactly set the world alight but what do you expect from a fifth-choice forward in the front three?
Arnaut Danjuma won't be signed permanently, it's fair to presume. The exits of both the manager and sporting director in charge when this loan was made perhaps decreases the likeliness of it being extended.
Dejan Kulusevski
Age: 23
Joins permanently: this summer, so long as Tottenham qualify for the Champions League
There's a big chance that the ginger from Sweden joins another club this summer, thanks to the clause in his loan. For Tottenham to lose one of their best players in the last 18 months and get absolutely nothing for the inconvenience would be gutting.
This term has been harder for him but bringing Dejan Kulusevski to north London permanently is arguably Tottenham's priority this summer. Losing Kulusevski and Kane would be unthinkable.
Lucas Moura
Age: 30
Contract expires: this summer
He's given Tottenham memories – that hat-trick against Ajax, obviously – but it's time for Lucas Moura to find a new challenge.
The Brazilian barely featured under Antonio Conte and leaves Tottenham as a 30-year-old free agent in a matter of weeks. It's a shame that they couldn't get so much as a fee for him last summer but at least the wages are off the books, now.
Richarlison
Age: 25
Contract expires: 2027
At £50m and with more yellow cards for celebrating goals (one) than goals (none) this season, Richarlison might go down as statistically the Premier League's flop of the season. It's not a comment on his talent, though.
As the Brazilian himself said in an interview, he's not exactly been given a fair crack of the whip. Rotating with an out-of-form Son, being crowbarred out onto the right and the team in general struggling to create, well, anything of note, has all contributed to his poor season.
It's the job of the next manager to make Richarlison feel wanted and happy – just as Tite has done so well for the national side to bring the best out of the forward. He could yet be the perfect long-term successor for a 30-year-old Son.
Harry Kane
Age: 29
Contract expires: 2024
The big one. And all other transfer business hinges on what they do about record-scorer, talisman and heart of the team, Harry Kane.
With a contract that expires in 2024, this is the last chance to sell for big bucks. Even £80m could fund a full-scale rebuild that would enable Tottenham to regenerate. Equally, offloading your biggest, best player when the club is in such flux seems like an awful idea – and certainly not one that any incoming manager would welcome.
Expect this one to drag on until the end of the transfer window – just as it did when Gareth Bale left. Tottenham have so much to do that selling Kane is impossible right now – Levy seems stubborn enough to rather lose him for nothing than cave to a bad offer – but should the Lilywhites get their house in order in the coming weeks, anything feels possible regarding the England captain's future.
Thank you for reading 5 articles this month* Join now for unlimited access
Enjoy your first month for just £1 / $1 / €1
*Read 5 free articles per month without a subscription
Join now for unlimited access
Try first month for just £1 / $1 / €1
Get FourFourTwo Newsletter
The best features, fun and footballing quizzes, straight to your inbox every week.
Mark White has been a staff writer on FourFourTwo since joining in January 2020, writing pieces for both online and the magazine. An encyclopedia of football shirts and boots knowledge – both past and present – Mark has also been to the FA Cup and League Cup finals for FFT and has written pieces for the mag ranging on subjects from Bobby Robson's season at Barcelona to Robinho's career. He once saw Tyrone Mings at a petrol station in Bournemouth but felt far too short to ask for a photo.