Top 10 players turned politicians: heard about the PM on Football Manager?
Sol Campbell's recent decision to run for Mayor of London isn't the first venture into politics by a former footballer, as Matthew Jones notes...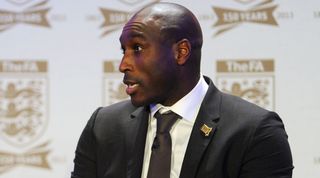 Perhaps unsurprisingly, the ex-Tottenham, Arsenal and England stopper has announced he'll be bidding to take his "lovely banter" to replace BoJo at City Hall in 2016. But plenty of players past and present have had a crack at politics before him, with varying degrees of success...
The Colombian candidate
The iconically-coiffed Carlos Valderamma is now rubbing shoulders with besuited bigwigs in his native country, standing as a candidate in the national elections. Representing the U Party, the Colombian hero is full of confidence.
"Having played so many games with Colombia's national team, this time I'm going to play the best game of my life with the U Party for the country's Senate," he chirped.
Wilmot's woes
Current national team manager and Belgium's top goalscorer at World Cups, Marc Wilmots, had a relatively unsuccessful stint in Belgian politics. After hanging up his boots in 2003, Wilmots was elected to the Senate that same year for French-speaking liberal party Mouvement Réformateur (MR).
But the Bull of Dongeleberg, as he's apparently called in Belgian football, resigned in 2005 against tradition. Suffice to say, he's probably better suited to steering Belgium to the Euros next summer.
Don't miss with Lilian
Lilian Thuram has pretty much won everything that he's ever been involved in - even a debate with the future French president. In 2005, the then UMP leader Nicolas Sarkozy took on Thuram in a national television debate where he labelled kids from the French ghettos as "scum". The former right-back replied to the right-winger in typical no-nonsense fashion: "I'm no scum."
Two years later, the freshly-minted President Sarkozy offered the World Cup winner a role as Minister of Diversity. Thuram declined.
Weah cleverer than you, George
In 2005, shortly after the end of the Second Liberian Civil War, 1995 Ballon D'or winner George Weah announced his intentions to run for presidency in Liberia. But popular as he was in his native homeland, the opposition cited him as an inexperienced politician with no education and labelled him "babe in the woods". Weah lost to the Harvard-educated Ellen Johnson Sirleaf, but in 2014 he beat her son Robert to the Senate of Congress for Democratic Change. Congratulations, George - babe of the woods no more.
From Russia with political views
Not many people could juggle the demands of being a Premier League striker and a politician, but Roman Pavlyuchenko gave it a try. In 2007, the year before joining Tottenham, the Russian hitman secured a seat in his hometown of Stavropol for Vladimir Putin's United Russia Party (as if having Harry Redknapp as your other boss wasn't scary enough).
A Russian football commentator claimed the only reason Pavlyuchenko took to politics was because "the international financial crises affected his wages". He managed more votes than goals, though.
Arsh in the Kremlin
Pav's comatriot and North London rival Andrey Arshavin also had a pop at scoring a political job in Russia – but somewhat familiarly for Arsenal fans, he missed. The ex-Russia captain also ran for Putin's party in 2007 in the regional council elections, but unlike Pavlychenko, Arshavin decided to focus fully on football and withdrew himself before the votes could be casted.
Oleh!
Confounding the old saying, Oleh Blokhin is a jack of all trades and master of one or two. The record goalscorer for Dynamo Kiev and the Soviet Union became the first manager to get Ukraine to a major finals and even found time to be elected into the country's parliament. The sexegenarian was voted in with the Hromada party in 1998 while being a member of the Communist Party of Ukraine. And they say men can't multi-task.
Laws of the game
Thomas Bodström played in Sweden's top tier for AIK Stockholm for two seasons before graduating from Stockholm University with a Bachelor of Laws degree. The son of a former politician was named as the Minister for Justice in 2000 and held the post for six years, made even more impressive thanks to the fact that he wasn't even an MP.
You're fired!
Grzegorz Lato, the 1974 World Cup Golden Boot winner, boasts a century of Poland caps and bagged 45 goals for the national team. He also entered the political cauldron in 2001 as senator for the Democratic Left Alliance Party before taking on the role as president for the Polish FA. In that role, he sacked Dutch coach Leo Beenhaker live on television after Poland's failure to qualify for the 2010 World Cup via a 3-0 defeat to Slovenia. Ouch.
Football Manager PM
Viktor Orban played amateur football for his local team Felcsut FC in Hungary. He has been the Prime Minister since 2010, his second term after holding the post from 1998-2002. But he didn't let running a country get in his way of playing and, on the fringes of Felcsut in 2001, cancelled a cabinet meeting to play for them. Fans of Football Manager 2006 might recognise the name - he was available for transfer if you fancied a Prime Minister shoring up your backline.
Thank you for reading 5 articles this month* Join now for unlimited access
Enjoy your first month for just £1 / $1 / €1
*Read 5 free articles per month without a subscription
Join now for unlimited access
Try first month for just £1 / $1 / €1