Where are they now? Real Madrid's 1998 Champions League winners
Long before La Decima, this Real Madrid team captured the club's first European Cup in 32 years. So what happened to the class of '98?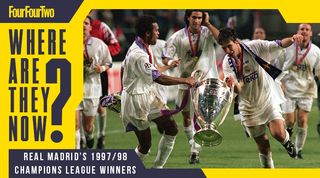 After three Champions League titles in four years, some people are sick of Real Madrid's success in Europe. Los Merengues appear in the semi-finals like clockwork – eight years in a row, now – and with a bit of luck, brilliance or otherworldly forces, seem to get their hands on that trophy.
Yet, for over 30 years, Real Madrid fans suffered through an epic drought. Despite Hugo Sanchez's goalscoring in the '80s and their freewheeling Ye-Ye generation in the '70s, fans waited a long time for that elusive seventh title; three decades, more or less. It was a stretch so long that many wondered whether Madrid's golden age of Puskas and Di Stefano would ever be repeated.
Then, in 1998, Madrid defeated Juventus 1-0 in Amsterdam. These are the men that made it happen...
Coach: Jupp Heynckes
Madrid's coach at the time was not some sexy philosopher like Pep Guardiola, nor an imposing shouter like Alex Ferguson or Fabio Capello. Rather, he was a nice, quiet German who avoided dressing room drama by simply playing the best players in form, and insisting on a proper balance between defence and attack. He was no nonsense, but sensical about it.
Of course, Heynckes was fired for his troubles. His refusal to play four strikers and insistence on defending made him a pariah after only one year. Such is the thanks Madrid coaches receive: a pink slip for a European Cup.
But, don't despair. This nice quiet German went on to coach Bundesliga power Bayern Munich. In 2013, on the eve of retirement, his team won the Treble. All the more impressive, Bayern shellacked tournament favourites Barcelona (and, by extension, Lionel Messi) both home and away.
And now, five years later, Heynckes is about to retire again and his Munich team are in the semi-finals of the Champions League. And guess who they're playing?
Goalkeeper: Bodo Illgner
German netminder Illgner had the poor luck of preceding a legend like Iker Casillas. His five solid years tending the goal for Madrid have largely been forgotten, even though – in addition to winning the Champions League – he also lifted the World Cup with West Germany.
Illgner was a cool and composed leader from the back. He seldom ran off his line to foil counters or snag crosses, but always positioned himself well and was never shy about palming a stinging shot wide for a corner if necessary.
He retired shortly after being supplanted by a teenage Casillas, and worked as a pundit for Sky and BeIN Sports. As punishment for mortal sins in a prior life, he must argue with Ruud Gullit in front of a camera.
Right-back: Christian Panucci
The Italian defender, like Illgner, preceded a legend in Michel Salgado – thus, he's seldom remembered.
Still, Panucci enjoyed three productive years in Madrid, including this Champions League success, before bouncing around clubs and then landing at Roma, where he finally found some love and made over 200 appearances in eight years.
Since retiring in 2010, Panucci has climbed the coaching ranks. He was assistant of the Russian national team for two years, then managed Livorno for two seasons. He's currently manager of Albania, a post he's held since July of last year. The team was in a rough group for Russia 2018, with Italy and Spain, but Panucci remained upbeat throughout and has an eye on the 2020 European Championship.
Centre-back: Fernando Hierro
Hierro is Spanish for 'iron', and he was Madrid's unbendable man of steel at the back. He played 14 years for Madrid, and also appeared in later Champions League finals. Despite his height at 6ft 2in, he was nimble on his feet and difficult to get around. Like Sergio Ramos, he was also a threat going forward and packed a fearsome shot: the stopper stroked home many a sweetly curled free-kick.
Since retiring, Hierro has tried his hand at club management with mixed results. He was Malaga's director of football for one year in 2011 – perhaps their best season, as the club finished fourth and qualified for the Champions League. However, he quit after one year.
Hierro was an assistant coach at Real Madrid from 2014-16, but left to manage resurrected lower division club Real Oviedo. When they failed to gain promotion, he resigned.
Centre-back: Manuel Sanchís
Sanchís played in Real Madrid's great Quinta del Buitre generation of the '80, alongside Emilio Butragueno and Hugo Sanchez as Los Blancos hoovered up Liga titles. By the time that the 1998 final came around, he was a 33-year-old sweeper – not an ideal situation. However, Hierro's power and aggression complemented his cerebral play and positioning, and Madrid's backline shipped only a single goal in the knockout rounds.
Sanchís played his entire career for Madrid and was even a squad player in their later 2000 Champions League run, though not a starter. Nowadays, 'Manolo' is relatively active on Twitter and coaches youth football. Slide into his DMs at your own risk.
Left-back: Roberto Carlos
Carlos was Marcelo before Marcelo was Marcelo: an attacking left-back who loved to join the offence and could only occasionally be bothered to stay in his own half to defend. Fortunately for him, he was a fine attacking force to make up for it and the width he provided in Heynckes' 4-3-3 provided good service for strikers Fernando Morientes and Raul.
The thunder-thighed Brazilian enjoyed a distinguished playing career. He left Madrid in 2007, but then played for Turkish club Fenerbahce, Corinthians back home and Russian club Anzhi Makhachkala, retiring just before his 40th birthday.
He tried his hand at management, first in Turkey, and then later as player-coach in a handful of games for the Delhi Dynamos in 2015. Currently he's out of football, aside from playing charity friendlies from time to time.
With nine (!) children and a young grandchild, he's earned some quality family time after decades of thundering up and down the pitch.
Central midfielder: Fernando Redondo
If Hierro was Madrid's hard tackler at the back, then the other Fernando was his Argentine shield. Still, Redondo didn't dominate midfield with just rough play, but rather smooth passing. They called him El Principe - 'the Prince'. The left-footed midfielder exuded elegance and composure on the ball at all times - he was the perfect outlet for team-mates because his tricks and feints always gave him an extra second.
In addition to the '98 Champions League, Redondo captained the 2000-winning side. However, he was then sold to Milan in perplexing circumstances: the Argentine claimed to have had zero input in the decision. Even worse, he injured his knee in training early on in Italy, never fully recovered, and retired at the age of 34.
Just this year, Redondo finished his coaching course and is now eligible to coach a First Division side.
Attacking midfielder: Christian Karembeu
Born in New Caledonia, Karembeu played internationally for France and was an aggressive, imposing two-way midfielder. He could tackle and dribble, but was also capable of delivering delicately placed passes over distance to his team-mates. He won everything with club and country, and all in a short spell.
Shortly after the '98 Champions League triumph, Karembeu won the World Cup with France having started in the final. Two years later, he was on the bench for Madrid's 2000 Champions League trophy. He was also a member of France's Euro 2000-winning squad, but only played in one match.
Karembeu left Madrid that summer, though, joining Middlesbrough for a year and then Greece's Olympiakos. He retired after a spell in France, participated in a few old-timer friendlies, and then got bit by the management bug. He's currently an adviser to Olympiakos, and has worked as a scout for Portsmouth and Arsenal.
Attacking midfielder: Clarence Seedorf
Even as a youngster, Dutch genius Seedorf was silky smooth on the ball and his technical ability outshone his athleticism. Madrid fans will never forget his wonder goal from distance against Atletico in 1997 – a stunning opening-day effort from all of 45 yards that arced over helpless goalkeeper Jose Francisco Molina. In Heynckes' 4-3-3, he often provided the killer pass for the three strikers and seldom had to defend.
Seedorf fell out with new Madrid coach Hiddink and soon left for Inter, then Milan. He won the Champions League twice with the Rossoneri in 2002 and 2007.
Since retiring, he has tried his hand at management. He briefly coached Milan but was fired after only five months. He then coached in China and Brazil, and recently got the job at Spanish club Deportivo La Coruna (opens in new tab).
Striker: Predrag Mijatovic
The Montenegrin forward only played three seasons for Real Madrid, but scored the only goal of the 1998 Champions League Final. It was a fine effort too: Mijatovic reacted brilliantly to a Carlos shot that was partially blocked, and then had the presence to take a touch up close, round the keeper and chip into the far side netting.
He left Madrid in 1999, playing a few more seasons in Italy and Spain before hanging up his boots. He was Real Madrid's director of football for three seasons, from 2006 until 2009 – then rumoured to join Palermo, although nothing came of it.
Mijatovic is out of the game now but regularly offers soundbites and compliments to the current squad, often via Marca. He has also opened up about the heartbreaking death of his son, who suffered from cerebral palsy.
Striker: Fernando Morientes
Morientes notched 99 goals in eight years for the Blanquillos, and started in (and won) three Champions League finals, including the 1998 edition. Early in his career he hung off the last defender's shoulder, ran like the wind and could be counted on to calmly beat any goalkeeper. Even in later years when he lost a step, though, the Spaniard still scored plenty of headers thanks to his intelligent runs and constant movement.
Morientes left Real Madrid in 2005 after a loan to Monaco that included a Champions League final appearance. He then played for Liverpool, Valencia and Marseille before retiring in 2010.
The striker coached the youth teams of Huracan and Real Madrid for a few years, then came out of retirement in 2015 to play a handful of games for Santa Ana of the third division. He also briefly coached second division club Fuenlabrada.
Will he go back to coaching? Come out retirement briefly again to play for a succession of lower division clubs until one day he shows up on your five-a-side team as player-coach? We can only hope.
Striker: Raul
Like Morientes, Raul played in, and won, three Champions Leagues finals during his time at Madrid. However, El Chaval played a whopping 16 seasons for Madrid, notching 228 goals in over 500 appearances. He broke all of the major records for Madrid at the time, before pesky Cristiano Ronaldo came along to steal the show.
Raul left Madrid in 2010 to play for German club Schalke, then spent two years in Qatar with Al Sadd before one final season for the North American Soccer League's New York Cosmos.
Thus far, Raul has enjoyed his retirement and avoided getting bit by the coaching bug or any regular TV gig. He always celebrated his goals by kissing his wedding ring and has five children, two of whom are climbing the footballing ranks in New York. Will we soon see a Chaval Jr. busying goalkeepers like their old man?
Sub: Davor Suker
The Croatian striker made a very late cameo in the '98 final - to kill time - but did score a respectable 49 goals in 106 appearances for Madrid over three years. Suker, though, was more famous for his fantastic World Cup in 1998: he won the Golden Boot and helped guide Croatia, making their first appearance, to a third-place finish.
Suker still appears in charity games and is the president of the Croatian Football Association. Journalists, though, have accused him of harassing them and impeding their work. In 2015, he had to issue a public statement denying any role in a match-fixing scandal. There are allegations he sympathises with the far right, and is just a mere puppet in his current post.
Sub: Jaime
Spaniard Jaime Sanchez Fernandez played only three seasons for Madrid, making 45 appearances. He came on in the 1998 final as a late sub to shore up the defence – the not-so-sexy tactical sub.
After leaving Madrid, he enjoyed a journeyman's career and played for six different clubs, including Hannover of Germany. His last two seasons, at Albacete and Racing Ferrol, both ended in relegation. Yikes!
Sub: Jose Emilio Amavisca
Amavisca came on in the 89th minute, and that was probably the pinnacle of his Madrid career. He only scored 13 goals in four years with the club – 10 in his first season of 1994/95 – and was a promising, decent player pushed out by competition. After Madrid, he played for Racing Santander, Deportivo La Coruna and Espanyol before retiring at the age of 34. Based on social media research, he still has a mullet.
Thank you for reading 5 articles this month* Join now for unlimited access
Enjoy your first month for just £1 / $1 / €1
*Read 5 free articles per month without a subscription
Join now for unlimited access
Try first month for just £1 / $1 / €1