Premier League preview: What will and won't happen this weekend
FFT's Premier League preview, with Liverpool heading to Wembley to face Tottenham and Arsenal looking to bounce back at Everton.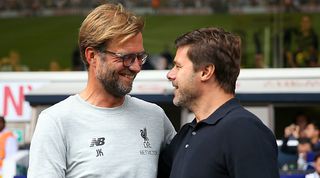 West Ham vs Brighton (Friday, 8pm)
The big talking point: West Ham's improvement. In spite of some unhelpful headlines and distracting rumours about his status, Slaven Bilic has suffered just one defeat since August (a 2-3 loss to Tottenham).
What will happen: Andy Carroll's suspension will solve a problem. Carroll's moronic dismissal at Turf Moor may have been inconvenient at the time, but West Ham actually look far more fluent with him out of the side (and with 11 men). As a consequence of that suspenion, Javier Hernandez will start in his favoured central position, Michail Antonio and Marko Arnautovic will likely begin either side of him, and the London Stadium might be set to watch football which doesn't depend on a fragile targetman.
What won't happen: An away goal. A statistic which will have snuck up on everyone: West Ham have actually kept a clean sheet in five of their seven home games. Scoring goals is Brighton's biggest weakness and that will likely tell again here against Bilic's suprisingly resilient defence.
Chelsea vs Watford (Saturday, 12.30pm)
The big talking point: Watford! Arsenal probably should have been home and dry by the time Troy Deeney lashed in his equalising penalty last week, but Marco Silva's players certainly didn't show any hint of inferiority and are - quite deservedly - sitting cheerfully in fourth place. 
What will happen: Alvaro Morata returned from injury on Wednesday night and he'll likely start again here. The Spaniard's importance is a measure of his ability, but also of Chelsea's worrying lack of depth at forward. Antonio Conte spent his summer complaining about recruitment for a reason.
What won't happen: There will be no N'Golo Kante, no Victor Moses - and possibly no Tiemoue Bakayoko, Gary Cahill or David Luiz, either. What's the Italian for 'bare bones'? Watford will never have a better chance at Stamford Bridge; they're playing extremely well and Chelsea are currently held together by duct tape.  
Huddersfield vs Manchester United (Saturday, 3pm)
The big talking point: Jose Mourinho, which is presumably just as he likes it. Six days after United's eye-bleeding negativity at Anfield, the Portuguese's methods (and his long-term future) are still being discussed.
What will happen: Handbrake off. Suddenly, Huddersfield look vulnerable. Without a Premier League win since the middle of August and scorers of just a single goal in the whole of September, David Wagner's players are starting to look a little outmatched in this division. Expect something Tottenham-like here, from a United team who will likely be keen to stretch their legs again.
What won't happen: No Paul Pogba again, as he remains injured. His absence has vividly demonstrated his worth to this side; United should still canter to victory, but the texture of their midfield play is different without the record signing and their range of attacking is far narrower. 
Manchester City vs Burnley (Saturday, 3pm)
The big talking point: Still Manchester City, still Pep Guardiola, and still the two combining for some of the best football that Europe currently has on offer.
What will happen: You know all those shots that Burnley concede? This is the moment when that porousness starts to cost them. At the moment, nobody seems to have an answer to City's movement or the ability to cope with their range of attacking threats. And Sergio Aguero is fit again. Cover up and hope for the best, Burnley.
What won't happen: That said, don't expect them to be humiliated as Stoke were. Burnley will be badly outmatched and outgunned here, of course, but their defensive work ethic should go someway to ensuring that this is just a regulation 2-0 defeat rather than a cricket score battering with long-lasting effects. 
Newcastle vs Crystal Palace (Saturday, 3pm)
The big talking point: Newcastle's impending takeover, which should create a very interesting atmosphere at St James' Park. 
What will happen: Palace actually scored some goals last week and were generally excellent in knocking off a disappointing Chelsea. However, there is a very obvious difference between that kind of game - against a local rivalr at Selhurst Park - and this type of fixture. Newcastle haven't just started well, they're actually a very good side. Tellingly, they also dealt very well last weekend with Nathan Redmond and Dusan Tadic, players who mimic Palace's threat, and should be a formidable opponent here. Sorry Roy but, even with the destructive Wilfried Zaha back in the side, this looks like a home win. 
What won't happen: No goals from corners or free-kicks. Palace aren't quite there yet, but they're getting better - and Newcastle have certainly proved that they're capable during set-piece situations in both boxes. If a goal is to come at all, it's going to be from open play.
Stoke vs Bournemouth (Saturday, 3pm)
The big talking point: Stoke and Mark Hughes. A partnership which, at the moment at least, doesn't look particularly good for either party. Having adjusted expectations with their bright start, Stoke suddenly look concerningly listless.  
What will happen: Bournemouth might reprise the defensive shape that they took to Wembley last weekend. They eventually lost to Spurs, but actually played very well on the counter-attack. Eddie Howe professed himself pleased with the performance, although lamented the lapse in concentration which allowed Christian Eriksen to score, and might pack the same approach as he and his team head north. Stoke will be expected to take the initiative here, so that might be a particularly smart decision.
What won't happen: A quick start. Stoke are rightly favourites, if for no other reason than Bournemouth's dreadful away record (four straight defeats), but the recovery from last weekend might take some time. Generally, teams don't concede seven goals, get outplayed in every area of the game in the process, then just reflexively bounce back into good form, so these first few steps are likely to be tentative. 
Swansea vs Leicester (Saturday, 3pm)
The big talking point: Tammy Abraham. The Chelsea loanee does not have a recall clause in his loan contract. It's four goals in seven starts for the forward now, which is particularly impressive given how offensively impotent Swansea have generally been.
What will happen: He'll grow his reputation further. Abraham is interesting because he's different. A soft-footed forward with excellent technique who's capable in the channels and predatory in the penalty box. Those don't come along every day, especially not in England. Don't be fooled into thinking that he's just a tap-in merchant, because he's far more rounded than generally assumed to be. 
What won't happen: Well, there'll be no Craig Shakespeare: Leicester binned him after just four months and Michael Appleton will take temporary charge. 
Southampton vs West Bromwich Albion (Saturday, 5.30pm)
The big talking point: The team who are really struggling to create chances, against the opposing manager who thrives on shutting games down away from home. Not exactly the hottest ticket in town.
What will happen: Mauricio Pellegrino will encourage his players to create "chaos". No, we're not quite sure neither, but questioned after last weekend's draw with Newcastle, the Southampton manager was clearly concerned about how structured his side have become and how easy they are to defend against. He wants line-breaking, shape-shifting, chance-forcing chaos. Tony Pulis, presumably, will not.
What won't happen: Don't be surprised if Nathan Redmond is left out. He was very disappointing last Sunday, was susbtituted almost immediately after the second-half began, and was visibly annoyed to be taken off. If chaos is the order of the day, Sofiane Boufal might be brought in to create it. 
Everton vs Arsenal (Sunday, 1.30pm)
The big talking point: Pitched somewhere between Everton's dreadful form and Ronald Koeman's future, plus Arsenal's perpetual state of near-crisis.
What will happen: Perhaps this is one of those instances in which Koeman's loyalty to rigid football might actually be to his benefit. Perversely, his side's two best performances of the season came against Manchester City and Manchester United (before the avalanche of late goals), which has helped create the perception that Everton only really live up to expectations when they're not expected to do so. 
What won't happen: Youth. The most baffling aspect of Koeman's selections at the moment is his refusal to trust his developing players - particularly as they seem to promise the qualities that his side is most lacking. Dominic Calvert-Lewin and Tom Davies have been semi-involved, starting sporadically, but Ademola Lookman hasn't played a minute of Premier League football all season. He's raw and a little undersized, but possesses the close control and acceleration which could really add some life to this attack. 
Tottenham vs Liverpool (Sunday, 4pm)
The big talking point: Turnaround. Spurs gave a mighty performance to draw away at Real Madrid on Tuesday and Liverpool, albeit under very different circumstances, were similarly impressive in winning 7-0 away to Maribor. Can two teams as reliant on energy as this pair fire their engines against after long journeys and short rest?
What will happen: A drop-off. Liverpool are reliant on a small group of players for their intensity, which doesn't bode well. Similarly, the dimensions of the Wembley pitch don't really suit either team's style (as Tottenham know well) and isn't exactly conducive to fast-paced football. An absorbing game? Probably. A high-quality one? Perhaps not.
What won't happen: Tottenham's shape in the Bernabeu, essentially a 5-3-2, was built for counter-attacking purposes, so don't expect to see it again here. Dele Alli will return to the side, perhaps Danny Rose too, and Harry Kane will lead the line without Fernando Llorente. No Sadio Mane for Liverpool obviously, which is as detrimental to the spectacle as it is to Liverpool's chances of winning. 
Now read this...
ANALYSIS Whatever happened to the maverick footballer?
LIST Gooooooooool! 14 of football's greatest commentary goalgasms
BIG INTERVIEW Faustino Asprilla: "I don't think we got together as a team enough at Newcastle"
Quizzes, features and footballing fun
Get the best features, fun and footballing frolics straight to your inbox every week.
Thank you for signing up to Four Four Two. You will receive a verification email shortly.
There was a problem. Please refresh the page and try again.