Ranked! All 32 World Cup teams based on their group stage performance
By Alex Reid
The Russia 2018 group stage is over, but which sides have impressed, which are lucky to be in the last 16 and why do we have to go so far down to find Germany?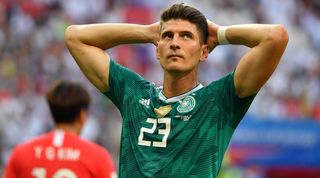 1. Croatia
In three words: Pass, pass, score
The Group D winners didn't even get out of second gear in beating Nigeria 2-0, took a wrecking ball to Argentina in a fiesty 3-0 win, then – even with the group won – beat Iceland to complete a perfect round. Luka Modric has been imperious. Now watch them lose to Denmark.
Next: vs Denmark (July 1)
 
2. Belgium
In three words: Sweet like chocolate
Top scorers in the group stage, besting powerhouses Panama and Tunisia before their second-string side beat England's reserves 1-0. Eden Hazard and Romelu Lukaku have starred, but this team probably has even more to give in attack.
Next: vs Japan (July 2)
3. Uruguay
In three words: Getting ominously better
Struggled past Egypt and Saudi Arabia but achieved a maximum nine points by beating Russia 3-0. Three clean sheets shows their defensive solidity, while manager Oscar Tabarez seemed to find a better midfield balance against Russia. The strikers aren't bad either.
Next: Portugal (June 30)
4. Spain
In three words: Slick but shaky
They've perhaps played the best football of the tournament, with Isco and Andres Iniesta weaving their passing magic. Yet considering the elite calibre of Sergio Ramos, Gerard Pique and David de Gea, Spain have looked curiously ropey in defence, conceding five goals.
Next: vs Russia (July 1)
5. Brazil
In three words: Coutinho over Neymar
Without ever hitting top gear, still earned seven points from nine and conceded just one goal as they eased to the top of Group E. Coutinho has been the match-winner in all three games having put in a crafty, early shout for Golden Ball honours. 
Next: vs Mexico (July 2)
6. England
In three words: It's coming home?
Let's ignore the Belgium game, as it was essentially a reserve team friendly. England's first-choice XI played some superb stuff in the first two matches... albeit against two of the worst teams in the tournament. Basically, we'll know a lot more after the Colombia game.
Next: vs Colombia (July 3)
7. Sweden
In three words: The last laughers
The ultimate overachievers. Saw off South Korea in a snoozefest, experienced heartbreak in losing 2-1 to Germany and then showed their big Swedish (meat)balls by bouncing back to trounce Mexico 3-0 and finish atop Group F. Where did Germany come again?
Next: vs Switzerland (July 3)
8. France
In three words: Great on paper…
Elite players? Tick. Solid results? Tick. Actual performances? Hmm. Despite seven points from nine, France still do not look the sum of their incredible parts. Antoine Griezmann, Paul Pogba and Ousmane Dembele need to step up their game (or perhaps that just applies to manager Didier Deschamps).
Next: vs Argentina (June 30)
9. Mexico
In three words: Good; good; terrible
Roared out of the blocks to cut open Germany, then beat South Korea easily. Against Sweden, needing just a point, El Tri seemed to get stuck on how to play – and fell apart. Can they rediscover their counter-attacking verve for the knockout round?
Next: vs Brazil (July 2)
10. Colombia
In three words: Jekyll and Hyde
Hindered by an early red card/penalty in their shock defeat to Japan, but looked back to their 2014 best in slicing open a hapless Polish defence. Then struggled past Senegal, not helped by James Rodriguez's early injury. Inconsistent but still a danger in attack.
Next: vs England (July 3)
11. Switzerland
In three words: Not so neutral
For a team that regularly stink it up at major tournaments, the Swiss have shown real attacking flair. Failed to keep a clean sheet so far, but fired back to beat Serbia with two cracking goals. That one win sees them into the last 16 (where they will draw 0-0).
Next: vs Sweden (July 3)
12. Portugal
In three words: Get your goat
Portugal can be frustrating. They contributed to the best game of the tournament in a 3-3 with Spain, but have since underwhelmed in grinding out four points against Morocco and Iran, the latter coming close to knocking them out. Still, the No.7 looks decent. Who is he?
Next: vs Uruguay (June 30)
13. Russia
In three words: Not actually crap!
We were told that this was the worst host nation since the dawn of time, so it's some surprise that Russia can play football. Denis Cheryshev and Aleksandr Golovin have looked classy, and while the 3-0 loss to Uruguay was a reality check, these lads have avoided humiliation and/or a stint in the Gulag. Superb.
Next: vs Spain (July 1)
14. Japan
In three words: Very well behaved
A pleasing surprise package in their first two games, this unheralded squad beating Colombia then drawing 2-2 with Senegal in an entertaining match. Less said about the 1-0 loss to Poland, the better. Please remember to start Takashi Inui in the knockout round.
Next: vs Belgium (July 2)
15. Senegal
In three words: Not mellow yellow
The best-performing side to be heading home. Beat Poland, led 1-0 and 2-1 before drawing with Japan, then just couldn't get the goal or point they needed in an incredibly tight game with Colombia. Ludicrously, went out on bookings; even Scotland have never managed that one.
16. Denmark
In three words: Eriksen, Eriksen, Eriksen
Before the tournament, we were told that Denmark were largely Christian Eriksen dependent. That might have been underselling it. He's provided the strike and an assist for the Danes' only two goals. That 0-0 with France was an abomination even he couldn't save.
Next: vs Croatia (1 July)
17. Peru
In three words: End product required
Oh, Peru. They should have beaten Denmark (but lost 1-0) and taken something from their game against France (but lost 1-0). Out after two games despite playing some lovely, slick football. At least their raucous fans got to enjoy a 2-0 win over Australia.
18. Argentina
In three words: All very messy
Stumbled through with all the composure Diego Maradona has showed in the stands. A piece of Leo Messi brilliance and a late Marcos Rojo goal saw them pip Nigeria, but a 3-0 loss to Croatia is telling. Javier Mascherano is 34 years old but looks twice that.
Next: vs France (June 30)
19. Nigeria
In three words: So-So Eagles
Simply didn't turn up against Croatia but Ahmed Musa morphed into Brazilian Ronaldo for 45 minutes against Iceland. Could have beaten Argentina if Odion Ighalo had packed his shooting boots for Russia, but Nigeria's defence just couldn't see the game out.
20. Iran
In three words: So very near
Two slices of luck in the form of a 95th-minute own goal by Aziz Bouhaddouz vs Morocco and a dubious VAR penalty against Portugal. But Iran earned it with their industry, pushing Spain and the Portuguese so close. A Mehdi Taremi shot away from qualifying.
21. Serbia
In three words: Probably quite angry
Will feel justifiably aggrieved that Aleksandar Mitrovic didn't get a penalty against Switzerland. Being caught pressing forward at the end of that game cost Serbia dear, with Xherdan Shaqiri's late strike meaning they had to beat Brazil to stay in. They couldn't.
22. South Korea
In three words: Thank you x
Not great in that they deservedly lost to Sweden and Mexico in their first two fixtures. Yet rousing themselves for that stunning 2-0 victory over Germany, even as they knew the result in the other game was going against them, is one of the World Cup's enduring memories.
23. Morocco
In three words: The ultimate frustration
How did they finish with just one point? Easily the best side to finish this World Cup without a win, Morocco contrived to lose to Iran and Portugal despite at least equalling both sides, then led twice against Spain before drawing. Dynamic in attack but not enough end product.
24. Iceland
In three words: [silence... silence...] CLAP
Just one point but (did you know this? Because it was was widely unreported) the smallest nation every to appear at a World Cup can feel proud. They froze out Messi, and played to their strengths in losing narrowly to Nigeria and Croatia. Might melt in Qatar, mind you.
25. Germany
In three words: Die, Mannschaft, die
Let's give Toni Kroos credit: that free-kick against Sweden was an incredible showing of nerve and skill. Isn't it a shame that win was surrounded by Germany looking blunt in attack and inept in defence against Mexico and South Korea? It isn't? Oh. Carry on then.
26. Australia
In three words: Mille Jedinak… scores!
You have to give the Socceroos credit: they came with a gameplan: i.e. have Jedinak score a penalty in every game all the way up until the final. Australia actually showed plenty of grit and never looked overwhelmed at any point, but a lack of real quality was their undoing.
27. Tunisia
In three words: Up the Khazri
Looked all over the place defensively in the first half hour against England, then decided to cunningly expand that gameplan to 90 minutes against Belgium. Scored five goals, though – and beat a useless Panama, with Wahbi Khazri netting twice and assisting two more.
28. Poland
In three words: The bad seeds
Avoided becoming the first seeded team in World Cup history to lose all three games by beating Japan when they were already out, but Poland looked poor, particularly in the 3-0 loss to Colombia. Who was that No.9 and what did he do with the real Robert Lewandowski?
29. Costa Rica
In three words: Los Ticked off
A fall to earth after the highs of 2014. Came so close to frustrating Brazil before two injury-time goals but didn't show any ambition in their opener against Serbia until they were a goal down. At least a late, own-goal penalty earned them a point against Switzerland.
30. Saudi Arabia
In three words: The unlikely lads
Well, they won a game. That isn't something we thought we'd be saying after their defenders gave it the full clown, circus and trapeze act in that 5-0 loss to Russia. Yet even that win came in a dead rubber against Egypt, thanks to a baffling VAR penalty. They all count, lads!
 
31. Egypt
In three words: One-shoulder team
If you're a one-man team – and that one man is injured – you have a problem. A half-fit Mo Salah still somehow scored twice, while 45-year-old Essam El-Hadary's genuinely incredible penalty save was a must-see moment. But zero points from the tournament's weakest group? Oh dear.
32. Panama
In three words: Fight! Fight! Fight!
A bit like the first level of an old-school video game – think Streets of Rage – in that the hapless opponents are easily defeated but programmed to continually shuffle forward and punch you in the face. Lost three, conceded 11, but brought the passion, man. Come back in four years!
Quizzes, features and footballing fun
Get the best features, fun and footballing frolics straight to your inbox every week.
Thank you for signing up to Four Four Two. You will receive a verification email shortly.
There was a problem. Please refresh the page and try again.