9 Scandinavian players set to take Europe by storm
Calling Football Manager addicts, FIFA or PES regulars and heck, bona-fide coaches: heed these starlets from Northern Europe. They're fair set for good things...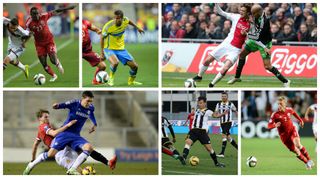 Robin Quaison (Sweden), 21
Born and raised in one of the poorer suburbs of Stockholm, you sometimes get the feeling you are watching a cross-over between a footballer and a basketball player when Robin Quaison is on song: the powerful, long-legged physique, the skill and the tricks, the directness, and the swagger as well.
But within this analogy, perhaps Quaison's weaknesses can also be traced: limitations tactically and in his decision-making, leading to ineffectiveness and him too often drifting out of games. But his club, Palermo, are clearly believing in him – he played 19 times in Serie A last year, coming directly from the much weaker Swedish league – and recent evidence (see Javier Pastore, Paulo Dybala) suggests he is at a very good place to take his offensive game to another level.
Pione Sisto (Denmark), 20
The undisputed star of the much-heralded new generation of Danish players is Bayern Munich's Pierre Höjbjerg. In terms of pure excitement, though, the buzz surrounding FC Midtjylland's South Sudan-born winger Pione Sisto is hard for anyone to match – watch the clips below of him in action, and you understand why. Remarkable explosiveness and quick feet, instinctive two-footed control, powerful shooting and a strong, elastic physique; Sisto is nothing short of spectacular. Clubs from all the major leagues are following his progress – in England, Everton are believed to be extra keen – and while he is still raw and sometimes lacking in end product, his dogged determination to develop his game (spending as many hours training individually as he does with his club) impresses, and might lead to a bigger club snapping him up soon.
Simon Tibbling (Sweden), 20
It didn't take long for Simon Tibbling to make an impact after moving to Dutch side Groningen from Djurgården in the Swedish Allsvenskan.
He was thrown directly into the starting XI, as a central midfielder at Ajax, and became an integral and undroppable part of the team from then on. He's remarkably popular with the home crowd as well – it only took four games before he was performing a post-match lap of honour as the supporters chanted his name.
Opponents were probably less enamored after coming up against Tibbling: he can seem almost impossible to take the ball off, is short and stocky, twinkle-toed and skillful (in an effective rather than flashy way), and deceptively tough as well. To managers' delight, there is also tactical versatility and a spotless attitude with Tibbling. Some of Europe's biggest clubs were very keen on him during his youth career – and if he can produce a full season like the half one he has behind him, suitors from the biggest leagues, as well as the top Dutch sides, will be making their moves.
Andreas Christensen (Denmark), 19
There are few tougher things to do for a young player than to break into Chelsea's first team, but then few prospects have appeared as well-equipped for the challenge than young Danish defender Andreas Christensen. In fact, he seems tailor-made for a Mourinho defence: big, strong and quick as well – he's nicknamed "the gazelle" – Christensen is comfortable with the ball at his feet while playing a low-risk game, and also has the tactical knowledge to fit in equally well at centre-back and right-back.
A significant indication of his high status at Stamford Bridge is that he is not going to be loaned out to a Championship side or Vitesse in the Eredivisie; instead, Christensen will play at top Bundesliga side and Champions League participants Borussia Mönchengladbach next season. His development there will be keenly followed, not least in west London.
Sander Svendsen (Norway), 17
Understandably, Martin Odegaard is taking the vast majority of publicity in the 'supertalent' category in Norway, something which the Svendsen family are probably quite thankful for. Otherwise there might just be some real media-hype potential there. For example, when midfielder Tobias Svendsen made his debut this spring for top Norwegian side Molde at the crazy age of 15, he didn't actually do something unique and unheralded – he merely matched what his centre-forward brother Sander managed three years ago.
And now older brother Sander Svendsen – still not yet 18 yet but already in his third season – has established himself as a sure starter, scoring almost a goal every other game. Skilful, quick and sharp in his finishing with both feet, Sander is not the tallest but powerful and direct, and impresses with the age-defying timing of his movement in the attacking third. He isn't the finished article yet, but what he doesn't lack are foreign clubs willing to give him a helping hand. Not surprisingly, Ajax seem to have placed themselves at the front of the queue for both of the Svendsen brothers.
Melker Hallberg (Sweden), 19
ALSO ON FFT.COM
Imagine Ryan Giggs, or some other one-club man, and then add a Master of Arts in literature, a long-running football blog, a teaching degree, a podcast, left-leaning political or philosophical speeches, a punditry career, a culture column in the local paper…
That's just a brief introduction to Kalmar FF's Henrik Rydström. He's been a central midfielder in the side for 21 years, and has been hugely important in the club's rise from lower-league dwellers to title winners. Given his CV and personality, it is perhaps no coincidence that KFF have unearthed a number of other clever and mature midfielders who have developed their game alongside him. After brothers Viktor and Rasmus Elm, next in line is Melker Hallberg.
Indeed, Hallberg's mix of physicality and intelligence beyond his years – he debuted in Allsvenskan at 16, and was an ever-present at 17 – together with functional technique and powerful shooting with both feet (already with a number of goals worth checking out), persuaded Serie A side Udinese to buy him last summer. While there are areas that need sharpening up – the tempo of his play and his technique under pressure are two such – his game appears very well-suited to the British one, meaning a loan move to Watford in the not-too distant future wouldn't surprise in the slightest.
Viktor Fischer (Denmark), 21
Still only 21, Ajax winger Viktor Fischer has already managed to squeeze in plenty of highs and lows in his short career.
He made his breakthrough in the Eredivisie as an exciting 18-year-old back in 2012/2013, scoring 10 times in 21 starts. He failed to live up to mounting expectations the following season, though, only scoring three times, and had almost all of last season ruined because of a hamstring operation.
If the Dane can bounce back next season (and the early signs are positive), at the same time quelling the doubts surrounding his mentality, bigger clubs will surely make their interest known again. Most importantly, attentions will turn back to his soft-shoed ball control, dancing feet, turn of pace and confidence in one-on-one situations. Big Premier League clubs just below the very top – Spurs, Everton, Newcastle – have been keen.
Ludwig Augustinsson (Sweden), 21
Invariably, other more attacking players got most of the attention during Sweden's surprise win at the Euro U21 tournament (though Augustinsson did get some headlines for an out-of-context line about "overrated English players" before their group game), but out of all the players in this promising crop, the left-back has the potential to go the furthest. A delicate left foot, solid technique, reasonable pace, good stamina, physical strength, first-rate attitude, tactical awareness: Augustinsson has a very complete skill set, which has enabled him to tackle every step up the ladder in his career so far with ease. No wonder plenty of big European clubs – from Roma to Liverpool and Aston Villa, among others – are making their interest known.
Lucas Andersen (Denmark), 20
A teenage star in the Danish league with Aalborg after debuting as a 16-year old, Andersen took the time-honoured route for hot Danish attacking prospects by moving to Ajax shortly before his 19th birthday.
Compared to compatriots Michael Laudrup and Christian Eriksen, Andersen found it difficult to live up to the expectations, and was even demoted to the youth team for a season.
Last year Andersen started to make a name for himself, though, and while his numbers wouldn't have made any bigger clubs sit up and notice, his obvious talent began to shine through: the delicate touch with both feet, the eye for space and a killer pass, the strong, up-right physique. And where better to mould qualities like this than at Ajax?
Thank you for reading 5 articles this month* Join now for unlimited access
Enjoy your first month for just £1 / $1 / €1
*Read 5 free articles per month without a subscription
Join now for unlimited access
Try first month for just £1 / $1 / €1
Quizzes, features and footballing fun
Get daily World Cup 2022 news, updates and other football frolics to your inbox
Quizzes, features and footballing fun
Get daily World Cup 2022 news, updates and other football frolics to your inbox
Thank you for signing up to Four Four Two. You will receive a verification email shortly.
There was a problem. Please refresh the page and try again.