9 times players were reunited with former managers – and kick-started their careers
As Nemanja Matic reconnects with Jose Mourinho at Manchester United, Harry Dunning looks at the pick-me-up reunions for these stuttering stars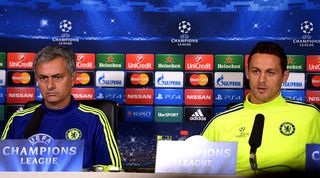 1. Peter Crouch and Harry Redknapp (Portsmouth, 2008)
The pair were briefly together at Portsmouth in 2002, then had a longer spell at Southampton, before Harry Redknapp bought Crouch for £11m from Liverpool in 2008 for the hat-trick. The England forward had found it difficult to hold down a first-team place during his three years on Merseyside, and the arrival of Fernando Torres in his last season hammered the final nail in his plus-sized coffin.
This was the era of crazy wages at Portsmouth; a time when John Utaka was reportedly earning more per week than Cesc Fabregas was at Arsenal. At least Pompey weren't wasting their cash on Crouch, though: the move was a big success for the striker, who netted 16 times in 2008/09. At the end of the season, Crouch followed his manager up the motorway to White Hart Lane.
2. Bryan Robson and Ron Atkinson (Manchester United, 1981)
Ron Atkinson was charged with bringing back the glory days to Old Trafford when he became Manchester United boss in '81, the club only six years previously having been playing their football in the second tier. To help do it he brought in a man he knew well from his time at West Brom – the soon-to-be-England captain Robson – for a British transfer record of £1.5m.
It was astonishing amount to many, including Sir Matt Busby. The legendary Scotsman resigned from United's board following the signing, shocked by the future of football's ever-increasing transfer fees. Yet the promised 'champagne football' was delivered for a spell, as United went on to achieve FA Cup success in 1983 and 1985 with Robson as captain. They even managed to beat a Barcelona side featuring Diego Maradona in 1984.
It may have taken Alex Ferguson to eventually kick-start the club's full revival, but Robson was so good that even Fergie wouldn't consider shipping him out.
3. Kevin Nolan and Sam Allardyce (West Ham, 2011)
Where Allardyce goes, Nolan follows. After 10 seasons of being one of Bolton's greatest contributors, Nolan signed for Newcastle in 2009, possibly thinking his old manager was still there. Allardyce had in fact been sacked the year before and replaced by Kevin Keegan (logical).
Two years on, however, Nolan and Big Sam were to be finally reunited at West Ham. Together they began putting back together a club which had been less than stable, suffering relegation from the Premier League in 2010/11. Nolan said at the time that "having the chance to link up with Sam again is a massive thing".
In the pair's first season reunited, West Ham won the Championship play-off final and promotion back to the Premier League. Nolan was their captain that season and chipped in with 13 goals. Big Sam's career was on the rise again.
4. Archie Gemmill and Brian Clough (Nottingham Forest, 1977)
If you're too young to remember his prime playing days, you're almost certainly old enough to remember that goal from Trainspotting - and the man who scored it, Archie Gemmill.
The gloriously talented Scotsman was signed by Clough from Derby for £25,000 in 1977 after Clough's brief, shouty time in charge of Leeds. Gemmill had been pivotal for Derby in their 1975 Championship-winning side under Clough and would go on to prove vital in Forest's own league title triumph in 1978.
A key element of their counter-attacking style in the late '70s, Gemmill was nonetheless dropped for the 1979 European Cup Final, much to the shock of Forest's player. "I was devastated at the time," he said later. "I was led to believe I'd be playing in the match, I was far from happy. I hated every minute of the 90 and I hated afterwards as well." Gemmill left that summer, but there was no doubting his positive effect on the team.
5. Jermain Defoe and Harry Redknapp (Portsmouth, 2008)
Redknapp loves a re-signing (especially if their name is 'Niko Kranjcar'). Yet his favourite of all might be Jermain Defoe, who Redknapp worked with three times at three different clubs: at West Ham, Portsmouth and Tottenham.
In 2008, Defoe was finding it difficult getting into the Spurs team regularly despite a handy scoring rate. After Darren Bent was signed for £17m, the ex-Hammer had decided by January that it was time to look elsewhere.
In stepped 'Arry to bring the England striker to Pompey. Defoe scored on debut in a 1-1 draw with Chelsea and kept finding the net, becoming the first ever Portsmouth player to score in his first five home matches. He re-joined Tottenham the following January... signed by Redknapp once again.
​6. Thiago Alcantara and Pep Guardiola (Bayern Munich, 2013)
The son of Brazilian 1994 World Cup winner Mazinho, Thiago eventually showed his quality for Bayern Munich after a terrible early spell with injury. Pep Guardiola – his boss at Barcelona – took the Spaniard with him in 2013 when he himself moved across Europe to the Allianz Arena.
Guardiola said at the time: "I spoke to the club about my concept and told them why I want Thiago. He is the only player I want. It'll be him or no one." Thiago was finding it hard to establish himself in a star-studded midfield at Barça, and the summer of 2013 was seen as his opportunity for a fresh start.
Thiago's first two seasons were ravaged by injury, but he played 41 games in Guardiola's last season at Bayern and has now established himself as a key first-teamer. He's also pushed on to be a regular in the new-look Spanish national team.
7. Thierry Henry and Arsene Wenger (Arsenal, 1999)
Arsene Wenger was Thierry Henry's manager at Monaco in 1994, before the former was sacked and moved to Japan. Henry later left for Juventus, but the 1998 World Cup winner lasted seven months in Turin before moving to Highbury in summer 1999. 
The France international had often been played on the left wing at Juve, but Wenger had plans to re-establish Henry as a striker and snapped him up for £11m as a replacement for the Real Madrid-bound Nicolas Anelka.
Henry kicked on, gradually working his way in from the wing to become one of the world's deadliest strikers... and possibly even the Gunners' greatest ever player. 
8. Craig Bellamy and Mark Hughes (Manchester City, 2009)
Bellamy arrived at the Etihad having annoyed and offended at nearly every club he'd played for. But under his fellow Welshman Hughes, the livewire striker was a different animal. Having played for Hughes at Blackburn in 2005 and earning a move to Liverpool a year later, it appeared as though Hughes was one of the few who could get the best from his compatriot.
True to theory, Bellamy's time at Manchester City – under Hughes, following a £14m transfer in 2009 – was generally successful too. He scored on his debut and bagged a brilliant brace against Manchester United, including roasting Rio Ferdinand for a fine solo goal. After Hughes was moved on, Bellamy soon followed by joining Cardiff on loan.
At 2.20 and 4.40 for Bellamy's finishes
9. John McGovern and Brian Clough (various)
Clough's trusted enforcer. McGovern played at four out of the five clubs managed by Ol' Big 'Ead, who attempted to sign him at all five. He had spells at Hartlepool, Derby, Leeds and Nottingham Forest – and only Brighton were missing.
McGovern had even been there as a 13-year-old, on the day Clough's playing career was effectively ended through injury at Roker Park on Boxing Day 1962. A countryman of Archie Gemmill, McGovern was one of very few men to win the European Cup and not receive a full international cap.
Clough yanked McGovern out of Leeds and to Nottingham Forest (just a few months after having signed him for the Yorkshire club) in January 1975. McGovern would go on to say of his erstwhile gaffer: "Every medal I won in the game, I owe to him." He was Forest's captain as they went on to win the league, then back-to-back European Cups in 1979 and 1980.
Now read...
Quizzes, features and footballing fun
Get the best features, fun and footballing frolics straight to your inbox every week.
Thank you for signing up to Four Four Two. You will receive a verification email shortly.
There was a problem. Please refresh the page and try again.