How Cristiano Ronaldo has already changed Juventus
He's on the verge of a Champions League return to Old Trafford, only this time in the black and white of Juve. Three months into CR7's new life, Adam Digby details the transformative effects of a footballing icon...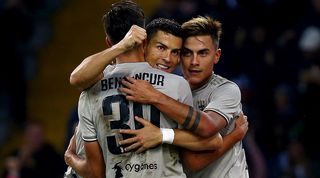 This time, they're not trying to hide it. In previous seasons, even as Juventus have dominated Serie A, they have downplayed their Champions League aspirations, repeatedly insisting via players and senior management that reaching the quarter-finals was their true objective.
When you smash your club transfer record and a carefully constructed wage structure to sign Cristiano Ronaldo, however, modesty is no longer a currency you can afford to use.
"After winning seven Scudetti and four Coppe Italia, it's time to win in Europe having gone close before," Max Allegri said at an event for one of his sponsors this week. "The desire to win the Champions League is always there."
The Italian knows exactly what's required after twice reaching the final of UEFA's elite competition during his four-year tenure, but the coach's words were undoubtedly buoyed by what he has seen in the opening months of the season.
Out of the blocks
Juventus set another club record by winning their opening 10 games of a season for the first time ever, a start that stands in stark contrast to previous years under Allegri. The Old Lady have been notoriously slow out of the gate in recent campaigns – Allegri has generally tailored his approach to have Juve peaking in March and April – and so the arrival of Ronaldo has clearly fuelled this uncharacteristic beginning.
A desperate desire for goals has long been Ronaldo's calling: his final tally for Real Madrid (451) stood higher than the number of games he played (438) for the Spanish giants. He may not yet have netted with such regularity in Turin (so far he has five goals and four assists in 10 appearances), but there are some interesting parallels to his time at the Bernabeu.
Just as he did last year, CR7 took exactly four games and 28 shots before registering his first strike of the campaign, and the Bianconeri are hoping he can emulate his final total of 44 goals in 44 games over the course of 2017/18. On Saturday he netted goal No.5 for the season in Juve's 1-1 draw against Genoa, his 400th strike in one of Europe's top five leagues – making him the only player to achieve the feat.
But Ronaldo's contributions to the scoresheet have arguably been the least impressive aspect of his impact since arriving in Turin. There has, of course, been a major boost to the club's off-field activities, with well-documented spikes in Juve's shirt sales, social media interactions and share price ever since the €112 million acquisition was announced back in July.
CR7 the catalyst
However, a man as cautious and media savvy as Allegri isn't suddenly saying his team can win the Champions League because they have gained a bigger audience on Instagram. Instead, he is analysing the performances thus far and seeing how Ronaldo has acted as a catalyst for those around him, pushing many of his new team-mates to try harder, to be better, and to never give less than 100%.
Some, like Giorgio Chiellini and Mario Mandzukic, didn't need a Portuguese megastar to convince them to put forth maximum effort. But now they are playing alongside one of the best players in the world, the effect of the 33-year-old on other members of the squad is clearly evident.
Paulo Dybala initially struggled to express himself in Ronaldo's shadow, as Allegri cycled through a number of formations before trying him in the hole behind CR7 and Mandzukic. It figures: there, the Argentina international can cause far more problems for opposition defences than he could on the wing in the 4-3-3 Juve used in the first few weeks of the season. A Champions League hat-trick against Young Boys showcased what the 24-year-old is capable of, particularly as Ronaldo was serving a suspension and Juve desperately needed to collect all three points.
Bernard's watch(ing)
The change in Federico Bernardeschi has been even more pronounced. The 24-year-old's maturity and consistency were questioned even before he joined Juve in the summer of 2017, and that first campaign in Turin did little to quell doubts about the Fiorentina youth product's focus. But Bernardeschi has been excellent from the outset this term, arriving for pre-season training in superb shape, and with his floppy mop replaced by a closely-cropped trim.
In many cases (Paul Pogba, anyone?), drawing parallels between a player's hair and his performances is a tedious and tenuous trope, but with Bernardeschi it's hard to escape the feeling that his new look reflects a more dedicated approach. Where before his reaction to a misplaced pass was to flick his fringe out of his eyes and complain, he now races back to try to regain possession. There is little doubt as to what triggered this transformation.
"We all know Ronaldo the player and personally I've always considered him the best in the world," Bernardeschi told Tuttosport earlier this month. "What I've discovered is that he's an exceptional person, a humble lad with extraordinary personality which he transmits to everyone. It's infectious. It's in that regard that I've always preferred him to [Lionel] Messi.
"Juve was already an extraordinary club in terms of a winning mentality, with nothing to learn from anyone, but the arrival of Cristiano brought something more," the Italy international continued. "Having Ronaldo close is an example for the youngsters, even at a great club like Juve. You have to be intelligent, you're training with the best player in the world, and if you're lucky enough to do that you need to try to steal a few things. It's like riding a wave – he has helped me and still is because he's an example to follow."
Something changed
Beyond bringing the best from Juve's attacking talents, that attitude been truly revelatory for a side that, even as they dominated Serie A in recent years, were all too willing to sit back and protect a 1-0 or 2-0 lead. Now they push on, and fans have noticed that the Bianconeri have adopted a much more proactive style.
"Something changed," Andrea, a season-ticket holder in the Curva Sud, told FourFourTwo. "With Ronaldo on the pitch they don't stop playing like they did before – his hunger has pushed everyone to keep trying, even Allegri has stopped being cautious and it feels as if they're actively trying to win instead of playing not to lose."
A meeting with Napoli earlier this month underscored that approach, as the Old Lady's closest domestic challengers visited the same Juventus Stadium where they ran out 1-0 winners last term. They took the lead again through Dries Mertens, but this time Ronaldo was in black and white stripes, and in no mood to let the Partenopei escape with another victory. The 33-year-old transformed the game.
NOW READ
First he turned accomplished full-back Elseid Hysaj inside-out to deliver a cross for Mandzukic – a ball so perfect that respected Italian writer Guido Vaciago joked in his match report that "Unesco had assigned it world heritage status". Ronaldo then inadvertently teed up Mandzukic for a simple tap-in after his vicious shot struck a post, then helped round off the scoring by heading across goal for Leonardo Bonucci to seal a 3-1 rout.
Saturday's 1-1 draw with Genoa means Juventus four points clear of their Serie A rivals after nine matches, and have maximum points after two rounds of Champions League fixtures.
On Tuesday, a return to Old Trafford beckons for Ronaldo. If the former Manchester United man can help his new side to victory over the Premier League club he once represented, it would send the clearest signal yet that this new improved version of Juventus are truly ready to contend for a trophy they have not lifted since 1996.
This time they will arrive making no secret of their ambitions of doing just that. Emboldened by the presence of Ronaldo, the Old Lady are no longer trying to hide.
Thank you for reading 5 articles this month* Join now for unlimited access
Enjoy your first month for just £1 / $1 / €1
*Read 5 free articles per month without a subscription
Join now for unlimited access
Try first month for just £1 / $1 / €1