Martial must be more proactive – but Mourinho will be to blame if he fails to fulfil his potential
Ryan Baldi explains why the Red Devils boss must do more to get the best out of the Frenchman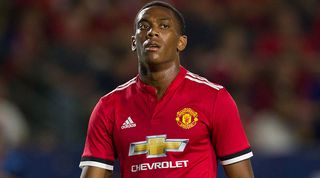 A "sophomore slump" is defined as a second effort which fails to live up to the standards set by the first; the difficult second album... or second-season syndrome as it's often termed in football.
It's a malady all too familiar to Manchester United forward Anthony Martial, who struggled to recapture the highs of his maiden Premier League campaign last season and often cut a frustrated figure. He was also frustrating to watch in return, his fleeting flashes of excellence coming fewer and further apart.  
The 21-year-old's disjointed displays quickly drew the ire of manager Jose Mourinho, too. "Do I think Anthony is player with great potential? Yes," the Portuguese tactician said ahead of a Europa League tie in April. "Do I think he can play successfully for me? Yes. But he needs to give me things that I like."
The things Mourinho likes, what he expects from his players, are no secret. The former Real Madrid and Chelsea manager demands wholehearted commitment, tactical discipline and defensive work rate, no matter which position the player in question plays.
Martial demonsrated few of these last season, to Mourinho's obvious chagrin. At times he was infuriatingly passive, lacking the verve and vigour that he exuded a year earlier. Though always outwardly serene, his on-field displays in 2015/16 at least betrayed an inner ferocity.
Treading water
Martial certainly needs to do more if he is to deliver on his immense promise and justify the hype that grew two years ago. But Mourinho, too, is responsible for moulding the gifted 15-cap Bleus star.
Mourinho isn't known for his patience; rapid, short-term gains are his forte, immediacy his obsession. As such, he has seldom afforded a burgeoning young talent the space and patience to grow. Handing out debuts in dead rubbers is one thing, but incrementally shaping and developing a player from prospect to finished article is quite another.
Martial's development has stalled, but he remains among the most talented youngsters around. Countrymen Kylian Mbappe and Ousmane Dembele may have usurped him as the hot new things of European football over the last 12 months, but the United No.11 can still become one of the best players in the world. When a young footballer is as gifted as he is, it would be negligent to give up on him after one sub-par season.
It mustn't be forgotten just how refreshing the Frenchman was when he moved to Old Trafford on transfer deadline day in the summer of 2015. Back then the £36 million that United handed over to Monaco set a new record for a teenager – but it looked worth it. 
Gimme shelter
A relative unknown among Premier League watchers, Martial announced his arrival with a stunning debut solo effort against Liverpool that had Martin Tyler screeching with joy like a hyperactive eight-year-old. He went on to finish the season as his new club's top scorer with 17 goals.
United, stifled by Louis van Gaal's possession-for-possession's sake system, were turgid and uninspiring. But Martial was the ideal wake-up call to end snoozefests at Old Trafford, his speed, directness and youthful exuberance exciting fans who'd long grown tired of watching their team.  
Last term was a grand disappointment for Martial, but the former Monaco man has time and talent on his side. Either way you look at it – from a cold business view of protecting the club's investment, or from a more philosophical vantage of putting faith in youth – it's Mourinho's job to create the conditions Martial needs to flourish.
That would mean giving the Frenchman feedback – constructive feedback – and guidance behind closed doors (a stern rollocking if required, even), but also protecting him from criticism publicly, much like Sir Alex Ferguson did during his 26-year reign at Old Trafford.
Croatian competition
It would also mean playing Martial regularly – something which looks less likely considering United are trying to sign Ivan Perisic from Inter, as Mourinho seeks a more conventional winger with the requisite defensive acumen to satisfy his needs.
The Croatian wideman would offer that, but at 28 and operating predominantly on the left flank – the position Martial finds most of his playing time – the short-term gains he would offer could come at the expense of long-term growth.
United will be fighting on four fronts in 201718, but even if they play 60 games, Perisic – who could cost as much as £49 million – would expect to start 40 of them. That would leave Martial and 19-year-old Marcus Rashford fighting for scraps out wide, and as Romelu Lukaku's deputy centrally. It's hardly ideal for a player who will turn 22 next season and is reaching a crucial phase in his development.
There's a long and proud tradition of giving youth a chance to prosper at Old Trafford, from the Busby Babes through to Fergie's Fledglings. To his credit, Mourinho appears to be doing right by Rashford, who is developing nicely, but his man-management of Martial – as well as 21-year-old left-back Luke Shaw – has occasionally been jarring. There must be a will, or at least an acceptance, on Mourinho's part to bend to his club's values and traditions.
Freedom to grow
Of course, Martial needs to be more proactive and disciplined. But he also needs to be allowed to make mistakes without fear of immediate reprisals, public criticism and the loss of his place in the team. In a nutshell, he must be allowed to learn.
If pre-season is anything to go by (often it's not), signs are promising. Martial was particularly impressive in the 1-1 draw with Real Madrid earlier this week, playing the full match and earning cautious praise from Mourinho. "Obviously we want more consistency in his talent," said the Portuguese post-match. "I think today was a positive for him, that's why I left him for 90 minutes on the pitch – he was enjoying and trying things.
"It's important to try things in these friendly matches so it's good for Anthony and his confidence. He is a young player, still time to learn, still time to improve, still time to develop, and it's also his personality. I can say he is training better than before, he's working harder than before. [Now] it's a question to bring his talent more in a consistent way."
There's a limit to the amount of rope Mourinho can afford to give his player – after all, his primary task is restoring United to something like their former glories as soon as possible, and can't allow the team's progress to be hindered unnecessarily. But he can certainly afford to extend the current tether with Martial.
Responsibility for the progress of United's youngsters – of which Martial is unquestionably the most naturally gifted – falls as much on Mourinho as it does his players. Martial's United career might not pan out as originally hoped, but it definitely won't if he's not given the right environment to achieve.  
Quizzes, features and footballing fun
Get the best features, fun and footballing frolics straight to your inbox every week.
Thank you for signing up to Four Four Two. You will receive a verification email shortly.
There was a problem. Please refresh the page and try again.