Mateo Kovacic and Real Madrid's love of Croatians
Charles Ducksbury recalls five previous Balkans to have donned the famous white shirt, following the signing of their compatriot from Inter...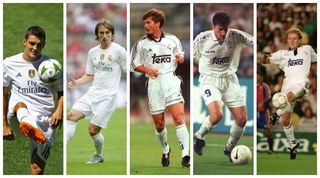 Mateo Kovacic's £21 million move from Inter to Real Madrid certainly caught most people out, completed surprisingly rapidly in an era of transfer sagas. Amid endless will he/won't he stories featuring dozens of players worldwide, nobody had tipped the Croatian to move to Madrid; indeed it was Liverpool being linked with the 21-year-old before he signed for Los Blancos.
Kovacic becomes the sixth Croatian to pull on the white shirt (remember that the state only became recognised in 1992), with his predecessors having enjoyed varying degrees of success. At one stage in the 1990s, Madrid became synonymous with signing players from the old Yugoslavia, much like Barcelona's hoarding of Dutch players under Louis van Gaal, or Inter's fascination with Argentines in the mid-2000s.
1) Igor Jovicevic (1991-95)
The first Croatian to sign for Real Madrid is a relative unknown. Labelled the 'new Boban', Igor Jovicevic trained for Dinamo Zagreb before moving to Madrid for a fee of $1.8m as a fresh-faced 17-year-old back in 1991. He stayed in Real Madrid's B team under the management of a young Rafa Benitez, but never represented the first team due to a clause owing Dinamo another $3.2m should he ever play a full game. Soon after leaving Madrid, Jovicevic suffered a knee injury and never truly recovered, spending the rest of his career globe-trotting, taking in Brazil, France, Japan and China. As for the more illustrious others...
2) Robert Prosinecki (1991-94)
Perhaps the most famous Croat to play for Madrid is Robert Prosinecki, who joined Los Merengues in the summer of 1991 soon after winning the European Cup with Red Star Belgrade.
His performances alongside team-mates Sinisa Mihajlovic and Darko Pancev made him one of Europe's standout players, so it was no surprise he headed to Spain for a massive £10m. With Serb Raddy Antic as coach, Prosinecki was expected to lead Madrid after a disappointing third-placed finish in La Liga and surprise elimination to Spartak Moscow in the European Cup.
Injuries limited the playmaker to just three appearances in the first campaign, causing tension with supporters unhappy at the huge price paid for a seemingly crocked player. The following season was a little better, especially after he netted a free-kick against Barcelona, but injuries again restricted his playing time in his final two seasons in the Spanish capital.
Madrid didn't win the league during his time there, even managing to lose the title on the final day at Tenerife in successive seasons. After stinging criticism from former Real president Ramon Mendoza, the Croatian spent a year on loan at Oviedo before crossing the great divide to sign for Barcelona in 1995.
Reflecting on his spell at Madrid, Prosinecki said: "My time at Madrid could certainly have been better, seeing as people only remember the titles you win. I established myself there at a time when foreign players were limited, and I discovered a different type of football, despite injuries and lost titles."
3) Robert Jarni (1998-99)
Fresh from a superb third-placed showing at France 98, Croatians were very much in vogue, and one of the better performers was Robert Jarni. The attacking full-back – dubbed the European Roberto Carlos – scored one of the goals in the 3-0 demolition of Germany in the quarter-finals. The Real Betis man was wanted by Real Madrid, yet the Seville-based outfit refused to sell him at a time when they had title aspirations of their own.
So it was a surprise when Gordon Strachan's Coventry City secured the signing of Jarni for £2.5m, given the Sky Blues' constant battles to escape relegation and the Croatian's enhanced reputation.
Yet a week later, Jarni pitched up in Madrid, with Coventry receiving £1m more than what they paid for the left-back. Betis cried foul, accusing Real of constructing the move to avoid missing out, while the player denied everything, telling The Herald: "I received an offer from Real so I decided to sign for them. It was a family decision, they were against moving to England. I was honest about it and Strachan understood." Things never worked out for Jarni when he did play for Los Blancos, making 27 league appearances and scoring one goal, ironically against Rafa Benitez's Extremadura. The Croat was dropped when John Toshack arrived as coach to make way for Roberto Carlos, and was sold to Las Palmas after one season.
READ THIS 10 of the most short-lived transfers ever: miffed Frenchmen, Sol's shame, Mikel in Manchester
4) Davor Suker (1996-99)
The winner of the 1998 World Cup Golden Boot was Davor Suker, but he had been a Madrid hero long before his reputation was enhanced further in France. Strangely, though, his game time in the Spanish capital dried up after the tournament, despite his six goals for Croatia. The striker arrived from Sevilla after bagging 76 goals over five seasons, and he continued in the same vein of form in Madrid, his famous left foot contributing to 24 league goals, leading Madrid to the La Liga crown. The following season saw Madrid end a 32-year wait for another European Cup, beating Juventus 1-0 in the final. 'Sukerman' could only score four goals in his final Madrid season, before leaving for Arsenal. He is now president of the Croatian Football Federation, although when asked in an interview how he spends his retirement, the former striker patted his expanding waistline and stated: "Eating plenty of cheese and drinking lots of wine!"
5) Luka Modric (2012-)
If Kovacic needs someone to look up to in Madrid, he has the perfect role model right beside him. Luka Modric was famously dubbed the Biggest Flop by Marca soon after his £30m transfer from Tottenham in 2012, with some struggling to appreciate a midfielder who didn't score or provide any assists.
also ON FFT.COM
In time, though, he has become one of Madrid's most important players, with Cristiano Ronaldo championing the Croatian as a key player, and his former national team manager Slaven Bilic explaining that Modric was a player who "makes all the others play better". Current national boss Niko Kovac gushed: "We all love Modric!"
In keeping with his humble on-field appearance, the former Spurs man is happy in Madrid, praising the local parks and museums in a recent interview. With a fellow countryman alongside him in the Bernabeu midfield, Modric will be aiming to maintain his performances, all while passing on advice to his younger colleague.
Thank you for reading 5 articles this month* Join now for unlimited access
Enjoy your first month for just £1 / $1 / €1
*Read 5 free articles per month without a subscription
Join now for unlimited access
Try first month for just £1 / $1 / €1