Ranked! The 10 biggest MVPs in the Premier League right now
They're not necessarily the league's 10 best players – but they are the most crucial to their clubs. From the interception machine to the world's best in his position, Nick Miller ranks the Prem's irreplaceable stars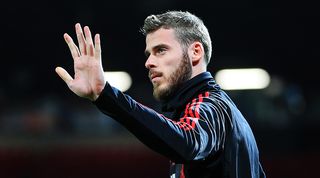 10. Marko Arnautovic (West Ham)
It feels like scientists could study West Ham for years in some sort of lab and still not really make much sense of them. Are they good? Are they terrible? Are they somewhere in between? Who knows?
What can be more certain is that they look an awful lot more threatening when Arnautovic is in the team and, more importantly, in the mood. Arnautovic – energised by David Moyes moving him to a centre-forward position last season – is often criticised for his inconsistency. That's broadly fair, but when he's at his best, West Ham are an entirely different proposition.
9. Virgil van Dijk (Liverpool)
Last year Van Dijk described himself and Liverpool as the "perfect fit", and that's certainly been true. He's been a key part of solving their biggest problem: their defence. Before the Dutchman made his debut for the club in January last season, the Reds had conceded 28 goals in 23 league games; afterwards, they let in 10 in 15.
That could be a coincidence, but anyone who has watched Jurgen Klopp's side will surely tell you it isn't. Their defensive weaknesses, for so long the damning strike against this Liverpool team, seems a long time ago. "I'm never nervous," Van Dijk said last season. "I always have been calm, sometimes a little too much." With him in the team, Liverpool fans can afford to be calm too.
8. Abdoulaye Doucoure (Watford)
Doucoure is an interceptions machine. The Watford midfielder won the ball back more than any other player in the Premier League last season, patrolling the centre of the park like a watchful security guard, and always there to whip possession away from the opposition just as they're planning to do something with it.
You could make a pretty strong case that Doucoure is the most underrated player in the division – the Frenchman is certainly the Hornets' most accomplished star. He is their key man, particularly in games against the big boys when Watford need someone to win the ball back a lot. It's a mystery why some of those sides haven't made more of an effort to sign him.
7. Pierre-Emerick Aubameyang (Arsenal)
These are changing times at Arsenal. They're playing under a new coach for the first time in a generation, they're getting used to a new style and adapting to a whole new approach to football – off the pitch as well as on it.
All of that will take time to make sense – but they're not allowed to just watch it happen. Brendan Rodgers' old line about football management being like trying to build a plane while flying it springs to mind. The broader process is complicated, but one of the simple things that will help that process is scoring goals.
At the moment, their best chance of scoring the amount of goals they need to smooth things along is Aubameyang. So even while a team's best attacking player is usually pretty important, the Gabonese speedster is even more so for this evolving Arsenal side.
6. Jamie Vardy (Leicester)
Almost all of the title-winning heroes are gone now. N'Golo Kante was off before most players had washed champagne out of their eyes, Danny Drinkwater was last seen sadly kicking a ball against a wall at Chelsea's training ground, Wes Morgan's race is run and Riyad Mahrez left for Manchester City this summer.
Only Kasper Schmeichel, Marc Albrighton and Jamie Vardy are still first-choice regulars, so for that reason alone one of them must qualify as their most valuable player. Of course, it has to be Vardy: since the start of that title season, the Englishman has scored 59 of Leicester's 183 goals; a shade under a third. The day he leaves really will be the end of an era.
5. Harry Kane (Tottenham)
It feels a bit simplistic to pick the guy who scores all the goals as a team's most important player. But, well, goals are quite important, and Kane scores loads of them – more specifically for the purposes of this list, he scores an enormous proportion of Tottenham's.
Last season the 25-year-old netted 30 of the 74 goals that Spurs scored in the Premier League, which as the maths whizzes among you will have already worked out, is 41%. 41%! Of a Champions League team's goals! By one man!
Perhaps unsurprisingly, in the opening weeks of this season when Kane has struggled, so have Spurs. At the time of writing, Tottenham have won four league games and Kane scored in three of them. He needs a rest, but when a team is this reliant on one player for goals, you can see why they don't give him one.
4. Ruben Neves (Wolves)
The good news is that Neves is no longer playing in the Championship, because sometimes it felt like a crime against decency to make him perform at such a level last season. He's now in a division which fits his level of class a little better, and he's settled in straight away – helped out this season by Portuguese compatriot Joao Moutinho, who feels like his footballing older brother.
Neves qualifies as Wolves's most valuable player because he brings passing, imagination, steel, shooting and creativity. They have other players who can do that too, but he's the only one who can do it all himself. In many respects, he's the complete midfielder – and it's not often that freshly-promoted teams boast that.
3. Jorginho (Chelsea)
Before there's a commotion: clearly, Eden Hazard is Chelsea's best player. You can make a strong case that he's the best player in the whole league. He probably is the best player in the whole league.
However, it's striking how quickly another man has become crucial to Chelsea's way of playing under Maurizio Sarri: Jorginho. He doesn't score goals, he doesn't set up many, but the Italy midfielder is the outlet through which most of Chelsea's passing goes. And it is a lot of passing: he averages a shade under 115 passes a game, the most in the league by a distance. However it's not just passing for the sake of it. He's the man that keeps the ball moving, and thus keeps Chelsea moving.
2. David de Gea (Manchester United)
One of the most damning things about the post-Ferguson era at Manchester United is that so few of their players have improved since arriving at Old Trafford. David de Gea is arguably the last one, and even then you could make an argument that his improvement is down to his own brilliance, rather than an atmosphere at the club conducive to excellence.
Yet if you think United have been in bad shape over the last few years, imagine where they would be without De Gea. He might be the best goalkeeper in the world, it might be someone else: but what matters is that he's United's most important player.
1. Wilfried Zaha (Crystal Palace)
Roy Hodgson tried to explain away Crystal Palace's reliance on Zaha recently, waving away the statistic that the Eagles have lost each of the last 10 league games he's missed, pointing to the seven they lost at the start of last season and suggesting they didn't really count. 
That Zaha's absence might have contributed to that run was glossed over, but Hodgson was simply trying to deflect any implied criticism of his other players. He is well aware of how crucial Zaha is to Palace: he's their main attacking and creative threat wrapped into one, the best player outside the top-six clubs and the man upon whom his team leans the most.
Palace haven't actually won without Zaha in the Premier League since September 24, 2016. They could have sold him in the summer, but what would be the point? He's irreplaceable. Some players are more valuable than money.