What Manchester United fans can expect from PSV
Elko Born explains what Louis van Gaal's lot are in for when the reigning Eredivisie champions welcome them to Eindhoven...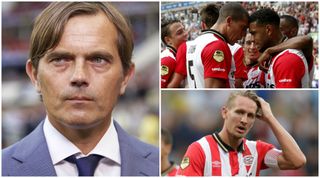 Who are they?
In the Netherlands, three clubs have dominated for about as long as anyone can remember: Ajax (33 league titles), PSV Eindhoven (22) and Feyenoord (14). In recent years, Ajax and PSV have topped the table most often, practically taking turns winning the Eredivisie crown year on year.
Last year it was PSV's turn. Guided by their two star players, Memphis Depay and Georginio Wijnaldum (now of Manchester United and Newcastle United respectively), PSV put the Eredivisie on lockdown with relative ease. It was about time, many fans said: for the previous four years Ajax could call themselves champions.
A big part of supporters' joy is the honour of returning to the Champions League. And while none of them are expecting PSV to win the thing, it's definitely worth noting that the Eindhoven club have enjoyed some success in the past. When led by Guus Hiddink, who would later manage the Netherlands' national team, Real Madrid and Chelsea, they even got their hands on 'Ol Big Ears in 1988. In 2005, again under Hiddink, they reached the semi-finals, losing to Milan on away goals after a thriller of a tie.
Strengths
Last season, PSV didn't just manage to score 23 more goals than runners-up Ajax, they won the Eredivisie by a landslide 17 points. Despite a slow start this time, the Boeren have continued their goalscoring ways with 14 in five matches. It would not surprise anyone, then, if PSV's main striker Luuk de Jong becomes the Eredivisie's top scorer this year. After a disappointing spell at Newcastle, the Dutch striker seems to have found his form once again with five goals already, including a hat-trick against Cambuur at the weekend.
No one in the Netherlands truly expects PSV to beat Manchester United, but it's exactly this attitude that might actually help the club. Think about it: a loss would be shrugged off as expected. A win or a draw, however, would be cause for celebration in Eindhoven and beyond. There isn't much to lose, really.
Weaknesses
In Dutch football, success always has a price. Once a player is successful at a club in the Eredivisie, he will inevitably attract the attention of big clubs from foreign leagues. Supporters of Dutch clubs can safely assume that if a player wins you the title, there's a very big chance he will leave in the summer.
PSV's situation followed suit. After setting the Eredivisie alight, midfield general Wijnaldum left for Newcastle, while star forward Depay was reunited with his former national team boss Louis van Gaal at Old Trafford. Now the Dutchmen will have to find a way to progress without two of the country's best players.
The game plan
It's safe to assume PSV manager Phillip Cocu has seen his fair share of Manchester United games. What's more, as a former player educated by the Dutch school of football, Cocu will surely know what Van Gaal's methods are all about.
Cocu even played under him during the United chief's first stint bossing the Dutch national team from 2000-02, making this another case of student taking on master for Van Gaal.
If there's any team in the world conscious of the attacking threat Depay might pose, it's PSV. It's likely that the Eindhoven club will withdraw and make sure their defensive wall is in place, with Cocu's troops allowing United the lion's share of possession. With pacy Netherlands international Luciano Narsingh deployed on the right wing, the Philips Stadion outfit might be able to create a chance or two on the counter-attack.
Key player
It will be absolutely crucial for PSV to keep their defensive line organised. In this regard, centre-backs Hector Moreno and former Chelsea man Jeffrey Bruma will play important roles. If the duo can keep their focus and prevent Manchester United from invading the box, PSV might just stand a chance. Cocu's side's hopes of causing damage up front rest on striker De Jong and wideman Narsingh.
Famous for…
PSV are famous for putting great faith in talented, young players; a strategy which has introduced several world-class footballers to Europe. From Dutchmen like Cocu and Depay to Brazilian legends Romario and Ronaldo, some of the finest talents to have graced the game started their rise to the top in Eindhoven.
Club legend
ALSO ON FFT.COM
He's one of the best out-and-out strikers the Netherlands has ever produced. He scored tons of goals in both the Eredivisie and the Premier League. PSV supporters and Manchester United fans alike have very fond memories of him. Who is it? It's Ruud van Nistelrooy, of course.
The Dutch striker played for PSV between 1998 and 2001, netting an eye-watering 75 goals in 91 games before (eventually) earning a move to the red side of Manchester for a record £19 million fee. The rest – 150 goals in five seasons, Premier League, FA Cup and League Cup titles – as they say, is history.
FEATURE FFTs best European Cup goals ever
PSV vs Man United LIVE ANALYSIS with Stats Zone
Thank you for reading 5 articles this month* Join now for unlimited access
Enjoy your first month for just £1 / $1 / €1
*Read 5 free articles per month without a subscription
Join now for unlimited access
Try first month for just £1 / $1 / €1