Bruno Fernandes insists Manchester United improvement is a collective effort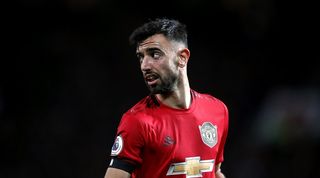 Bruno Fernandes insists Manchester United's recnet upturn in fortunes is not only down to him.
Fernandes has made an instant impact since moving to Old Trafford from Sporting CP in the January transfer window.
The Portugal international has scored three goals and provided three assists in all competitions since his switch to England.
But Fernandes, who says he did not need to think too hard about joining United, has played down his contributions to date.
"The decision was easy because when I had the chance to come, I didn't think twice.
"I talked with Sporting, who had already had some discussions with Man United about my transfer and when they talk with me, I told them my first choice was Man United and it's what I need for my career.
"I see the same team from one month ago. I think we are the same and have a lot of hunger to win, to give a lot, to do better and better in every game. In the last month, we've had a lot of really good games and I think we can talk about a new start after Bruno, but it's not about Bruno, it's about the team.
"The team needs the right focus, the right decisions at the time and I think also if Bruno doesn't come, Man United would win the same because one player doesn't change a team.
"A team changes when everyone pushes together for the same side. When I arrived, I saw the team pushing for the same side and to win games, get better and I'm another player to help."
Ole Gunnar Solskjaer was under significant pressure earlier this season, but he has now presided over
And Fernandes, speaking during the Premier League's coronavirus-induced suspension until April 4, says he is enjoying working with the Norwegian.
"It's difficult because it's been one month, but he's always careful with the details and for me, that's important because it is one of the things which changes football now is looking for the details.
"Now, every coach is really good, they look at each other and learn from each other and so the game is difficult. Now you have videos and most teams know what you will do, where you will place the ball, where they need to press so the game becomes harder and harder.
"I think he's really good on this and he was a footballer so he knows when he needs to talk to players, when he needs to give q good word or sometimes come and push you to give more. I think when you have a past in football, you understand these things more than when you don't have [a past].
"But sometimes you have coaches who never play football and they also know this too so it depends coach from coach but I think Ole is really careful with these kind of points. He wants perfection, which is impossible, but he tries to ask more and more from us.
"I think the coach is always important for a new player when you come in. With me, it was really important because you need to feel confidence from the other side. When you need to change, and it's a big change coming from another country to a big club with big players, you need to be ready.
"I think when I arrived here, the coach was really important but more than the coach was my team-mates because when you have the confidence of your team-mates, it's much better and easier for you."
READ MORE
COVID-19 coronavirus: How is it affecting football? Premier League, Champions League, Euro 2020 updates and more
Steven Gerrard is proving himself as a manager in Europe - so why aren't his Rangers side up to it domestically?
It's easy to want to hate RB Leipzig – but it's a plastic club that still treats its fans right
Quizzes, features and footballing fun
Get the best features, fun and footballing frolics straight to your inbox every week.
Thank you for signing up to Four Four Two. You will receive a verification email shortly.
There was a problem. Please refresh the page and try again.