10 players you didn't even know had won the Premier League title
Since 2012/13, a player has needed to have played in a minimum of five Premier League matches to get a medal. We're extending that to every season for this list…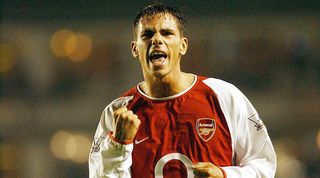 Tony Gale (Blackburn Rovers, 1994/95)
Gale isn't meant to be from the Premier League era. He is gloriously 1980s: one of those pundits who leans back, frowns and remarks that it wasn't like that in his day. And he's right, too: in his day, players spent their afternoons in the pub and their mornings thinking about their afternoons in the pub.
Remembering that Gale was in a Premier League title-winning squad with Shay Given is enough to break your brain in two. These are players from two alternate ages, like John Lennon standing on stage with Blur for a version of Tender. But there he is, starting 15 games in 1994/95.
This will leave you agog: Tony Gale played against Robbie Fowler in the Premier League. Time is a mysterious mistress.
Ronnie Wallwork (Manchester United, 2000/01)
As wonderful as Manchester United's Class of '92 were, the success of their poster boys (Giggs, Scholes, Beckham, Butt, the Nevilles) inadvertently created a secondary group of Forgotten Ones. These were the players who got the same opportunities as their famous team-mates, but for various reasons failed to kick on. Yet because that youth team became so synonymous with success, we still remember them: Philip Mulryne, Chris Casper, Ben Thornley, Michael Twiss.
Ronnie Wallwork is another; a midfielder who somehow stayed at Manchester United until 2002 despite a host of loan spells and an attack on a referee in Belgium that initially earned him a lifetime ban from the game. And yet in 2000/01, having previously only played nine games in all competitions for United across five seasons, Wallwork played 12 Premier League matches as they won the league.
Tomasz Kuszczak (Manchester United, 2006–07, 2007–08, 2010–11)
Hardly the most notable name on a list of Manchester United goalkeepers, Kuszczak played at least five league games in five successive seasons under Ferguson. That's all the more remarkable given that he only managed 11 senior caps for Poland in his career.
But there is great merit in a backup goalkeeper who does never kicks up a fuss and never expects to becomes first choice. Edwin van der Sar was one of Ferguson's best signings, but at his age, United's manager knew he needed reliability in reserve. Kuszczak offered just that.
Still, it does mean that his impact has become largely forgotten. Kuszczak has as many Premier League winner's medals as Ashley Cole, Dennis Bergkamp, Cristiano Ronaldo and Frank Lampard, and more than Sol Campbell, Tony Adams, Eden Hazard and many, many more.
Jack Rodwell (Manchester City, 2013/14)
There are a number of people who come out of the Netflix documentary Sunderland Til' I Die well, but Rodwell is not one. You can hardly blame him for staying in a contract that he was perfectly entitled to under law, but such things define a reputation: he became a poster boy for the greedy and entitled modern footballer.
How the mighty did fall. Rodwell cost Manchester City £12m in August 2012 after rising to prominence with Everton, but almost immediately began to suffer a series of injuries that meant he could never hope to establish himself at the Etihad. By 2014 he'd joined Sunderland on a permanent deal, but not before scraping five appearances as City won the league under Manuel Pellegrini.
Rodwell played a grand total of 19 league minutes after the end of September, and 83% of his total league minutes that season in a 0-0 draw away at Stoke.
Matthew Upson (Arsenal, 1997/98 and 2001/02)
The mind really does play tricks on you. Before researching a list like this, you have established false memories about players. In this writer's head, Upson had been at Arsenal very briefly, never made the first team for a regular spell and was sold to Birmingham without making much of a mark. Part of that may well be true, but Upson left Arsenal having played five or more league games in two different title wins.
The first was in 1997/98, when he struggled with injury and having Tony Adams, Martin Keown and Steve Bould ahead of him in the pecking order. Upson spent a year out injured with a cruciate ligament tear and was then loaned out to Nottingham Forest and Crystal Palace, as he barely registered at Highbury.
But by 2001/02, with Arsenal's old guard ageing and Sol Campbell now at the club, Upson played alongside Campbell and established a decent partnership. He managed 14 league games that season, but only a broken leg in February – ending his season – stopped it being many more. Had Upson not suffered that serious injury, might he have stayed at Arsenal for far longer?
NEXT: 29 appearances, one goal... for a striker
Jeremie Aliadiere (Arsenal, 2003/04)
One player who really didn't merit staying any longer at Arsenal is Aliadiere, a striker who was contracted to the club for eight whole years and scored one Premier League goal. He, Joel Campbell and Yaya Sanogo probably had a WhatsApp group in which they shared tips about how to stay quiet and unnoticed in training, like a child hiding at a grown-ups' party to avoid being sent to bed.
Aliadiere was signed aged 16 in July 1999 as Arsene Wenger searched for the next Nicolas Anelka-style bargain French striker. He made his debut in 2001/02 but didn't qualify for a medal. Instead, he had to make do with being part of the Invincibles squad that achieved the unthinkable.
He played 10 times that season, including starts at Liverpool and Leicester, and at home to Middlesbrough, but didn't score a league goal for Arsenal after August 2002. To repeat: he didn't leave the club until 2007.
Alexander Buttner (Manchester United, 2011/12)
Oh Alex, where did it all go wrong? The left-back signed a five-year contract in the summer before Alex Ferguson retired, and after being named man of the match on his league debut, played enough times to get a winner's medal. David Moyes relegated him to the bench after his arrival but also blocked Buttner's move to Besiktas, infuriating the full-back.
"I want to play in the Champions League and win trophies," said Buttner when he left United the following summer for Dynamo Moscow. United had just finished seventh and Buttner had fallen out with Louis van Gaal. "Dynamo are building a very strong team and I'm sure that we'll be good enough to try to win the league title this season."
Dynamo Moscow finished fourth in 2014/15, Buttner started only 18 games and was then loaned out to Anderlecht before joining Vitesse Arnhem. At the age of 30 he's still not won a league title since leaving United – or played in the Champions League.
Alexei Smertin (Chelsea, 2004/05)
You have to admire Smertin's timing. Signed from Bordeaux by Claudio Ranieri in the summer of 2003 aged 28, the Russian was almost immediately loaned straight to Portsmouth for the entirety of that first season. By the time he arrived back at Chelsea, Ranieri had been sacked to make way for Jose Mourinho.
Right place, right time. Mourinho was never convinced by Smertin and loaned him out to Charlton the following season as Chelsea defended their title, but he started 11 league games in 2004/05 to win the only league title of his career.
Ritchie De Laet (Leicester 2015/16)
Every player in Leicester's 2015/16 squad could feasibly be in this list, at least according to expectation. But the core of that team can never be forgotten. We're looking for a player who almost immediately dropped off the radar.
Gokhan Inler comes close, but was at least an established international. Daniel Amartey bears consideration, but is still at Leicester so can't really be the answer. Instead it has to be De Laet, who played 12 league games in that magical season (seven starts), but actually spent the latter half of the season on loan at Middlesbrough.
In many ways, De Laet's was the standout achievement of that season because he won the play-off final in May too, meaning he became the first player ever to win promotion and the league title in the same campaign. Imagine telling him that in August 2015.
Nathaniel Chalobah (Chelsea, 2016/17)
Gareth Southgate wants Chalobah to be brilliant. He loved him as England Under-21 manager and – easy as it is to forget now – came off the bench when England beat Spain 3-2 last October. But he's now struggling to get into Watford's central midfield, and that must surely lead to him engineering a move to a Premier League side where he's guaranteed to get the regular football he needs after so many injuries.
Still, Chalobah will always have that medal. In summer 2016, Antonio Conte chose not to loan out his midfielder, having been impressed with him in pre-season. The youngster only played 159 league minutes across 10 matches, but started against Watford in Chelsea's 4-3 win that May. The Hornets obviously saw enough to buy him on a permanent deal.
THEN READ... Theo Walcott at 30: a strange, muddled career where reality was never as good as the fantasy
Thank you for reading 5 articles this month* Join now for unlimited access
Enjoy your first month for just £1 / $1 / €1
*Read 5 free articles per month without a subscription
Join now for unlimited access
Try first month for just £1 / $1 / €1