11 footballers who played through the pain barrier (and definitely, definitely shouldn't have)
Jose Mourinho has regularly questioned the steel of some of his players, but these 11 sacrificed it all to be on the pitch – whether for the team's benefit or for their own glory tends to vary...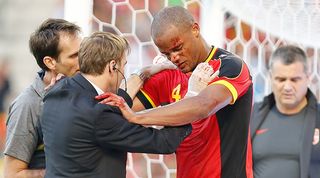 Beckham and Owen shut down in Shizuoka
David Beckham's metatarsal became the most searched bone on the internet after it was broken by Deportivo La Coruna's 'hatchet man' Aldo Duscher in the Champions League less than two months before the 2002 World Cup. Beckham made it to Japan and South Korea, much to the chagrin of Alex Ferguson, but Becks later admitted: "There were obviously aspects of my game that were not right."
That much was clear when he leapt over a tackle, which led to a Brazil counter-attack and the equalising goal in the quarter-finals.
Michael Owen had given England the lead that day, but the Liverpool ace later revealed he hadn't trained all week because of a tight groin and wasn't able to do things at full pace. England lost 2-1 after Sven-Goran Eriksson bemoaned: "We couldn't keep the ball." Not easy to do with two world-class crocks.
Vincent Kompany gets some rearranged face time
The likeable Belgian defender isn't the luckiest with injuries, so you can hardly blame the man when he plays on. In a 2013 World Cup qualifier, the unfortunate stopper crashed into Serbian keeper Vladimir Stojkovic after going up for a corner and coming off worst.
Despite later being diagnosed with a broken nose, a cracked eye socket and mild concussion, the Manchester City star returned to play out the last 60 minutes as Belgium won 2-1 to take first place in the group. Kompany took to Twitter to post his new face with the message: "What wouldn't you do for your country hey?" Commendable bravery, even if FFT really can't recommend playing with a concussion.
Stuart Pearce gives broken leg the boot
In 1999, England's most rugged left-back broke his leg after a collision with Micah Hyde of Watford at Upton Park, and yet hobbled on until half-time. West Ham boss Harry Redknapp told reporters after the match that Pearce got his boot back on at the break because he wanted to go out for the second period.
"Stuart tried to come back for the second half," Redknapp explained. "He put his boot back on and said 'I'll give it a go'. What an amazing character. He tried so hard to put his weight on the leg, but there was no way. Even he can't run off such a bad injury."
Six months later, 'Psycho' broke the same leg against Southampton and refused to be stretchered off.
Ally Maxwell cannae move but wins the cup
Nicknamed 'the family final', this 1991 Scottish Cup decider featured Tommy McLean and brother Jim in direct managerial opposition as Motherwell took on Dundee United. There was nothing overly friendly about how the match eventually played out.
Motherwell were leading 3-1 when keeper Ally Maxwell was kneed in the stomach in a collision with Dundee's John Clark in the second half. As there were no substitute keepers to call upon, Maxwell had to play on despite significant injuries.
His captain Tom Boyd recalls his own reaction after Dundee United pulled the game back to 3-3: "When Darren Jackson equalised in the last minute, I shouted and screamed at Ally because I thought he had should have come off his line quicker. What none of us realised was the extent of Ally's injury. His ribs and spleen were badly damaged and he could hardly move."
Yet the story was to have a positive ending for Boyd's side. After Motherwell's Steve Kirk scored to make it 4-3 in extra-time, Maxwell stretched to tip a volley from Maurice Malpas over the bar to secure the Cup – before heading to hospital, missing all the celebrations.
Martin Palermo runs through walls
Boca Juniors striker Martin Palermo tore the anterior cruciate ligament in his right knee in a match against Colon in 1999 but, without knowing the extent of the injury, stayed on the pitch to score his 100th goal in the Argentine First Division. He returned just six months later, hobbling on for the last 15 minutes of a Copa Libertadores quarter-final against deadly rivals River Plate and scoring once more to help send Boca into the semis.
Not that such grit helped his luck with injuries much. While playing for Villarreal in 2001, Palermo scored in extra time of a Copa del Rey game against Levante and celebrated with the fans, only for the pitch-side wall he was standing on to collapse, breaking his fibia and tibia and forcing 'Loco' to miss the 2002 World Cup.
Butcher draws blood
England centre-back Butcher's legendary courage was never more needed than in a crucial 1989 World Cup qualifier in Stockholm. Early in the game, he suffered a deep cut to his forehead after a clash with the 'express train from Kalleback', Johnny Ekstrom.
Stitched up and swathed in bandages, the Ipswich and Rangers legend repelled ball after ball with his head, which only served to reopen the wound as England secured the draw they needed to qualify for Italia 90. By the end of the match, the blood-soaked Butcher looked more Rocky Balboa than international footballer. "It was one of those things that any Englishman would have loved to have done," he recalled. Right you are, Butch.
Beckenbauer refuses to sling his hook
The bare facts are that West Germany lost 4-3 to Italy in the 1970 World Cup semi-final in Mexico City. Yet the scoreline only tells a tiny part of the story of 'the game of the century', as it was eventually dubbed.
After going 1-0 down early on, the Germans and Franz Beckenbauer bossed the game, bombarding the Italian ranks until Azzurri defender Pierluigi Cera fouled Der Kaiser. The manner in which Beckenbauer fell left him with a broken collarbone and a dislocated shoulder.
With all substitutes used, Beckenbauer played with his arm in a sling for the remainder of the game, as Germany managed to force a late equaliser. Then, in a remarkable period of extra time featuring five goals, the Germans briefly led 2-1, before succumbing to a trio of Italian strikes.
Cristiano decimates his body for La Decima
Even the most sculpted footballer in the world doesn't have an indestructible body. After gingerly running through the 120 minutes of Real Madrid's 4-1 2014 Champions League Final win against Atletico, carrying knee and thigh injuries, Ronaldo ripped off his shirt off to show the visible parts were still in working order.
However, he suffered for it at the 2014 World Cup for Portugal, where he appeared half-fit at best. "If I'd stopped, I would have been fine." he later reflected. "I didn't want to miss the final of the Champions League or the World Cup. I wasn't fully fit, but I forced the issue."
Ronaldo later did his best to play on with a damaged knee after a clash with Dimitri Payet in the Euro 2016 Final. He was eventually forced to make a tearful departure, but popped up on the sidelines having apparently promoted himself to co-manager while off the pitch. Maybe he's a team man after all, eh?
Bert's unbroken spirit
When German goalkeeper Bert Trautmann arrived at Manchester City in 1949, 20,000 people – including ex-servicemen and members of the Jewish community – protested against the former Luftwaffe paratrooper's signing.
Yet 545 games and 15 years later later, the Bremen-born keeper departed a beloved figure, thanks in large part to his heroics in the 1956 FA Cup Final against Birmingham. Manchester City had taken a 3-1 lead at Wembley when, in the 73rd minute, Trautmann dived at the feet of striker Peter Murphy.
The collision between the pair injured the keeper's neck and left him briefly unconscious. As no substitutes were permitted, Trautmann would either have to leave City with 10 men or play on. He chose the later, despite being in considerable pain, and making two more crucial saves to see the game out.
It was only three days later that an X-ray revealed a broken neck. A surgeon told him: "You should be dead." The keeper underplayed his courage, saying: "If I'd known I had broken my neck, I would have been off like a shot."
Ronaldo's fit before France
The 21-year-old Brazilian forward suffered a mysterious, convulsive fit hours before the biggest match of his life, the 1998 World Cup Final against France in Paris.
Brazil defender Goncalves later claimed that: "Ronaldo was foaming at the mouth, struggling, breathing with a lot of difficulty and very pale", while Roberto Carlos claimed that the pressure of the nation and the marketing men had got to the best player in the world.
Ronaldo was rushed to hospital and, although nothing serious was found after three hours of tests, the medics were keen to dissuade him from playing: "The doctors called me to another room and explained to me that I had had a convulsion and that I would not play.
"I said: 'No, this is not possible. I want to play. I will play.'"
He did, after Brazil manager Mario Zagallo hurriedly scratched Edmundo from the teamsheet in a chaotic build-up which spouted all kinds of conspiracy theories. Unsurprisingly, it didn't go well, with the hosts winning 3-0. At least 'The Phenomenon' got his redemption four years later in Japan and South Korea.
Now read...
Thank you for reading 5 articles this month* Join now for unlimited access
Enjoy your first month for just £1 / $1 / €1
*Read 5 free articles per month without a subscription
Join now for unlimited access
Try first month for just £1 / $1 / €1
Get FourFourTwo Newsletter
The best features, fun and footballing quizzes, straight to your inbox every week.