FIFA 18: The best FUT Premier League squad you can assemble for under £200k
Player prices are expected to drop tremendously in the build-up to FIFA's Team of the Season event which begins on April 27 – so get those bargains in now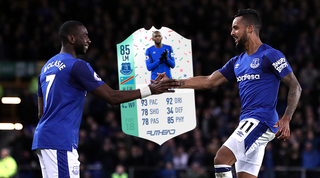 Imminently, there'll be a crop of brilliant players on the market once this year's Team of the Season is revealed. You'd be wise, then, to liquidate your FUT club or splash those spare coins on sure-fire investments with that event on the horizon.
On that note, here's our pick for the best Premier League squad under £200k while we await Team of the Season...
Asmir Begovic
Begovic's card might not look like much at first glance, but it's the closest thing to David de Gea in the Premier League you'll get. The Bosnia international's 'saves with feet' trait makes him brilliant at stopping driven shots.
The 30-year-old's huge frame also makes him good at saving long shots, but like every goalie, he can't stop 'em all. At sub-2,000 coins, though, Begovic would make a fine addition to your squad until TOTS.
Potential cost: £1.3k
FUT Birthday Kouyate
West Ham's Cheikhou Kouyate was included in EAs FUT Birthday promotion which earned him an upgraded special card and a position change. His card's role was changed from CDM to CB, thus making him one of the best centre-backs in the Premier League thanks to his impressive speed, height and strength.
His defensive stats are just slightly above average, but a Shadow chemistry style (opens in new tab) nearly maxes out his pace and defensive stats.
Potential cost: £36k
In-Form Nacho Monreal
IF Monreal offers a great alternative to the likes of IF Marcos Alonso and Ashley Young thanks to his decent pace and solid defensive stats. He doesn't have any exceptional features, but he can get the job done for you at left-back.
He'd be most effective with an Anchor chemistry style as it'll boost his jumping and also provide him with a much-needed increase in strength.
Potential cost: £25k
Michael Keane
With 88 strength and 83 jumping, Everton's Keane can act as a solid stop-gap in your backline until the TOTS promotion commences. You'll need to use an Anchor chemistry style on him to boost his aggression from 68 to a more usable 78.
Standing at 6ft 3in and possessing good physical stats, Keane is unlikely to lose aerial duels – unless he's up against the likes of Ruud Gullit and R9, that is.
Potential cost: £1.2k
Antonio Valencia
We're slightly past midway in the FUT cycle, and believe it or not Valencia is still one of the best right-backs – not only in the Premier League, but the entire game.
He's got 85 strength but feels far stronger to play with considering the way he shrugs players off the ball with a shoulder barge. Few stars can go shoulder-to-shoulder with the Ecuador international and come out on top.
With his 87-rated pace he's capable of chasing down most strikers, although players with similar pace stats but higher agility will outrun him. Still, at just £13k, leave it to Valencia to protect your team's right flank.
Potential cost: £13k
MOTM Pierre-Emile Hojbjerg
Southampton's Hojbjerg is easily one of the most overlooked special cards in the Premier League. His stats aren't the best, but they make for a competent midfield enforcer who's capable of cracking off dangerous shots from outside the 18-yard area thanks to his 81 long shot stat.
With 75 defending, you'll need to slap a Shadow chemistry style (opens in new tab) on to make him better at cutting passing lanes and marking players.
Potential cost: £16k
85 Fernandinho
The Brazil international received a +3 upgrade during the ratings refresh which improved his in-game stats significantly, thus making him one of the best cheap central midfielders in the Premier League.
Fernandinho now feels like Real Madrid's Casemiro, as he's able to steal the ball from players with relative ease and cover passing lanes effectively.
He's a great card to have in your side while you wait for the TOTS market crash.
Potential cost: £16.5k
FUT Birthday Bolasie
Bolasie has been unable to pick up an IF card this season, but nobody talks about that because of his OP FUT Birthday card.
FUT Birthday Bolasie is one of the most enjoyable players to use in the game thanks to his 5-star skill moves, high dribbling stats and insanely good strength for a winger.
He executes skill moves smoothly and is capable of shoving players aside while running along the flanks. His finishing is a massive let-down, though, rated only at 73. You'll need to slap a Deadeye chemistry style on him to improve that.
Potential cost: £45k
Ones To Watch Walcott
Walcott received a winter OTW card after completing a transfer to Everton from Arsenal, and he's since managed to bag one In-Form upgrade having been included in TOTW 21.
As we know, the England international is incredibly quick – even more so with his high agility – but speed isn't the best thing about his card.
Walcott has 88 attacking positioning and 85 finishing, with the former making him great at getting into goalscoring areas and the latter helping him find the net once he's there. He's a reliable winger who very few players in the game can beat in a footrace, hence why he'd be a great addition to your budget EPL team.
Potential cost: £29k
Gabriel Jesus
Jesus is arguably the most loved and hated NIF player in FUT thanks to his goalscoring. His pace is rated at 87, but he feels so much faster in-game because of his high agility which makes his 'tries to beat defensive line' trait particularly effective.
He makes dangerous runs in behind, and with 85 finishing he finds the net more often than not. He's a must-have player for every budget EPL side thanks to his massive ROI.
Potential cost: £12k
Jamie Vardy
Many view Vardy as a card that's only useful at the start of the game because of his pace, but the Leicester man is much more than just a speedster – he can also convert most of his chances into goals.
With 92 aggression, he's amazing at pressuring players into giving the ball away, and is also quite good at stealing the ball despite his poor defensive stats.
You'd be surprised at how good the Englishman is once you give him a try.
Potential cost: £2.5k
More FIFA 18 (opens in new tab) on FourFourTwo...
Thank you for reading 5 articles this month* Join now for unlimited access
Enjoy your first month for just £1 / $1 / €1
*Read 5 free articles per month without a subscription
Join now for unlimited access
Try first month for just £1 / $1 / €1
Quizzes, features and footballing fun
Get daily World Cup 2022 news, updates and other football frolics to your inbox
Phillip is a football writer from Nigeria. He's been a football writer since he was 13 and after getting his work featured on various news outlets including the Daily Mirror, Red Bull, Planet Football and Football.London over the years, he has now turned his focus from solely writing about the beautiful game, to covering the not-so-beautiful virtual game of FIFA as a brilliant excuse to spend hours on his Playstation.
Quizzes, features and footballing fun
Get daily World Cup 2022 news, updates and other football frolics to your inbox
Thank you for signing up to Four Four Two. You will receive a verification email shortly.
There was a problem. Please refresh the page and try again.