FourFourTwo's 100 Best Football Players in the World 2017: No.12, Jan Oblak
Behold, the best goalkeeper in the world: a bastion of reliability for Atletico Madrid and destined for long-term greatness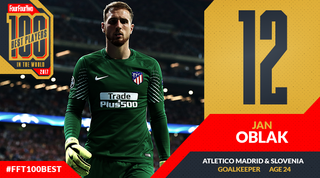 After several years, people are finally recognising the key role Jan Oblak has played in Atletico Madrid's formidable defence.
The reason? That very defence is not so impenetrable any more: in turn, Oblak's contribution is more visible. More often than in previous years of the Diego Simeone era, his goalkeeper has needed to be more of a presence. The Slovenian hasn't hidden.
STATS insight
Oblak has averaged 5.71 saves per goal conceded this season, the highest amount in La Liga
As the likes of Juanfran and Diego Godin begin to gradually decline, Oblak is only getting better and growing with the responsibility placed upon him.
He has stood taller and stronger than ever, often acting as the glue that holds Atleti's backline together. He may not be the tallest, but the Slovenian's ability to make the goal seem small is outstanding.
Few are more nimble in their penalty area, and he can scatter across his goal-line impressively to palm away long-distance efforts.
Perhaps not being one of the more fashionable, ball-playing goalkeepers goes against Oblak in terms of him getting more credit, but in pure goalkeeping terms it's difficult to see how anyone is surpassing Atletico's net-minder right now. The 24-year-old's claiming of crosses is clean, command of the penalty clear, and when it comes to positioning he is very rarely at fault.
Clean sheets are the currency he works in; what goals are to a striker. The joke at Atleti goes that the word Oblak means 'wall' in Spanish – only opponents are rarely found laughing.
Highlight: In October, Oblak reached an incredible milestone with his 50th clean sheet in La Liga with Atleti - from just 86 games.
All insights provided by STATS – the pioneer of live sports data
Get the full list:
100-91 • 90-81 • 80-71 • 70-61 • 60-51 • 50-41 • 40-31 • 30 • 29 • 28 • 27 • 26 • 25 • 24 • 23 • 22 • 21 • 20 • 19 • 18 • 17 • 16 • 15 • 14 • 13 • 12 • 11 • 10 • 9 • 8 • 7 • 6 • 5 • 4 • 3 • 2 • 1
FourFourTwo's 100 Best Football Players in the World 2017
Thank you for reading 5 articles this month* Join now for unlimited access
Enjoy your first month for just £1 / $1 / €1
*Read 5 free articles per month without a subscription
Join now for unlimited access
Try first month for just £1 / $1 / €1