How the title chasers' central midfielders work – and why Fellaini doesn't
Alex Keble compares Manchester United's brutish Belgian with his Premier League contemporaries, and explains why each work so well for their respective sides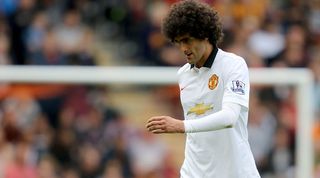 It looks as though things are finally starting to gel for Jose Mourinho's Manchester United. The 4-1 victory over Leicester three weeks ago was the first time in years that United played with the high-tempo conviction we'd taken for granted in the Fergie era, and although the subsequent 1-1 draw again Stoke was considerably less inspiring, Mourinho's long-term project is clearly moving in the right direction.
Dropping Wayne Rooney has helped compress the shape of the side, largely because both Juan Mata and Jesse Lingard can now be accommodated in the starting XI. Both of these players drifted intelligently towards the centre of the pitch against Leicester, linking the lines with quickfire short passing and overwhelming Claudio Ranieri's two-man midfield.
But just as important was their ability to renege on fielding a real defensive midfielder in their defeat of the Foxes. This is their weakest position – and to win the league you need to field one in the vast majority of games you play. United's back four and front five possess the quality of champions, but – unlike all of their Premier League rivals – their defensive midfielder doesn't look the part.
Changing role
The modern defensive midfielder has evolved quite a bit since the mid-noughties, when Mourinho's tactical powers were at their peak. Back then, Claude Makelele was the anchorman archetype driving Chelsea to successive league titles; a strong, no-nonsense midfielder who rarely took risks in possession and clattered into anyone who tried to dominate his space.
The role has become far more technical in 2016. The worldwide tactical vogue has shifted to an emphasis on frantic high-pressing and counter-pressing football, and as a consequence the defensive midfielder now needs to be considerably sharper in possession. The pitch has become more and more compressed, which means everyone in the engine room must be adept at both weaving away from the press and quickly releasing the ball to start counter-attacks.
As is increasingly the case for each player on the pitch, the defensive midfielder is much more of an all-rounder these days, capable of slaloming out of trouble like a winger and threading passes like a playmaker. Unfortunately, Marouane Fellaini simply cannot live up to these expectations.
Fellaini's shortcomings
Fellaini was always likely to become a favourite of Mourinho's due to his reputation as something of a teacher's pet; he listens carefully to his manager's instructions and attempts to carry out the tactical plan diligently.
However, his technical ability leaves a lot to be desired. He's far too ponderous when United have possession, and his awkward posture on the ball means he often misses the split-second opportunities to pierce the opposition lines and evade the press. The Belgian's not athletic enough, either. Fellaini often goes missing in matches, failing to adequately cut off the passing lines or close out the spaces that yawn open between defence and midfield. This is the most important part of the job, but one that Fellaini's still struggling to understand.
As attacking lines narrow among Europe's elite, it's looking increasingly likely that United's shortcomings in defensive midfield could separate them from the rest of the top six.
Fellaini gifts Leicester a goal in the Community Shield
Here's how Fellaini compares to his rivals...
Chelsea – N'Golo Kante
Kante's defensive brilliance is well documented; nobody in the Premier League breaks up play as well as Chelsea's French midfielder. But aside from his exceptional reading of the game, Kante's confidence in possession was a vital aspect of Leicester's title-winning campaign last time out.
The Foxes' ability to hit their opponents on the counter was their primary tactic last season, and many of their quick breaks forward wouldn't have been possible without Kante's initial pass. After one of his monstrous tackles or interceptions, the former Caen destroyer would invariably jink away and play an intelligent forward pass. Without his composure under pressure, Riyad Mahrez and Jamie Vardy would never have found the space they did.
Given that Mourinho loves to counter-attack, Fellaini's deficiency in this area is a cause for concern.
Kante wins the ball and moves it on against Arsenal
Everton – Idrissa Gueye
Gueye is the player who Manchester United should have acquired over the summer. At just £7 million, the Senegal international looks like the value signing of the summer: only Kante made more tackles and interceptions last season, with Gueye currently leading the tackling charts for 2016/17 with 5.1 per match. Like Kante, he's very skilled at instigating counter-attacks and bursting forward in possession; in both defence and attack, the 27-year-old is a considerably more effective defensive midfielder than anyone in the United ranks.
Tottenham – Eric Dier
England's Eric Dier is remarkably composed for his age. Although Mauricio Pochettino uses him in a more conservative role than many defensive midfielders at top clubs (he often drops deep to make a flat back three during Spurs attacks), Dier's calm defensive work instills a soothing sense of control over the rest of the team.
Fellaini is too erratic and ill-disciplined to provide similar assurances from the heart of midfield, which can lead to nervous displays from Mourinho's team.
Arsenal – Granit Xhaka
Arsenal's new Swiss midfielder needs more time to settle in England, but when he does the fans will see he's the perfect fit. Strong in the tackle and capable of playing in a more advanced role when required, Xhaka's the Patrick Vieira type that Arsenal have been after for years. The Switzerland international already averages more tackles (3.5) and interceptions (2.4) per 90 minutes than Fellaini, and these statistics will only improve once he has fully adapted to Premier League football.
Xhaka snaps into a tackle against Leicester
Manchester City – Fernandinho
Let's leave the analysis of the Brazilian to his manager, Pep Guardiola. "Fernandinho can do everything," the Manchester City boss said recently. "What we have achieved so far would have been impossible without him. He's fast, he's intelligent, strong in the air and he can play in several positions. No sooner does he see a space than he runs there immediately. If you need someone to make a correction or a challenge, he sees it too. If a team had three Fernandinhos, they would be champions."
United wouldn't mind just one.
Liverpool – Jordan Henderson
Jurgen Klopp's choice for defensive midfield is testament to the evolution of the role over the last decade. Henderson has always been a box-to-box midfielder but this season Liverpool have moved him into a deeper position – and Klopp will be satisfied with the speed of his progress.
The 26-year-old Henderson is helped by James Milner's new position as an inverted left-back; the ex-Leeds utility man is often found alongside Henderson, simplifying his team-mate's role and shrinking the space within which he must operate. Fellaini would probably benefit from a similar system to Klopp's, but under Mourinho this is highly unlikely.
Given that Michael Carrick's ageing legs don't offer a long-term solution and Morgan Schneiderlin doesn't appear to be in Mourinho's plans, United desperately need to look for a new defensive midfielder in January. Without an upgrade on Fellaini, the 2016/17 Premier League title may just be beyond them.
Thank you for reading 5 articles this month* Join now for unlimited access
Enjoy your first month for just £1 / $1 / €1
*Read 5 free articles per month without a subscription
Join now for unlimited access
Try first month for just £1 / $1 / €1
Get FourFourTwo Newsletter
The best features, fun and footballing quizzes, straight to your inbox every week.