Ranked! 11 of the most remarkable saves that even David de Gea would be proud of
The Manchester United No.1 put forth another dazzling display against Sevilla, but even he'd be hard-pressed to match Tim Ellis's countdown of football's most jaw-dropping stops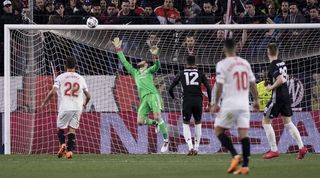 11. Pepe Reina, Liverpool 3-3 West Ham (FA Cup Final, 2006)
Reina was Rafa Benitez's choice to replace the hero of Istanbul, Jerzy Dudek, ahead of the 2005/06 campaign. The former Villarreal keeper was hailed as "the best goalkeeper in Spain" by Benitez but had already made an error in the FA Cup semi-final against Chelsea; he then followed that up with two more on the big day at Wembley, spilling a Yossi Benayoun shot to let Dean Ashton roll the ball home and then misjudging a Paul Konchesky cross which floated over his head and into the back of the net.
He more than made up for it later, though. Just two minutes from the end of extra time with the scores locked at 3-3, Reina magnificently diverted a looping Nigel Reo-Coker header onto the post. The Spaniard himself classed it as his best ever save, particularly given the context of the match. Three penalty stops in the subsequent shoot-out made it all the sweeter as Liverpool lifted the trophy for the seventh time.
Reina gets fingertips to Reo-Coker's header
10. Tim Flowers, Blackburn 1-0 Newcastle (Premier League, 1995)
Blackburn needed to win this encounter to ensure they had control of their own destiny going into the final weekend of the 1994/95 title race with Manchester United. Alex Ferguson had started the mind games, questioning whether Kenny Dalglish's outfit had the bottle to complete the job.
Tim Flowers took his comments as a personal insult and, like a man possessed, leapt to his right to deflect a rasping Peter Beardsley shot over the top and let out a primal scream of joy just before half-time.
"Don't talk to me about bottle," he told Sky Sports afterwards. "Don't talk to me about bottling it, cos that's bottle out there. That's quality players out there, giving their all … we're gonna fight to the death, cos we've got bottle … all we can say is we'll give exactly what we've given today, exactly what we've given all season, and that's 100% bottle."
How many bottles can a man have?
Flowers' save at 35 seconds in
9. Manuel Neuer, Arsenal 2-0 Bayern Munich (Champions League, 2015)
Arsenal were dominant in the first-half of this Champions League group stage match, but Neuer was a wall of defiance in the Bayern goal. His best moment came when he kept out Theo Walcott's header from six yards with a Teutonic left claw; Walcott was so sure the ball was arcing in, he turned to celebrate.
Neuer's heroics sent Twitter into meltdown, with Pepe Reina and Kasper Schmeichel among those expressing their astonishment.
Neuer keeps out Walcott's header
8. Jim Montgomery, Sunderland 1-0 Leeds (FA Cup Final, 1973)
Ian Porterfield won the final for second division Sunderland against the shortest-priced favourites and Division One giants Leeds. The game will be remembered for Black Cats custodian Montgomery's stunning double save to keep out Trevor Cherry's six-yard header and then push Peter Lorimer's follow-up onto the bar from a seemingly prone position.
Both David Coleman on the BBC and Brian Moore on ITV were proclaiming the equaliser live on TV before suddenly checking themselves. Lorimer admits: "Jim was the scourge of my life. Don [Revie] said he was vulnerable from 20 or 30 yards because he had poor eyesight but close in he had terrific reactions and was brilliant in the six-yard box. Don was right."
7. Jerzy Dudek, Liverpool 3-3 Milan (Champions League Final, 2005)
"The big Pole in our goal" was a kind of prototype Simon Mignolet, capable of both brilliance and brittleness - often within the space of a few seconds. But what a way to go out in his final game as Liverpool's first-choice No.1.
Forget the penalty heroics afterwards: Dudek's double save from the luckless Andriy Shevchenko two minutes from the end of extra time in Istanbul was enough to earn him a place in Liverpool folklore. Having repelled the Ukrainian's fierce headed effort from eight yards out, he then managed to shovel over the rebound shot from with even sharper reflexes.
Dudek keeps the miracle alive
6. David Seaman, Arsenal 1-0 Sheffield United (FA Cup semi-final, 2003)
This FA Cup semi-final at Old Trafford was Seaman's 1,000th competitive career appearance, an occasion he marked in the most astonishing of ways.
Arsene Wenger's side were 1-0 up thanks to Freddie Ljungberg's first-half strike but hanging by a thread against Championship opponents, Sheffield United. Six minutes from time, Paul Peschisolido flicked Carl Asaba's shot towards goal but Seaman somehow managed to reach back, wrap a hand around it and claw the ball away.
Peter Schmeichel, in the studio as a TV pundit, was blown away: "It was just unbelievable. He was off balance, had to come back and get a touch to it. He must have shovels on his hands. It was incredible."
Seaman merely said: " I was pleased with that one. Not bad for 39, is it?"
Seaman defies physics
5. Peter Schmeichel, Rapid Vienna 0-2 Man United (Champions League, 1996)
Schmeichel's stop in this Champions League group stage clash was the baby brother of Gordon Banks' famous stop from Pele in the 1970 World Cup. Rapid Vienna striker Rene Wagner headed a cross down towards the line at bullet speed but the Great Dane plundered to his right and pushed the ball over the bar with one hand.
A year later, Schmeichel met Banks to discuss the merits of their respective efforts. "He said my save was better," reflected Schmeichel. "I knew he was being polite but to hear him saying it was a terrific feeling."
4. Jens Lehmann, Man United 0-1 Arsenal (Premier League, 2006)
Lehmann was a key member of Arsenal's Invincibles squad that went unbeaten in 2003/04, and he proved he was still up to the task three seasons later with a stunning save from super-sub Ole Gunnar Solskjaer at Old Trafford.
With Arsenal leading 1-0 in the 86th minute, the German dived full length to his right after Solskjaer invaded the penalty area and arrowed a typically clinical left-footed snapshot towards the far corner. The Norwegian's look of disbelief and openly vocal reaction of "pfffff..." to Lehmann's push around the post made the save even more dramatic.
Solskjaer can't hide his shock
3. Craig Gordon, Sunderland 1-0 Bolton (Premier League, 2010)
Sunderland stopper Gordon became the most expensive British goalkeeper when he joined the Black Cats for £9m in 2007. He didn't quite live up to expectations at the Stadium of Light, but this point-blank, one-handed stop from Zat Knight was rightly awarded 'Best Save' in the Premier League's 20 Season Awards in 2012.
"At the time, I didn't really know how I managed to keep the ball out and turn it over the bar," he said. "I managed to flick it upwards and get a bit of spin on it as well which somehow managed to get the ball over the bar."
2. Gregory Coupet, Barcelona 2-0 Lyon (Champions League, 2001)
This was a double save made with such astonishing speed of thought and movement that Barcelona's players could be forgiven for wheeling away in celebration.
After a backpass under pressure went wrong, Coupet was forced to fling himself backwards and head the ball onto his own crossbar to avoid the forfeit of a free-kick. The Lyon keeper then recovered in time to make a remarkable diving save from Rivaldo's follow-up header.
David James was in raptures on commentary: "For me it's the best save because it involves so many different components. Personally I was buzzing off it just watching the replay."
Coupet prevents an own goal and then repels Rivaldo
1. Gordon Banks, England 0-1 Brazil (World Cup, 1970)
Gordon Banks hasn't had to buy a drink for the last 46 years. That's what happens when you keep out the world's best player with a save that redefined what was possible for goalkeepers.
Pele leapt to meet Jairzinho's right-wing cross with a firm, downward header which seemed destined for the back of the net. Banks had other ideas.
"I noticed in shooting sessions that sometimes the ball would kick up a bit more off its first bounce and come up higher than normal", the former Stoke and Leicester man commented later. "It was this that helped me make the save as I was able to anticipate that it was going to bounce up and it meant I could flick it over."
Banks doesn't even rate the save as his personal best, though, placing a penalty stop from Geoff Hurst in the 1972 League Cup semi-final against West Ham above it. Most goalkeepers could only dream of making one half as good as either.
Quizzes, features and footballing fun
Get the best features, fun and footballing frolics straight to your inbox every week.
Thank you for signing up to Four Four Two. You will receive a verification email shortly.
There was a problem. Please refresh the page and try again.