Ranked! The 25 best players in Premier League this season so far
The Premier League season is at a halfway point – so here's our rundown of who's defined it thus far…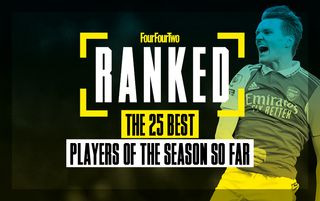 (Image credit: Future)
Usually by January, the Premier League is on the home straight. This was usually the time that Sir Alex Ferguson would metaphorically lean forward with the controller, going on a stunning second-half-of-the-season run that would leave title rivals in the dust.
Well, as you may have heard, this season is a little different. We've only just passed the halfway checkpoint for 2022/23 in the Premier League, as teams tick off their 19th game of the campaign.
Who's impressed us so far though? Who's been a standout star of their side and who's defined the season as a whole?
The best 25 players in Premier League this season so far
Honourable mentions
Eight honourable mentions…
Michael Olise
Last season, Michael Olise was on the fringes of the first XI as Patrick Vieira instilled his style into his Crystal Palace side: this season, he's raised the pulses like few others and stepped up as one of the most exciting wingers in the league.
Alexis Mac Allister
Brighton's World Cup-winning Alexis Mac Allister has been a bustle of energy and excitement to help propel the Seagulls up the table. He's been superb this season and in a Europe-chasing side, he's been a touch of class.
Andreas Pereira
Eyebrows were raised when Andreas Pereira – who decidedly average at Manchester United – joined promoted Fulham. He's been incredible at No.10 though, driving forward, connecting the dots and helping the Whites towards Europe.
Bruno Guimaraes
He should be playing higher up the pitch, according to some fans – and yet he's still been one of the most impressive defensive midfielders in the league all term. Bruno is the heartbeat of Eddie Howe's side and a big reason they're chasing Champions League football.
John Stones
Manchester City defenders seem to take their turn in the spotlight. Aymeric Laporte had his season, then Ruben Dias did – and now John Stones has been Pep Guardiola's general at the back. Brilliant all term, he's shown the grit and guile that was once missing from his game to lead City this season.
Luke Shaw
Some wondered if his days were numbered when Tyrell Malacia was joined. Luke Shaw has returned to his best, however, becoming a vital member of Erik ten Hag's side – and even slotting in at centre-back in a pinch.
Declan Rice
West Ham United have been disappointing this season, finding themselves at the wrong end of the table. New captain Declan Rice has been solid and dependable in the centre though, proving himself one of the most sought-after midfielders in Europe.
William Saliba
Arguably the best young defender in Europe this season, William Saliba has been calm, assured and strong at the back for Arsenal. There have been moments when he's played the offside trap, then had the recovery pace to tackle anyway: he's a monstrous prospect, still.
25-11
25. James Ward-Prowse
It's refreshing that though nothing is permanent in the modern world, James Ward-Prowse's ability to endlessly whip set-pieces onto the heads of Southampton team-mates will outlast us all. JWP has been the shining light of a drab season at St. Mary's – and goodness knows where the Saints would be without their skipper. He's been as reliable as ever and consistently puts in hard-running 7/10s, though Hasenhuttl is no longer there to bark orders to press.
24. Alisson Becker
Without Alisson, Liverpool's precarious position would likely be even worse this season. The Brazilian has performed admirably in goal for the Reds in the opening half of this campaign, constantly bailing out his defenders' shoddy defending with world-class saves.
Indeed, none of the 25 goals he has conceded have been through a mistake he has made, while he has kept out more shots than he should have based on xG against. He has even managed an assist amid the poor season Liverpool are having too, highlighting how important his distribution has been, too.
23. Moises Caicedo
The standout star of Brighton's happy ascension up the table, Moises Caicedo is an old-school, all-action midfielder who has glued the rest of this side together. He's been a lynchpin for Roberto De Zerbi, called upon in the biggest moments and it's mind-boggling that he's still just 21 years of age.
22. Gabriel Martinelli
Martinelli has really come into his own this season, playing with confidence and an attacking verve Saka is also managing to display on the opposite flank. Seven goals and two assists is a decent return for him, with Arteta clearly trusting the young Brazilian as he has started all 19 of Arsenal's games so far this season. Improved consistency to his performances in every game is now the target for Martinelli to truly kick on, and, if he manages that, then Arsenal certainly have every chance of ending the season with the Premier League trophy.
21. James Maddison
James Maddison's form before the World Cup was as good as anyone has ever been to force themselves into an England manager's thinking. He wasn't even in the conversation for Qatar at the start of the season.
Yet Madders almost singlehandedly dragged Leicester City away from the drop-zone and towards a more respectable midtable, seemingly converting Gareth Southgate into a fan at the same time. He'd be higher up this list if he hadn't have been on the treatment table quite so much.
20. Joao Palhinha
Signing Palhinha for £20 million on a five-year contract looks like an absolute steal, the defensive midfielder an imperious figure in the centre of the pitch for Fulham. A consistent starter, Palhinha breaks play up with aggression before launching attacks through his varied passing range.
Disciplined in front of the back four, his positioning allows Fulham's other midfielders and even full-backs to get forward as often as they can, safe in the knowledge Palhinha will be covering for them no matter what. He is also a threat from corners and wide free-kicks, as his three goals this season prove.
19. Oleksandr Zinchenko
Few eyebrows were raised when Manchester City sold their second-choice left-back to seemingly sit behind Kieran Tierney for a spot in Arsenal's XI – but Oleksandr Zinchenko has been game-changing for Mikel Arteta.
Allowing the table-toppers to suffocate teams in possession, the Ukrainian has drifted at will, been the decisive factor in big games and his experience has been invaluable to these young guns. One of the signings of the season – and at just £30 million.
18. Aleksandar Mitrovic
Fulham are currently sitting in seventh, above Chelsea and Liverpool, and Mitrovic is a big reason for that. 11 goals in 17 Premier League goals isn't bad for a striker written off by many as being unable to cut it in England's top flight.
While he can go missing in games at times, the fact he has played the majority of the season with a niggling ankle injury proves how willing he is to fight through the pain barrier for the West London side. Defenders often haven't been able to find a way to stop the Serbian from bullying them, while his teammates love finding him with crosses into the box.
17. Kaoru Mitoma
Kaoru Mitoma turned his back on football at 18 to go to university. It's hard to imagine just how good he could be now if he'd have stuck at it throughout.
The standout figure in Brighton's frontline – Evan Ferguson's only just broken through and Leandro Trossard has left midseason – Mitoma has been incisive, two-footed and dangerous against everyone he's faced. The Seagulls lacked goals for so long under Graham Potter: now they have one of the most exciting attackers in the league in the Japanese.
16. Rodri
A near-ever-present in Manchester City's starting line-up this season, Rodri's importance to Pep Guardiola's side is all too often underestimated. Attacks consistently and constantly pass through the Spanish ball-player, with Rodri loving to keep things ticking over with the perfect intensity required. He is also capable of finding killer passes, too, and this season has been no different as he's notched up four assists and countless other opportunities for his teammates.
15. Ivan Toney
Any chance of second season sydrome has been rubbished at the Gtech – and Ivan Toney has summed up everything brilliant about Brentford once again. His hold-up play is amongst the best in the league – see that victory over Manchester United – and he scores just about every single kind of goal. He's simply been one of the most complete strikers in Europe this season.
14. Thomas Partey
An unsung hero of Arsenal's table toppers, Partey has excelled under Mikel Arteta's system this season. Sitting at the base of Arsenal's midfield, Partey allows Martin Odegaard and Granit Xhaka to roam forward, while he patrols the back four in search of any loose ball.
Partey could perhaps feel a little aggrieved to find himself this low down the list, too, his displays this season causing Arsenal fans to worry the most about him, not any of the attackers, getting injured. The Ghanaian is also extremely capable of breaking lines with his passing and dribbling, and never gives up an opportunity to shoot, as his goal against Tottenham earlier in the season testifies.
13. Kieran Trippier
Has there been a more transformational signing to any Premier League club in the past 12 months? Bruno Guimaraes has been excellent for Newcastle United but Kieran Trippier exemplifies everything about the New Toon.
Trips is defensively impeachable, gets forward to create, shows the dynamism and gusto that Eddie Howe has built his side around and he's a leader of this burgeoning new superpower. He's become the best right-back in England since returning to the Premier League: it's like he's never been away.
12. Lisandro Martinez
When Manchester United lost their first two games of the season, to Brighton and Brentford respectively, many wrote off Martinez as being "too small" for the Premier League, and not being able to cope physically.
The scrappy Argentine has since silenced every critic wrong, though, proving Erik ten Hag was right to bring him with him from Ajax to Manchester and stick him next to Raphael Varane. United look a lot more assured with the ball at the back when Martinez is playing, in part thanks to his tremendous ability to pick passes and deal with the ball under pressure. They also look a lot stronger defensively, too, his desire to win every ball second-to-none.
11. Kevin De Bruyne
Taking the sidecar rather than the spotlight, Kevin De Bruyne has found himself on fewer backpages, thanks to his Scandi sidekick. But he's been his usual, magnificent best: changing games with a swing of either peg and providing the ammunition for the rest of Manchester City's star-studded side. He's still incredible – and has a whole other gear he's capable of stepping up to.
10-6
10. Sven Botman
There's a reason Newcastle tried so desperately to sign Botman in last year's January transfer window, before finally getting him this summer. Standing at 6'4, Botman is an imposing centre-half who has led Newcastle's charge into the Champions League-paying spots.
The 23-year-old is a major reason why Eddie Howe's side has the best defensive record in the league, conceding just 11 times in 20 games. Along with Fabian Schar and Nick Pope, Newcastle have relied on Botman's ever-dependable performances at the heart of their defence, the Dutch defender rarely ever putting a foot wrong in the 16 games he has started as he continues to live up to his £35 million price tag.
9. Granit Xhaka
The renaissance man of the Premier League has been utterly unplayable at times this season. He began life under Mikel Arteta stepping into the backline to help in build-up – now he's finishing moves off in the penalty box.
Granit Xhaka has been key to Arsenal's surprise title bid, with goals, assists and leadership in a roaming playmaker role opposite Martin Odegaard. He's reinvented himself to become one of the finest midfielders in the division and he's a fan favourite once more.
8. Casemiro
For years Manchester United have been craving a deep-lying central midfielder capable of breaking up play and quelling counter-attacks, and finally they've found their man in Casemiro. However, he has proven he is so much more than that this season, his leadership qualities and even passing range surprising many - although, playing alongside Toni Kroos and Luka Modric would cast a shadow over anyone's passing ability.
Regardless, Casemiro has been a rock in the Manchester United side, and his absence is certainly felt when missing from the team, such as against Arsenal at the Emirates. He even managed to pop up with a last-minute equaliser against Chelsea at Stamford Bridge in October, prompting some euphoric and hilarious celebrations from the Brazilian. An exceptional footballer reinforcing his quality in the Premier League.
7. Nick Pope
11 goals conceded in the first half of a Premier League season is nothing short of remarkable – impressive, too, considering Nick Pope was relegated last term. Not that it was his fault, mind.
We always knew that the England custodian was a top keeper but he's taken his game to new levels at St. James' Park, becoming one of the best keepers in the Prem once more and becoming the key figure of the meanest defence in the land. You shall not pass, indeed.
6. Miguel Almiron
Some players need time to adapt to the Premier League, while some need their manager to give them a proverbial kick up the arse. Some, though, simply need a little bit of light-hearted ridicule from a certain Jack Grealish.
Ever since Grealish derogatorily compared Manchester City teammate Riyad Mahrez to Almiron in May 2022, the diminutive Paraguayan has thrived in English football. Indeed, he scored six goals in six games in October to pick up the Premier League Player of the Month award, while his finish against Fulham also earned him the Premier League Goal of the Month, too.
In total, Miggy has scored nine goals in 20 games so far this season, nailing down the right-wing spot in Newcastle's side as they fly in third-place in the table. Continued strong performances from one of their many standout players could ensure their qualification for next season's Champions League.
5-1
5. Bukayo Saka
He was creating chances from left-back to rival top playmakers. He moved to the left-wing and looked even even better. Now, he's perhaps the best right-winger in world football – and still just 21 years old.
Bukayo Saka has been unstoppable in the Premier League this season, as Arteta's Arsenal have become everything they've threatened. Defenders have stood off him (see Luke Shaw), fouled him (see all of them) and doubled up on him – but no one can foil him. He's unstoppable at his best – creative, decisive and deadly – and though the Gunners have many ways to beat a team, he's everyone's favourite. He's having the season of his life.
4. Harry Kane
It is testament to Harry Kane's immense ability that he is still thriving while his Tottenham team-mates struggle around him. The England captain has single-handedly kept Spurs' top-four ambitions alive, scoring 16 goals in the league this season already. Without Erling Haaland setting superhuman records, Kane's goalscoring record would be lauded in a defensive and uncreative Tottenham side.
After Kane, the next highest goalscorer in the Spurs squad is Heung-min Son, Rodrigo Bentancur and Pierre-Emile Hojbjerg, all with four apiece. Apart from missing 22 minutes at the end of September's win against Fulham, Kane has also played in every minute of every game - incredible consistency as team-mates around him flounder.
3. Marcus Rashford
Marcus Rashford always threatened this level of performance but could never deliver it consistently. Yet the things he's been doing this season have been world-class, as he tears through teams like a whirlwind.
He's rediscovered his best form as Manchester United have found more stability and now he's showing everyone just how good he really is – and how much he's evolved as a player since the management of Ole Gunnar Solskjaer. Comparisons have been made to Kylian Mbappe in terms of the power he exudes and the ability to lean back and smash with his right foot. They're more than justified: plenty have struggled to contain him this season.
His performances in big games have been the difference and when he cuts in from the left to let rip, it's simply impossible to defend against.
2. Erling Haaland
What is there really to say about this Norwegian goalscoring freak? His 25 goals - after just 20 games - is already more than the number of goals the last three golden boot winners have scored, while it seems fairly inevitable the 22-year-old will comfortably surpass Mo Salah's record of 32 goals in a 38-game season.
While he's fast on the pitch, he's also fast at breaking records, too. He reached 10 goals in his Premier League career after just six games, with it taking him just the first eight games of the season to score three hat-tricks - all coming in consecutive home games, too. Ridiculous.
For a player who's set to break every conceivable goalscoring record in the Premier League this season, only being second in this list seems, in no uncertain terms, daylight robbery. For FourFourTwo, though, he's not quite been as instrumental as our No.1…
1. Martin Odegaard
How do you compare the two foremost Norwegians in the Premier League? They're almost polar opposites. Where Erling Haaland is minimalist, generating brute force and blowing minds with his statistics, Martin Odegaard takes a little longer on the ball. He caresses it. He cannot be measured in pure output.
Simply put, Arsenal's captain has usually been the best player in every game he's been in: if he hasn't, he's been bettered by a piece of virtuoso brilliance. He's been the poster boy of this Gunners run – which at the halfway point, looks like equalling the Prem points record – and his own development has been the backbone to Arsenal becoming the best side in the league right now. This is an individual award, of course – but when both players sum up both teams, we have to give it to the leaders. Arteta is often seen talking to his "teacher's pet" from the sidelines. They share the same squad number – and Odegaard is his manager's representative in every moment.
Haaland may double the average Golden Boot tally. He makes a mockery of the award: he's making the likes of Harry Kane – having one of best seasons of his life, statistically – pale in his shadow. But this season, so far at least, Odegaard has given us artistry and excellence. And goals, too. Eight from midfield in the first half of the season. Watch out, Erling: he's coming for that Golden Boot, too.
Thank you for reading 5 articles this month* Join now for unlimited access
Enjoy your first month for just £1 / $1 / €1
*Read 5 free articles per month without a subscription
Join now for unlimited access
Try first month for just £1 / $1 / €1
Get FourFourTwo Newsletter
The best features, fun and footballing quizzes, straight to your inbox every week.
Ryan is a staff writer for FourFourTwo, joining the team full-time in October 2022. He first joined Future in December 2020, working across FourFourTwo, Golf Monthly, Rugby World and Advnture's websites, before eventually earning himself a position with FourFourTwo permanently. After graduating from Cardiff University with a degree in Journalism and Communications, Ryan earned a NCTJ qualification to further develop as a writer while a Trainee News Writer at Future.