Year Zero: The making of Zlatan Ibrahimovic (Ajax, 2002/03)
The young Swede was yet to establish himself in the Ajax first team, until a fight with scissors – plus some dazzling Champions League displays – opened the world's eyes to his talent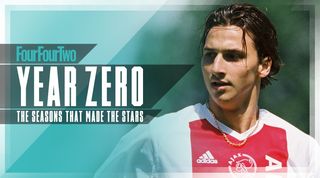 As a player with 31 footballing honours, it's a strange quirk that Zlatan Ibrahimovic's real breakthrough season was one that finished without a major trophy.
Throughout his career, the charismatic Swede has won the Eredivisie, Serie A, La Liga, Ligue 1 and most recently the Europa League. Yet he won just the season-opening Dutch Super Cup during the 2002/03 season; the year he truly made his name on the European scene.
Even in that Super Cup game, Ibrahimovic only came off the bench for 15 minutes, having failed to fully establish himself in a mixed campaign with Ajax in 2001/02. That was his first season in the Netherlands following a transfer from hometown club Malmo for 80m Swedish krona (£7.2m).
During his 2001-02 Dutch debut, Ibrahimovic barely resembled the man who would go on to score more than 400 goals for Juventus, Inter, Barcelona, Milan, Paris Saint-Germain and Manchester United, as he struggled with tactics and his new surroundings after leaving Sweden for the first time. "There was a lot of new stuff, and I didn't understand the language and the culture – and the coach [Co Adriaanse] didn't talk to me," the striker says in his autobiography. "He didn't talk to anyone."
Things had started improving when Ronald Koeman arrived at the Amsterdam Arena to replace Adriaanse, and 2001-02 did end on a high, as Ibrahimovic came off the bench to score a goal which won the Dutch Cup final. Still, he was far from a permanent fixture in the team when the 2002-03 season began.
Zlatan hits the big stage
It was not until September 2003 that Ibrahimovic would get his chance in the first XI. Indeed, if it was not for injuries to key players and a dressing-room row, the legendary striker may not have even played in the game in which he displayed his talent on the biggest stage. At the start of the season Mido – the Egyptian striker who went on to play for Tottenham, Middlesbrough and West Ham – was preferred down the middle.
After he was benched for a match with PSV Eindhoven, however, Mido lost his temper with the rest of the squad, and particularly with Ibrahimovic. "They kept arguing all the way down the tunnel," defender Andre Bergdolmo said. "They were sat opposite each other in the dressing room. I was next to Zlatan. Then: 'Bang!' Mido had thrown a pair of scissors with all his strength, hitting the wall as Ibra ducked, missing his eye by a whisker."
"We all stopped. Zlatan's face went white, his eyes turned black and he just flipped out. Other players and I jumped at him, trying to avoid a fight. If we hadn't been there, anything could have happened."
The incident has become legendary. "I still have those scissors in a draw! I knew this was something special," club coach David Endt recalled. "The next day, we arrived for training more than a little worried. And who was sat there together but Zlatan and Mido, with their arms around each other? Mido laughed: 'I could have killed you.' And Ibrahimovic laughed with him. They solved the problem like hard lads in the street, with respect and understanding. They have that similar uncontrollable personality."
Mido would rightly receive the harsher punishment – a fine and club suspension ahead of their opening Champions League game against Lyon. With Ajax's star player Rafael van der Vaart sidelined through injury, Ibrahimovic was the only viable option up front. It would be his first full Champions League game – and an opportunity he grabbed with both hands.
While Ibrahimovic had struggled for consistency in the Eredivisie, he took to the European stage almost immediately. Receiving a pass from club legend Jari Litmanen, the Swede seemed to have run himself into a dead end as he approached the byline with two defenders in pursuit. Squaring up to them, he used his quick feet to poke the ball past the pair and squeeze through the tight gap, before unleashing a pinpoint shot past Gregory Coupet in the Lyon goal.
It was the kind of magic we would get used to seeing regularly later in Ibrahimovic's career, and a goal the Swede himself would later describe as: "Not just a goal, but beautiful too." No small praise considering the piledrivers and acrobatic efforts he would put away as his career unfolded.
Yet there was no time for Ibrahimovic to congratulate himself in the moment. Minutes later, Ajax team-mate Victor Sikora presented him with a much more straightforward chance, cutting the ball back after some fine work on the right flank for the striker to score into an unguarded net. The Dutch side held on for a 2-1 win despite going down to 10 men – and with a brace on his Champions League debut, Ibrahimovic had announced himself.
Thriving in Europe
While he had wowed on his European debut, Ibrahimovic still struggled for game time in the league, as Van der Vaart and Mido were often preferred. In the same month as his Lyon brace however, the Swede did manage to score his first league goals of the season, against RBC Roosendaal and NAC Breda. He also scored a vital equaliser for his national team – knocking himself out in getting the decisive touch to earn a valuable point against Hungary.
"I was gone for five or 10 seconds and when I woke up, the players were standing in a circle around me and I didn't understand anything," Ibrahimovic said. He was beginning to win over the Swedish fans.
From 1.20
It was the Champions League that seemed to agree most with the 6ft 5in forward, however. After his explosive opening match, he was able to keep his spot for European games, and repaid Koeman's faith with a series of impressive performances. These included netting a crucial goal to help earn a draw against Rosenberg at the end of October – a point that ensured Ajax pipped Lyon to qualification for the next round.
November offered Ibrahimovic the chance to face Europe's bigger clubs and really test himself. In the second group stage of the competition, Ajax were drawn against not only Spanish champions Valencia, but also Roma – a club rumoured to be interested in him – and Arsenal, who had tried to sign the Swede as a teenager at Malmo.
Ibrahimovic began the first game against Valencia on the bench, but as Ajax struggled to break down the Spaniards, Koeman turned to his unpredictable youngster. Ibrahimovic showed why he probably should have started by grabbing a late goal that looked like being the winner – until Valencia's Angulo scored a stoppage-time equaliser.
The more illustrious the opponent, the better Ibrahimovic performed. He scored again in a 2-1 win against Roma to take his tally to five for the tournament. This was more than his total in the league until that point, leading to Koeman jokingly reminding his new star: "Hey you, Zlatan, there is a league as well!" Despite winning only one game in the second group stage and drawing the other five, Ajax advanced to the quarter-finals.
Ronnie and Zlatan show
Ronald Koeman would prove to be one of the first managers with who Ibrahimovic would have an affinity. The Dutchman, then notorious for being unafraid to discipline even the most talented of players, said later: "Already at 19 you saw a fantastic player. If he looks back then he can be very proud about what he showed and what he was winning."
The Swede was similarly complimentary in his autobiography: "I noticed right away, they [Koeman and assistant Ruud Krol] understood me much better, and I started hoping that everything would become better."
Under the advice of his new agent, Mino Raiola, the now 21-year-old Ibrahimovic got his head down and worked hard over the winter break. "I gave everything in every situation and wanted to win every single game or competition even in practice. Indeed, I had a pain in my left groin. But I didn't care about it. I just went on." When the season got underway again, the Swede was fitter and hungrier than ever.
He seemed ready to respond to Koeman's jibe about underperforming in the league. In Ajax's first game of 2003, at Willem II, Ibrahimovic bagged a brace as they ran out 6-0 winners.
It proved to be all the evidence his manager needed. Ibrahimovic started 12 consecutive games over the next two months, scoring 11 goals, including further braces against Groningen, Zwolle and Excelsior. Greater challenges lay ahead, however.
European heartbreak
When April came around, Ajax still had one eye on their first Champions League success since 1995. Tight defeats in the league against Utrecht and PSV meant the Eredivisie was looking beyond them, and Feyenoord had knocked them out of the Dutch Cup, meaning Europe's premier club competition was their only real chance for major silverware.
Ajax had performed well to finish above Arsenal and Roma in the second group stage, yet the quarter-final draw had not been kind. To progress to the semi-finals, Ajax would have to overcome a Milan side boasting the likes of Paolo Maldini, Andriy Shevchenko and Filippo Inzaghi. A goalless draw in Amsterdam meant all to play for in the second leg, as Koeman and his squad knew that going through on away goals was a possibility for the return.
Ajax twice fell behind at the San Siro, to goals from Inzaghi and Shevchenko, but equalised on two occasions via Jari Litmanen and Steven Pienaar. The latter's effort on 78 minutes looked to have given Ajax the goal they needed to progress. But the Amsterdam side came up agonisingly short, as Jon Dahl Tomasson's goal in injury time put the Italians through. Milan went on to win the trophy, beating Juventus in the final, while Ajax have failed to reach the last eight in the years since.
The Dutch club's fortunes may have been at the start of a gradual decline, but Zlatan Ibrahimovic himself was well and truly on the way up. Despite missing the end of the season through injury and suspension, he still managed an impressive 21 goals in 42 games and went on to finish 2003 with a couple of votes in the Ballon d'Or standings – enough to put him into the top 20 and ahead of the likes of Ronaldinho and Luis Figo.
The player who had begun the season labelled as cumbersome by some and lazy by others had undergone a dramatic transformation. He was now regarded as one of the hottest prospects in Europe. There was no major silverware, but Ibrahimovic had managed to overcome his homesickness and early struggles at the club – and besides, there would be plenty more trophies down the road.
Like this? More Year Zero
David Beckham (Manchester United, 1996/97)
New features you'd love on FourFourTwo.com
Quizzes, features and footballing fun
Get the best features, fun and footballing frolics straight to your inbox every week.
Thank you for signing up to Four Four Two. You will receive a verification email shortly.
There was a problem. Please refresh the page and try again.